​Untha shows off QR shredder, among range of models at IFAT 2018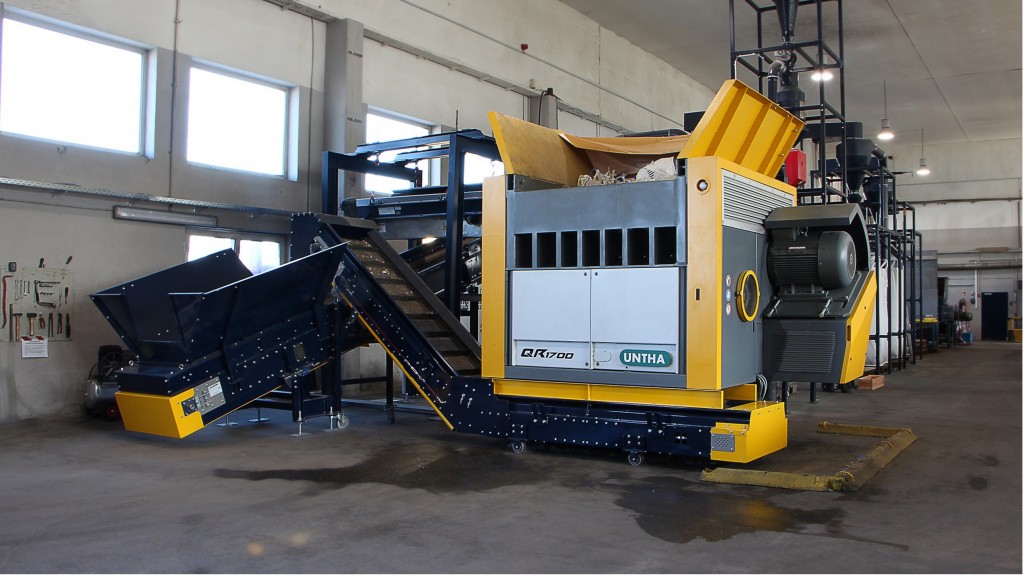 UNTHA showed off the company's latest innovations at IFAT 2018 May 14-18, including one of their most recently introduced shredder models, the QR shredder (shown above). Developed in conjunction with recyclers worldwide, with simplicity at its heart, the QR shredder is capable of handling everything from wooden pallets to production waste - as well as plastic lump, drums, film and mixed rigids.
"This latest innovation is about achieving impressive results with minimal effort," commented UNTHA UK's managing director Marcus Brew. "It's a flexible piece of equipment that can be easily reconfigured to tackle different waste streams, and with our low maintenance pusher technology, it has been purposefully engineered to deliver maximum yield and uptime."With a resilient drive for machine longevity, low wear parts and integrated gears for added maintenance simplicity, UNTHA is pitching the QR as a shredder with incredibly low whole life running costs.
"A simple planned preventative maintenance plan is all that is required to preserve optimum operational conditions," continues Marcus. "That means less time spent on the upkeep of the shredder, and more time actually shredding! We've tried to think about everything, from a simple touch screen control panel with remote diagnostics, to foreign object protection for safe and easy removal of foreign material. And we invite organisations to trial this machine, using their own materials, at our North of England test centre."
According to the company, the unit's 'intelligent pusher control' (IPC) has proven a hot talking point, as it minimizes idle time, creating not only a higher throughput capacity but also a more efficient shredding process. A further key feature of the QR shredder is its patented multifunctional flap. This can be opened in two directions to remove foreign objects, change the cutting blade or empty the hopper, for maximum operational and maintenance ease.

Shredders on display at IFAT 2018
At IFAT 2018, UNTHA also displayed the latest generation XR series waste shredder. Designed to process different materials such as waste wood, commercial waste, bulk refuse, industrial waste or pulper ropes, the latest iteration of this technology will perform even more successfully than its predecessors.
According to Peter Streinik, head of UNTHA's waste shredding division, the stationary XR shredder on display at this year's show featured "new cutting unit geometry which - with its even higher throughput rate - is specially designed for single-step processing of refuse into substitute fuel. Furthermore, numerous innovations such as a low maintenance safety clutch and more powerful drive motors, will now enable us to adapt to individual client requirements even easier than before."
For the first time, UNTHA also exhibited the XR mobil-e at IFAT's VDMA Demonstration Days, enabling attendees to experience the advantages of the shredder's electromechanical drive concept up close.
And designed as an indestructible 'all-rounder', UNTHA displayed the most established equipment in the company's entire range - the robust RS class four-shaft shredder, model RS150, the largest in the line. The technology within this series can process difficult applications including hard drives, metal and electronic waste.

At IFAT this year, UNTHA also launched its new UNTHA Lifetime Support package, demonstrating the team's unrivalled commitment to customer service.
"This important trade fair [was] the perfect platform for us to demonstrate our ability to find solutions to even the most complex waste and recycling enquiries," emphasized Thomas Schmid, head of Untha market communication.