Grinding operation gets dust under control with Buffalo Turbine Monsoon technology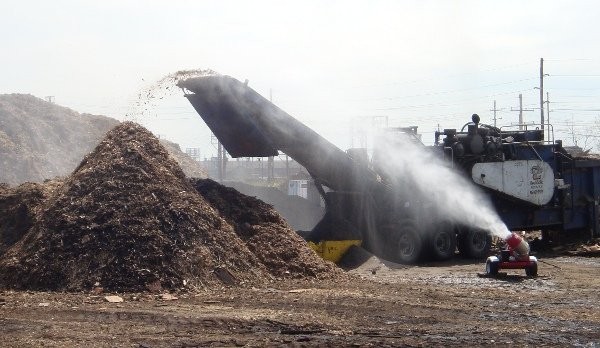 Zoladz Construction Company is a large demolition, civil works and trucking contractor based out of the Western New York area. The company also handles waste grinding, mulch production and disposal and has severe dust issues at their wood grinding operations. Zoladz utilizes a 1,000-hp grinder along with an assortment of screens, conveyors, large excavators and bulldozers.
Located off the Shores of Lake Erie, Zoladz faces many lake driven winds that has created a severe dust hazard at certain of their locations. To help control this fugitive dust coming from stockpiles and grinding operations, in 2012 Zoladz construction obtained a gasoline powered Buffalo Turbine Monsoon that sprays a fine mist to trap and control their airborne dust. The company began with a week rental and then purchased their machine.
"We used to utilize water cannons, sprinklers, hoses and spray nozzles which were costly and not effective, said Zoladz Operations Manager, Jeffery Leavell. "We were very impressed with the Monsoon Misting system and we will utilize it in our demolition service as well. We would highly recommend the Monsoon Misting system for similar operations in a dusty environment, such as our mulch production process."
The Buffalo Turbine Monsoon system uses a turbine-driven gyratory atomizing nozzle. Units are compact, lightweight, available in electric, gas, diesel, PTO and hydraulic, and will mist water volumes from less than one gallon per minute up to 25 gallons per minute.