Acclaimed artist Douglas Coupland gets radical with plastic to raise awareness about ocean pollution
Vortex art installation at Vancouver Aquarium opens May 18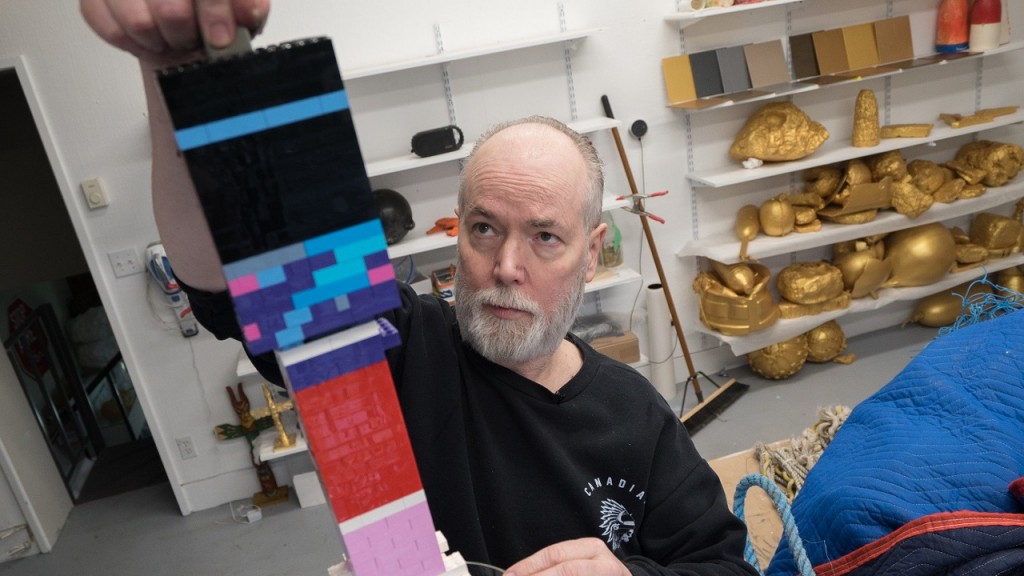 Internationally renowned writer and visual artist Douglas Coupland's new radical art installation - Vortex - opens May 18, 2018 at the Vancouver Aquarium, an Ocean Wise initiative. Vortex is Coupland's imaginative interpretation of the Great Pacific Garbage Patch and an exploration of the artist's evolving relationship with plastic - a seductive yet sinister medium. The year-long exhibit will immerse visitors in the rapidly escalating ocean plastic pollution crisis in an emotive, contemplative, and transformative experience.

"We live in a disposable world and it's having a grave impact on our ocean. Every day we use and throw away plastic cups, straws, bags, bottles, and other single-use items. While some plastics are released at sea, more than 80 per cent of plastic waste in the ocean is coming from land-based sources. Scientists have been speaking about ocean plastics for decades. Thankfully, this issue is now receiving mainstream attention and action," said Dr. John Nightingale, Ocean Wise president and CEO. "We're honoured and excited to work with Douglas Coupland on Vortex. His art installation will connect more than a million Vancouver Aquarium visitors to the issue in ways that only an artist of his vision and insight can. Seeing the Pacific Trash Vortex though his creative lens will inspire reflection, contemplation, and - as we hope and anticipate - foster change in human use and disposal of single-use plastic materials."
Coupland's love for pop art began when he was just nine years old. It was American artist Andy Warhol's work that lured him into the seductive nature of plastics; Coupland became fascinated at how plastic objects could elevate everyday life. He recalls a trip to Japan in 2000 when he purchased dozens of coloured plastic bottles found at a grocery store. He shipped them home to Canada and used them in an installation that was a study in colour, shape, and typography.
But Coupland's views on plastic began to shift four years ago during a return visit to Haida Gwaii, a remote archipelago off the coast of British Columbia, when he made a profound discovery — one of the very same bottles he had purchased in Tokyo 13 years before had washed up on the beach with other plastic tsunami debris. Coupland has been regularly visiting Haida Gwaii for more than two decades, finding sanctuary in its awe-inspiring and untouched beauty. "I began working with plastic thinking it was eternal, shiny and happy," said Coupland. "Finding that plastic bottle on the beach was like being on the receiving end of an ancient curse warning me 'Be careful what you find seductive. Be careful the things you desire.' I knew I had to do something to change this. We can turn this around."
Vortex is the latest measure by Ocean Wise to tackle the global ocean plastic pollution crisis. The newly launched Plastic Wise initiative aims to increase awareness about ocean plastic pollution, prevent plastic from entering the ocean by creating actionable solutions, and convene global leaders to create large-scale change. To learn more about Plastic Wise, visit www.ocean.org/plasticwise.
Coupland's conceptual, literary, visual, and public art have earned him recognition the world over. Coupland is an Officer of the Order of Canada and a Chevalier de l'Ordre des Arts et des Lettres. Coupland's first novel and international bestseller, Generation X: Tales for an Accelerated Culture, was the precursor to an extraordinary library of published prose in many languages. During the past three years, Coupland has had solo exhibitions in Vancouver, Toronto, Rotterdam, and Munich, participated in numerous group exhibitions, and was Google's 2015 Artist in Residence at their Paris Google Cultural Centre.
Ocean Wise would like to extend special gratitude to the Haida Nation, Parks Canada, Fisheries and Oceans Canada, the Pacific Science Enterprise Centre, Highlander Marine Services, the Haida Gwaii Museum at Kay Llnagaay, and Ocean Legacy for on-the-ground project support as well as The Lagniappe Foundation, Eric Savics and Kim Spencer-Nairn, The Armstrong Family Foundation, and Charles and Dale Young for their support of this exhibition.
Vortex opens at the Vancouver Aquarium on Friday, May 18, 2018. The year-long installation will be complemented by interactive experiences throughout the Aquarium's galleries that highlight the ways plastic has penetrated and impacted our oceans as well as forward-looking solutions that will help us create a more sustainable ocean into the future. To experience Vortex at the Vancouver Aquarium and to purchase tickets, visit: www.vanaqua.org/vortex.
Ocean Wise is a not-for-profit organization whose vision is a world in which oceans are healthy and flourishing. www.ocean.org

Social media: #VortexatVA | @VanAqua |@OceanWise | @DougCoupland (Twitter) | @DouglasCoupland (Instagram)