New Mack mag-grabs feature long-life durability with all-day lifting strength
Combination 4-tine grapple and lifting magnet latest addition to product line for scrap-handling industry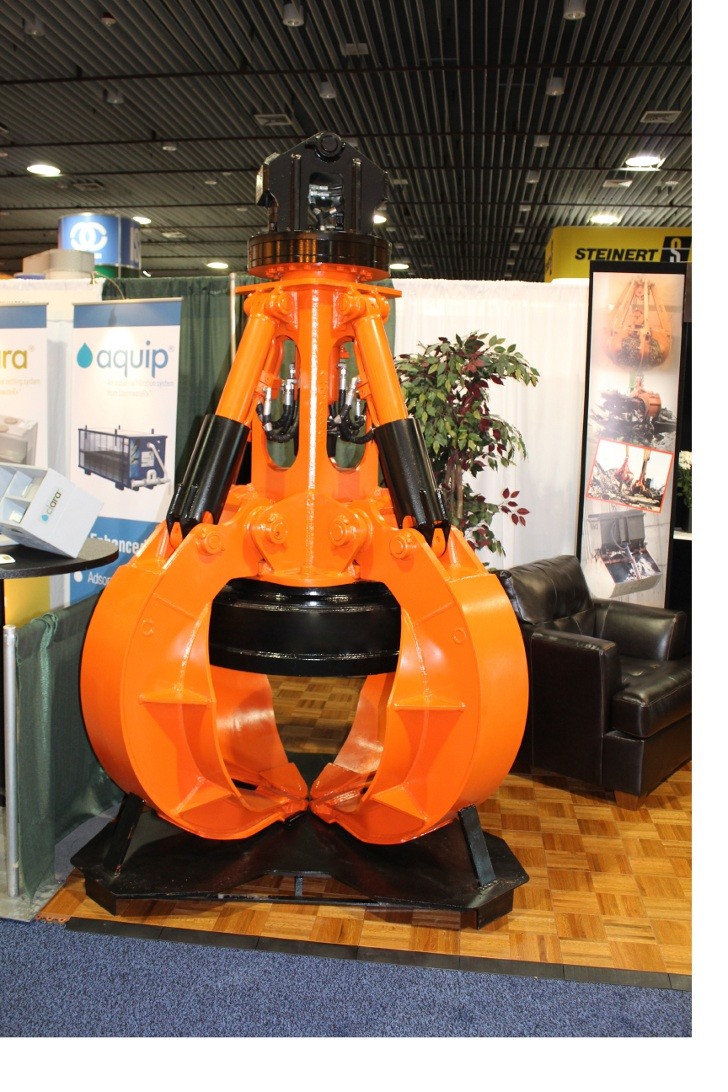 At the recent ISRI conference and exhibition in Las Vegas, Nevada, Mack Manufacturing, a leading supplier of premium grade industrial grapples and buckets, introduced a new mag-grab as the latest addition to its product line for the scrap-handling industry.

This combination 4-tine grapple and lifting magnet is offered in 1-yard, 1.5-yard and 2-yard models. The 2-yard grab is fitted with a 44-inch lifting magnet, while the smaller models feature 40-inch magnets.
Mag-grabs typically are used to improve load retention when lifting fine material or to let operators "sweep" the work area clear of ferrous debris during loading operations. To develop the new product, Mack worked closely with the magnet manufacturer to optimize the attachment. Like all Mack products, these new mag-grabs are 100% American engineered and manufactured.
According to Matt Davidson of Mack Manufacturing, there was a great deal of interest in this product at the show.
"We feel that this combination will prove to be a very valuable addition to many of our customers and effectively increase their productivity in certain operating situations," said Davidson.
Continuous rotation
Like other mag-grabs on the market, the new Mack models also allow continuous rotation of the orange-peel tines, providing extra flexibility and control for operators. The rotator on most grapples is located next to their attachment point. The Mack mag-grabs includes a brushless spindle below the attachment knuckle, so the tines can rotate independent of the attachment point. The tines can elevate above the magnet position, allowing the magnet to sweep right to ground level.
Long-life performance
Mack also highlights the reinforcement ribs forged into each of the orange-peel's tines, adding extra strength and rigidity to stand up against heavy loads.
The grapple itself is all T1 structural steel with AR400 plate at high wear areas in the tines. Oversized bushings are used at hinge points for longer life and all shafting is heat-treated and stress-relieved 4140 material. Tines are fitted with premium replaceable points. As with all Mack products, in the new mag-grab, all hydraulic cylinders are manufactured in Mack's own machine shop.