Komptech to display latest highly versatile machines at IFAT 2018
Latest model Terminator V shredder and Axtor chipper-shredders to highlight Komptech booth in Munich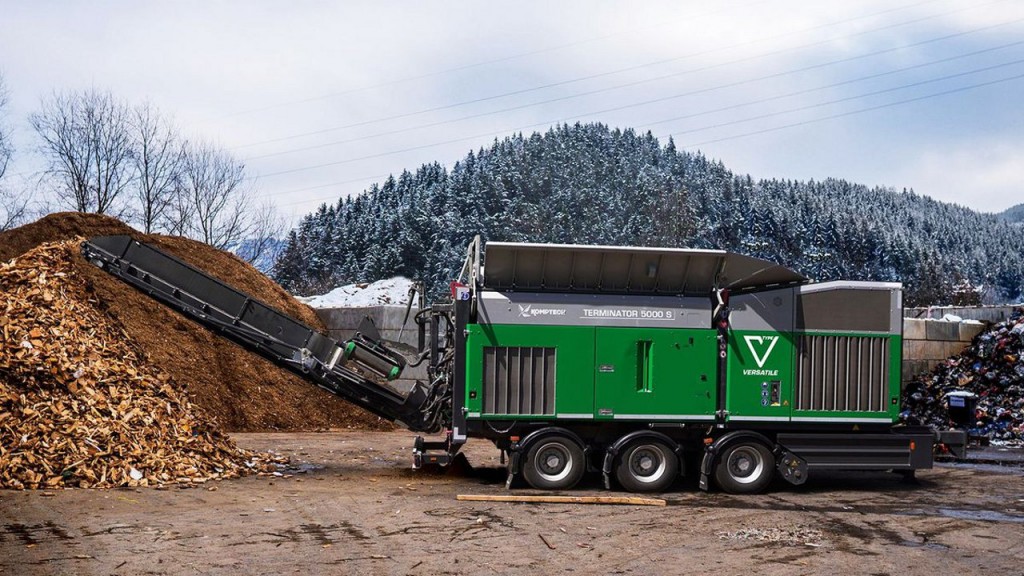 Komptech is set to display multiple new machines at the upcoming IFAT 2018 trade show, set for May in Munich, Germany. Machines on display will include the new Terminator Type V shredder as well as the Axtor 4510 chipper/shredder, and will be introduced formally at the company's booth 405/504, Tuesday 15 May 2018, from 10 to 11 am.
According to Komptech, the Terminator Type V shredder is one of the company's most comprehensive new developments and will be an IFAT 2018 show highlight at the Komptech booth. The V stands for "versatile," not just in terms of the materials this impressive machine can handle, but also its very wide range of applications.
The focus during development was on users who need to process many different materials, be they household or commercial waste, biomass like green and shrub cuttings, or used wood. The familiar advantages of the Terminator, such as its high throughput, had to be retained while meeting new challenges. For example, processing biomass requires a more aggressive shredding unit in order to ensure active and steady material intake. To achieve this, the shredding teeth were made about 50 percent higher.
From the user perspective, as well as from a technical point view, the new Terminator Type V is a line extension, i.e. a new version of the existing shredders U, F, XXF. The modular idea played a major role in the development, and the ability to easily replace all major components was designed in from the beginning. Our development engineers succeeded in integrating all future variants into the basic layout. This guarantees maximum flexibility for customers, since they can combine individual components to get a machine that exactly meets their needs. With the Type V, for the first time an optional reshredding unit under the drum is available, that greatly expands the range of possible grain sizes.
The new Terminator easily delivers high material quality at high throughput. Other compelling arguments are the revisions to the basic machine, which incorporates all the new developments that have already proven their worth with the new version of the Crambo, Komptech's low-speed universal wood shredder. This includes further enhanced service access and a 750 kg weight reduction with no reduction in functionality.
Axtor 4510
Komptech's new Axtor 4510, also to be on display at this year's IFAT 2018, is a versatile shredder that rounds out the proven Axtor series at the bottom end. Like its big brothers, the Axtor 6010 and 8012, this new machine can shred as well as chip, and is designed for wood and green cuttings. In shredder mode with free-swinging teeth it makes composting material, while in chipper mode with fixed blades and lower speed it makes biomass fuel that is ideal for heating plants.
With 456 HP and the same rotor dimensions as the Axtor 6010, the new Axtor is a balanced package with exactly the performance and economy that its target group is looking for. With its small dimensions and its total weight of 19 tonnes in the two-axle trailer version, not only is it very easy to move around, it's also right-sized for small to medium-scale facilities. Naturally, the easy transportation makes it likewise ideal for contract service providers, who need to react flexibly in terms of work sites as well as in their service offerings, from shredding to chipping.
Conversion from shredder to chipper is fast and simple: In three hours or less, the free-swinging shredder blades can be replaced by fixed holders with precision-cut chipping blades or tough shredder blades. Conversion using fixed teeth is even faster, going from shredder to chipper mode in under one and a half hours. There are few limits to the flexibility of the Axtor 4510.The machine can be very precisely configured for the intended use. Whether waste wood, trunks, forestry residue, bark or green cuttings, with different blades and the right screen basket it can deliver astonishingly high throughput with excellent fuel efficiency. For example, with woody green cuttings as a structuring material for composting, throughput of up to 150 m³ per hour is possible.
Komptech says they didn't just downsize one of their big machines to a smaller scale, but instead put customer needs first, like it always does. One example is the Axtor 4510's outstanding maintenance access, with hydraulically lifting engine cover and roomy service platform with integrated folded ladder.
The same goes for the massive sectional steel belt intake system, the continuous discharge conveyor with a cone height of four and a half meters, and the hydraulic tilt hopper. Everything is designed with the user in mind, from avoidance of leakage during material transport to the tough components to the clever details that help work go smoothly on-site.
Cost-effective, compact, manoeuvrable, and economical - those were Komptech's prime goals in the development of the Axtor 4510. Easy transportation and flexible use in shredder or chipper mode make this a machine that can absolutely stand up to the "big guys."
Company info
Related products