NOVA Chemicals recycles more than 57,000 pounds and wins EPS Excellence in Recycling Award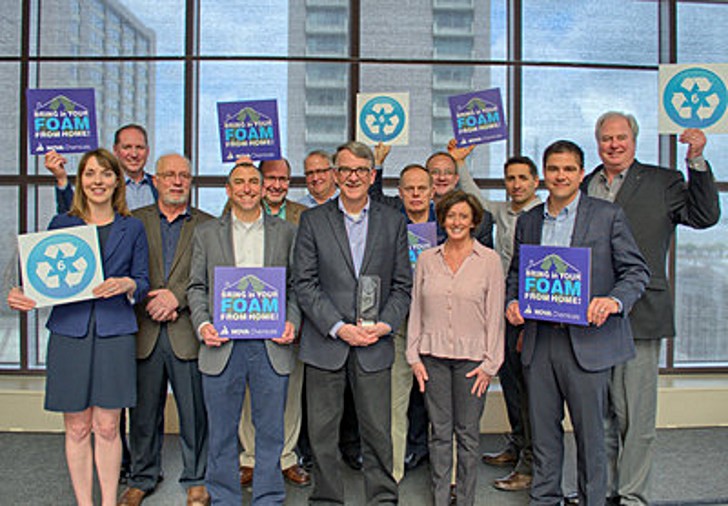 Recycling programs for EPS, a foam used to protect products in transportation, food packaging and construction materials, have been growing for nearly two decades. In part, the growing success of EPS recycling can be attributed to companies like NOVA Chemicals, which has been creating innovative solutions for collecting EPS for recycling for the last five years. That's why the company is being honored with the EPS Industry Alliance's annual Excellence in EPS Recycling award.
Judged by an expert panel including Keep America Beautiful, Packaging Digest, More Recycling, and GreenBlue, this award recognizes outstanding efforts to advance EPS recycling. To date, NOVA Chemicals has collected for recycling more than 57,000 pounds of EPS. That's a lot of foam cups and other packaging materials!
NOVA Chemicals kicked off its program in 2011 with an employee campaign "Bring Your Foam From Home." This campaign educated employees on the sustainability of EPS while encouraging them to bring their "foam from home" for recycling. The successful campaign resulted in NOVA Chemicals installing its first permanent collection bin a year later. In 2013, a pilot public education awareness and collection program was developed in partnership with Pennsylvania Resources Council (PRC), a nonprofit environmental organization and Appliance Warehouse (AP), a local retailer. This partnership provided opportunities for the general public to drop off EPS packaging material at a number of PRC Hard to Recycle (HTR) events. More than 20,000 pounds of EPS packaging foam material collected from these events was transported and densified at AP for recycling.
A public education and awareness program was a key component for introducing EPS recycling to the general public. NOVA Chemicals and PRC included EPS in an extensive promotion campaign including print media, televised news coverage and targeted social media. EPS recycling has become a permanent material stream for collecting at all PRC collection events in Western Pennsylvania. In addition, NOVA Chemicals' employees and families have consistently participated as volunteers at numerous PRC HTR events, totaling nearly 900 volunteer hours. In 2014, the partnership with PRC resulted in the design and unveiling of a self-service EPS collection bin that is fabricated and commercially available through RecyclingBin.Com. The bins are in use in many places in the United States.
"We are honored to receive this award from the EPS Industry Alliance. It is a wonderful tribute to the passion of our employees for recycling and Responsible Care," said John Feraco, director, Expandable Styrenics, NOVA Chemicals. "Our congratulations to all the other companies that are working to increase EPS recycling rates."
The EPS Industry Alliance (EPS-IA) received a record number of nominations for the award this year. "The judging panel definitely had a tough job," said Brenda Pulley, Senior Vice President, Recycling Program, Keep America Beautiful. "I really like reading the award entries and seeing the innovative programs. NOVA Chemicals' program stood out because of the company's collaboration with the community and its commitment to grow the program," she added.
Many environmental stewards were considered for this year's award, including: Foam Fabricators, for its EPS mail back campaign; HIRSCH, for creating Thermozell, a recycled-content EPS construction material; Insulfoam, for recycling 4,150 tons of EPS in 2017, including improvements with their scrap yield; Plasti-Fab Ltd./PFB Corporation, for instituting a recycling program in Airdrie, Alberta; Polystyvert, for creating a closed-loop EPS recycling technology; and PPRE Forevergreen, for providing ex-convicts with the knowledge to work in green industries through EPS recycling.
Like NOVA Chemicals, many organizations and companies are finding ways to handle environmental challenges with fresh, inventive solutions. Sustainable recycling efforts will continue to grow with the involvement of strong community leaders and groups like NOVA Chemicals, which exemplify how to turn a challenge into a success story.
NOVA Chemicals develops and manufactures chemicals and plastic resins that make everyday life healthier, easier and safer. Our employees work to ensure health, safety, security and environmental stewardship through our commitment to sustainability and Responsible Care®. NOVA Chemicals, headquartered in Calgary, Alberta, Canada, is wholly-owned ultimately by Mubadala Investment Company of the Emirate of Abu Dhabi, United Arab Emirates. Got Foam?® is a registered trademark of NOVA Chemicals Inc.
The EPS Industry Alliance is an organization that represents North American expanded polystyrene manufacturers, suppliers and recyclers. EPS-IA is committed to supporting, advancing and enhancing innovative and environmentally sound EPS foam recycling programs.
Related Articles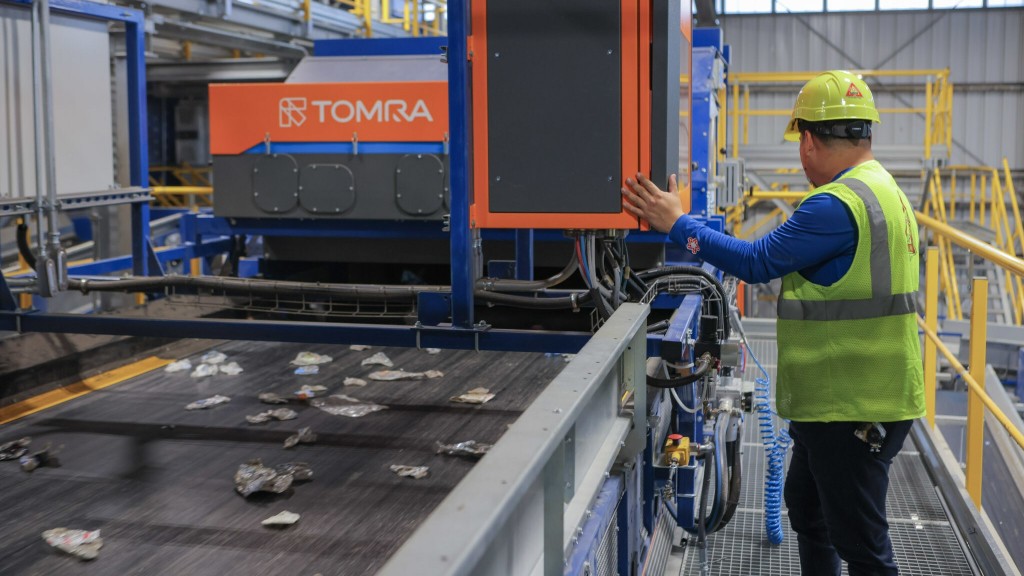 Republic Services' polymer centre can turn plastic bottles into new bottles over six times