Coast Waste Management Association meeting focused on plastics recycling
Nanaimo, BC gathering brings together 80 delegates to talk about the current market situation in light of China's recently imposed import restrictions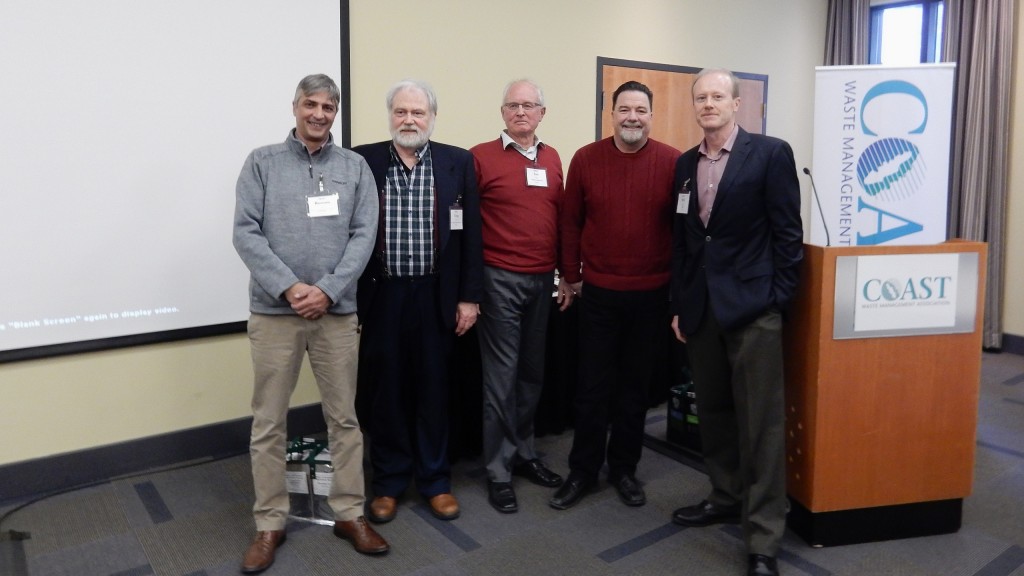 On February 16th, the Victoria, B.C.-based Coast Waste Management Association hosted a meeting and seminar called Plastics Management - economic, market and regulatory trends affecting plastics. The conference, held in Nanaimo, B.C., brought together close to 80 delegates from Vancouver Island and around the province, and as far away as the Yukon and Washington State, including an expert industry panel. The goal of the meeting was to discuss present market conditions and what can be done to adapt, in light of China's recently established policy on regulations surrounding import of recycled materials. Attendees were briefed on work that is being done to address the issue, alternative markets for plastics and what we might expect to see going forward.
A two hour seminar followed a morning tour of the recently updated and expanded Nanaimo Regional District's Cedar Road landfill, where they separate plastics and other recyclables and organics out of their inflow, and where they recently completed a seismic upgrade of their facility. At the Nanaimo conference centre, following the tour, the industry panel included Craig Foster, the Canadian Plastics Industry Association's B.C. representative and sustainability consultant, King County's Pat McLaughlin, director of their Solid Waste Division, Rustam Punja from Geocycle, a supplier of alternative fuels to the cement manufacturing industry (part of LafargeHolcim) and Ian Kidd from CasCell Trading Group, a private company owned by CellMark Recycling and Cascades Recovery, with a primary focus on marketing recyclable commodities.
The speakers focused on the topic of the current state of the plastics recycling industry, as it relates to China's new import restrictions, sometimes referred to as the National Sword initiative, which effectively stopped nearly all importation of recycled commodities with more than (on average) 0.3% to 0.5% contamination levels, beginning in the summer of 2017. These are recycled commodity purity levels that are nearly impossible for North American recyclers to meet. Already, our industry is seeing backlogs of valuable recycled fibre, plastics and metals, with no end markets. Considering that China, in 2016, was the export destination for between 50 and 70 percent of the worlds plastic scrap, recovered paper and fibre, as well as copper scrap, the country's "import ban" has left a very large hole to fill. Other global markets have so far not been able to fill the gap, and domestic markets are currently underdeveloped.
The morning's first speaker was Pat McLaughlin from Washington State's King County solid waste division. McLaughlin started the sessions by quoting a Chinese proverb: "May you live in interesting times." He said this is clearly where we are today.
McLaughlin talked about the need to harmonize the decisions that shape the marketplace, which are largely made independently of each other by consumers, policy makers, government and private industry. "In King County, one thing we've learned is that there are decisions made along the supply chain, starting with producers, who decide how they design and package their products. We as consumers have choices on whether to buy products or not," he said. "Our partners who are investing in recycling infrastructure have choices. How fast do they run their lines? How much contamination can they prevent? And policy makers have choices that will help set the framework around how many of these systems work.

"But all of these decisions are largely being made independently of each other," continued McLaughlin. "What we actually need is a very harmonized approach with a true vision. We need to begin with the end in mind. I think one of our biggest challenges is to harmonize this decision making.
The day's second presenter, Craig Foster, the Canadian Plastics Industry Association's Sustainability Consultant, B.C. region, agreed with McLaughlin about the need to harmonize our efforts going forward.
"We need to get to the point where we're all thinking about the same end goal," said Foster. He said the Canadian Plastics Industry Association (CPIA) has become a more nationally focused organization in the last several years. "We're starting to move to where we're talking not just about how B.C., Alberta or Ontario should be working, but how Canada should be working, and that's a big part of our real focus."
"The current Chinese policy situation is an interesting one, but it's not a surprise," continued Foster. "We should not be shocked that we have wound up with the marketplace where it is right now. We're into our fifth month."
Foster also pointed out that because approximately 80 percent of plastics collected in Canada are processed in Canada, China's recent National Sword initiative does not have quite the same effect on Canadian recyclers as it does on our neighbours to the South. "We don't have quite the same extent of reliance on export markets," he said.
Foster said the CPIA has also been working with processors across the country, for over three months to network and put together a database of stranded tonnes. He said they are trying to get a sense as to the true scope of the issue in the Canadian plastics recycling sector.
"With all the information we've gathered in the last three or four months, in B.C. what we've found is that we're not having a real issue, we have homes for our materials," said Foster. "But the other provinces are not doing quite so well. We need to focus on building our domestic marketplace."
"The bottom line is quality," added Foster. "When you put material back into the system, you are supplying some other company with their raw material. We have to generate quality."
Ian Kidd followed Foster. As a commodities trader with Surrey, B.C.-based CasCell, he started with several telling statistics, including the fact that as of 2016, approximately 70 percent of the world's plastics were processed in China. He also alluded to the fact that China has 20 of the largest, most efficient ports in the world, and that other countries who might be considered alternate destinations for recycled plastics and other materials, were already filled to capacity as of the Fall of 2017. "World inventories have quickly risen to unimaginable levels, prices have moved drastically down, and quality expectations have increased," said Kidd.
He continued by pointing out that one notable effect of China's ban on scrap, and recovered plastics specifically, is that industrial and commercial polyethylene producers have gone through a temporary shift in their consumption of recycled polyethylene, and have turned increasingly to virgin material for production. "Another outcome from this shift is an increased investment in other grades of plastic and in sorting technology," he said.
At the end of his talk, Kidd had some words of advice as to how the industry should move forward. He said "We need to change methodology on how recyclables are collected curbside. We need to re-educate the public regarding how to recycle. This is very important for the future, to ensure the continuation of effective recycling programs."
The morning's final speaker, Rustam Punja of Geocycle, comes from a company that represents a growing end market for various kinds of waste materials. A range of waste materials, including otherwise unrecyclable shredded plastics, are used by Geocycle in their co-processing facilities to power their cement manufacturing plants. The company supplies over 180 cement manufacturing plants worldwide with alternative fuels, and runs 80 treatment facilities to prepare waste materials for conversion to energy ¬- about 14 million tonnes per year globally, including about 3 million tonnes in North America.
"Co-processing is different from incineration," explained Punja. "We are taking energy from waste and generating no ash residue, as it used in our process. Co-processing is higher on the waste management hierarchy than incineration. We are substituting waste material for fossil fuel," he said.
Punja said currently, Geocycle is saturated with waste material for their co-processing plants. At the company's Richmond B.C. facility they use about 40,000 tonnes per year, a quota which they have no problem meeting with available supply of materials. At Geocycle co-processing facilities, waste materials, including hazardous waste at some locations, are heated to about 1,450 degrees Celsius, creating energy for their manufacturing process. Punja noted that they are also currently investing $22 million, including a grant from the B.C. government in a new co-processing facility.
"Waste-to-fuel is not as simple as it seems," said Punja. "The cement manufacturing process is a great end market for shredded tires, fibre, wood residues, plastics and non-recyclable plastics." RPN
Company info
1185 Rolmar Cres
Cobble Hill, BC
CA, V0R 1L4

Website:
cwma.ca
Phone number:
250-733-2213
Read more