Sennebogen provides right combination for CRC Scrap Metal Recycling
South Carolina scrap recycler turns to Sennebogen scrap handlers and grapples to meet challenges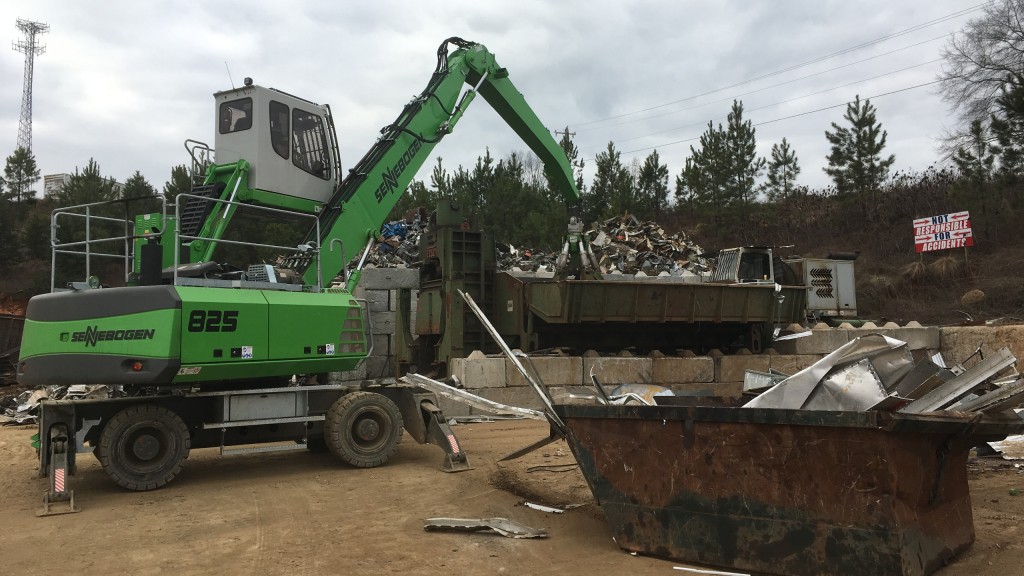 When Blake Stanley graduated from college, he immediately joined the new metals recycling company that his grandfather, Ronnie Strange, had started up just months before. Strange launched the business with the help of two other partners, and Blake soon learned that who you know is often as important as what you know, to get a new enterprise off the ground.

CRC was well equipped for local business with its 750-ton logger/baler/shear and a rubber tired material handler. Building the firm's supply of whole cars, industrial scrap and residential retail scrap, Blake became active in his local community, in Duncan, SC, and he currently serves as President of South Carolina Recyclers Association, Inc. (SCRA).
Building on trust
When the yard encountered problems with an orange peel grapple, Blake reached out to a fellow member of the SCRA: Rob Jordan, the SENNEBOGEN material handling specialist for nearby Ascendum Machinery, Inc. "We were getting frustrated, then Rob came in and sold us a new SENNEBOGEN grapple that we've never had any issues with," Blake recalls. "At that point, we knew we could trust Rob, and if we had a problem, that he would take care of it."
CRC's business did keep growing. After a few years of operation, Strange acquired full ownership of CRC from his partners. Blake, his grandfather and Kevin Land, Operations Manager, decided that a second material handler was needed on the site. "As a young company, we wanted to learn more about different equipment," says Blake. "We were ready to look at a different OEM. Based on our relationship with Rob Jordan, we gave him a call and his team from Ascendum Machinery came up with the right equipment for the job."
Wearing many hats
While their original machine stays busy offloading trucks at one end of the yard, a new SENNEBOGEN 825 M now feeds the shear and handles loading duties for outbound trucks. "Our crew appreciates the maintenance access they get on the SENNEBOGEN and the fact that it uses minimal electronics. It's built heavier than our other unit. And our operators appreciate having the lights on the boom for a better look at their loads."
Blake acknowledges that, as a smaller operation, he and his team all wear a lot of hats. However, he found that Jordan was able to help with one of his other key positions, too. Ever safety conscious, he took a lead role in organizing an OSHA training event, sponsored jointly by SCRA and its counterpart in North Carolina. Conveniently, Jordan arranged for the event to be hosted at SENNEBOGEN's North America head office near Charlotte, NC. The 100,000 sq. ft. SENNEBOGEN facility includes a fully equipped Training Center. Complete with classrooms and demonstration displays, the Center is actually built around a three-level service bay built for hands-on indoor instruction on complete machines.
Ascendum is continuing to work with CRC, providing ongoing maintenance service to the equipment. Like the people at CRC, the new 825 M is proving to be comfortable wearing many hats. "Loading or unloading, sorting and feeding the shear, it's a very diverse machine for us."
Company info
Related products