TAV offers Ultra-High Frequency Eddy Current Separators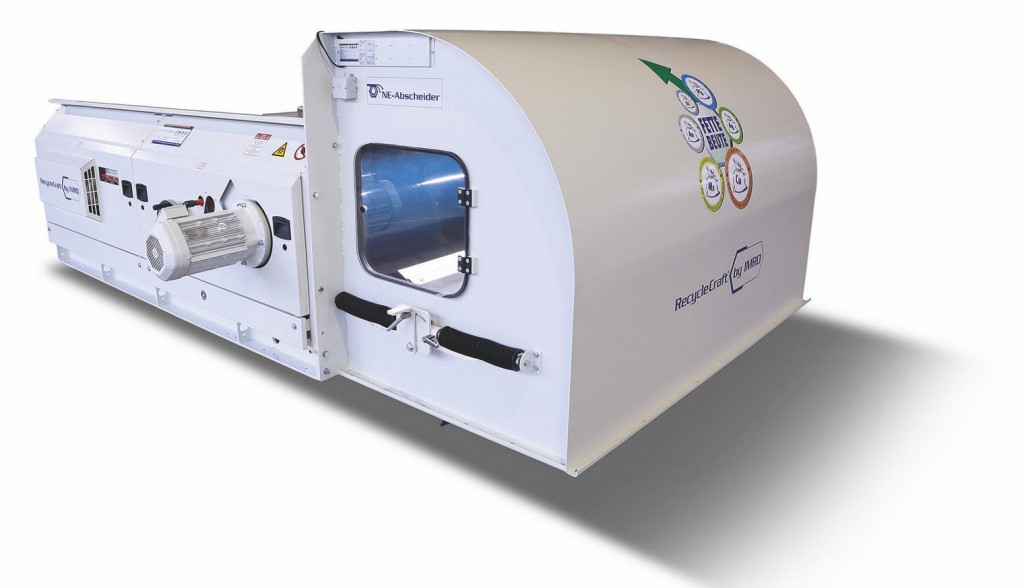 The new RCSX-E series ultra-high frequency eddy current separator from Germany-based manufacturer, IMRO, has been introduced to the North American market by TAV Holdings out of Atlanta, Georgia. This ECS technology is able to process up to 15 tph, ranging magnetic frequencies above 1,300-hertz, with rotors spinning at 4,000 rpm. According to TAV, the value of having this series in downstream processes is that the E series excels at separating nonferrous metals under 3mm (1/8"), a size range that is traditionally challenging for a High Frequency ECS to recover. With its patented adjustable pole system that can go from 0 to 20 degrees, the E series can handle all types of applications with extra fine material. IMRO's E series also provides a patented shell ring with lifting assistance to easily replace a shell when needed, plus with an electrically adjustable splitter, this eddy current provides an infinitely variable system for all applications. TAV is offering the E series in 3 different sizes: 40", 60" and 80" to match varying throughputs and budgets.

The E series eddy current has increased TAV's portfolio of products that currently include the groundbreaking-patented Dynamic Sensor Sorter, as well as the patented Deep Box Aspirator, and Fluidized Screening Technology. According to the company, hundreds of these units have been successfully installed throughout the world.
Company info
Related products
More from Metals Recycling
Single-Ram and II-Ram High-Capacity Balers
At Machinex, we've been designing sorting systems for over 35 years, so we know how essential it is for MRF operators to have a baler they can trust and not worry about its operational reliability. This is why we design and manufacture reliable single-ram and II-ram high-capacity balers to specifically help optimize their operations.
Watch the video of our expert who presents the main features of Machinex balers delivering these important benefits:
Easy & accessible maintenance
Reduced maintenance & bale handling costs
Energy savings
Optimal bale density
For C&D recyclers, waste haulers, demolition contractors and landfills, there is a growing opportunity to profit from rethinking processes. Although every operation is different, by streamlining the front end of the C&D operation processes with purpose-built technologies, recyclers can tap into new end markets, accommodate higher material volumes, stay ahead of regulatory restrictions, increase recovery rates and add commodity revenue, while decreasing labor and other costs.
Download the new eBook to learn about:
Finding opportunities in the alternative to landfilling C&D
How facilities can increase their profits from C&D
Using the right C&D processing technology in the right locations