Carton Council celebrates success in 2017 and looks ahead to 2018
Carton recycling now available for 62 percent of U.S. households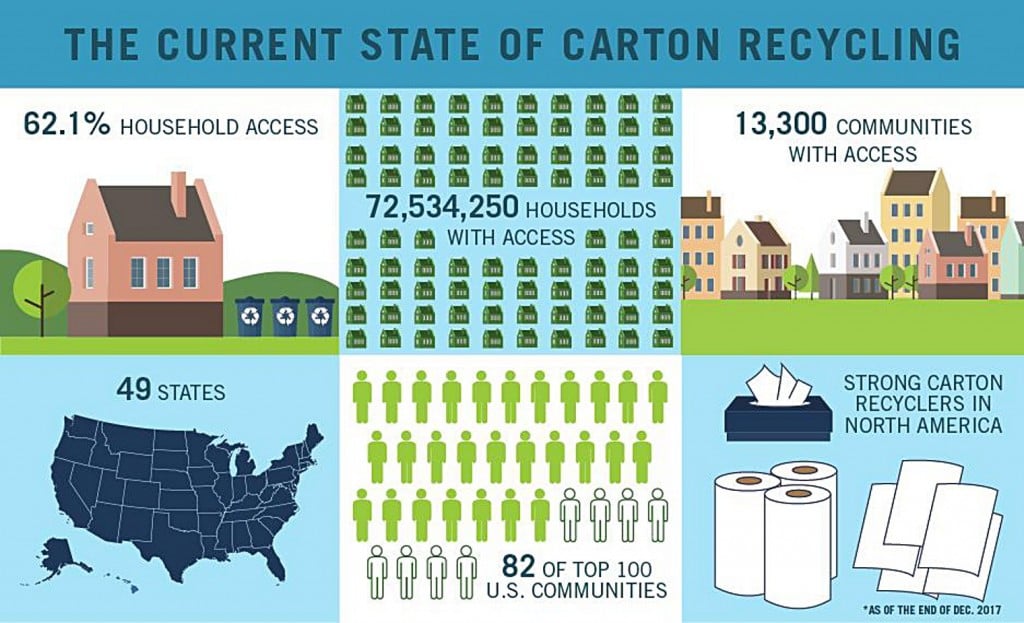 The Carton Council of North America is proud to announce that more than 62 percent of U.S. households can now recycle their food and beverage cartons through curbside and drop-off programs, marking a year of advancements since carton recycling officially became mainstream.

In January 2017, the important 60 percent access milestone was achieved, meaning that food and beverage cartons can carry the standard "Please Recycle'' logo under the Federal Trade Commission's green guidelines. Since that milestone was achieved, more than 2.5 million households have gained access to carton recycling, end markets for recycled cartons have expanded, and new technology for sorting cartons was piloted.
"Last year built upon nearly a decade of significant growth in carton recycling" said Jason Pelz, vice president of recycling projects for the Carton Council of North America. "Not only did we continue to hit new milestones in household access, but this progress spurred increased consumer awareness, new industry collaborations and innovative technology and end market solutions to increase carton recycling efficiency.''
The Carton Council formed in 2009 to increase carton recycling by helping develop an infrastructure for recycling aseptic and gable-top cartons used to package many food and beverage products, such as milk, juice, water, soups, wine and beans. At that time, only 18 percent of households could recycle their cartons through local programs. Sixty-two percent access marks a 244 percent increase in access since 2009.
Currently, 13,300 communities across 49 states can recycle their food and beverage cartons. Of the 100 largest U.S. communities, 82 have access, including San Francisco, Calif. and Grand Rapids, Mich., both of which added cartons to their recycling programs last year.
The Carton Council attributes this success to:
• Expanding end markets for recycled cartons - The ReWall Company, which makes sustainable building materials out of recycled food and beverage cartons, doubled its manufacturing capacity in 2017 based on high demand for its eco-friendly products.
• Bringing artificial intelligence to recycling - The Carton Council teamed up with AMP Robotics to help maximize carton recycling by introducing artificial intelligence to the recycling industry. Two materials recovery facilities (MRFs), Alpine Waste & Recycling in Denver, Colo., and Dem-Con Companies in Shakopee, Minn., installed the AMP Cortex robot to sort cartons from other materials in the recycling stream. The robots continuously learn as they go and have already demonstrated success at improving the efficiency and effectiveness of carton recycling.
• Collaborating with industry allies - Key to carton recycling growth is working with organizations across the industry to not only grow access, but to help educate about recycling. Collaborating with organizations like Keep America Beautiful and The Recycling Partnership have helped expand the carton recycling message.
• Bolstering consumer education - Following the launch of the Carton Council's first national digital consumer education campaign last February, two toolkits were launched to continue to drive education: one for communities and one for companies and brands. Both toolkits include fun and engaging content and graphics that can be shared via websites, social media, newsletters and more.
• Developing policy tools to improve recycling - Several tools were developed to assist local governments and others in developing and implementing policies that have been proven effective for improving recycling programs, and increasing recycling of all materials.
"We recognize that building the infrastructure for carton recycling alone isn't going to get people to recycle their cartons," said Pelz. "We are looking at the full picture. This includes consumer education, engaging everyone in the supply chain, developing effective end markets, and leveraging new technologies so that carton recycling is economically and environmentally beneficial for all.''
Building on the momentum and success of last year, the Carton Council plans to increase awareness of and access to carton recycling; continue to work with companies and brands to add the "Please Recycle" logo to their packaging; expand end market solutions; support the development of technology to make carton recycling more efficient; and continue working collaboratively across the industry to encourage the recycling of all packages.
In Canada, visit the Carton Council of Canada at http://www.recyclecartons.ca/.