Tracked Jaw Crushers: uses, benefits and how technology is improving efficiency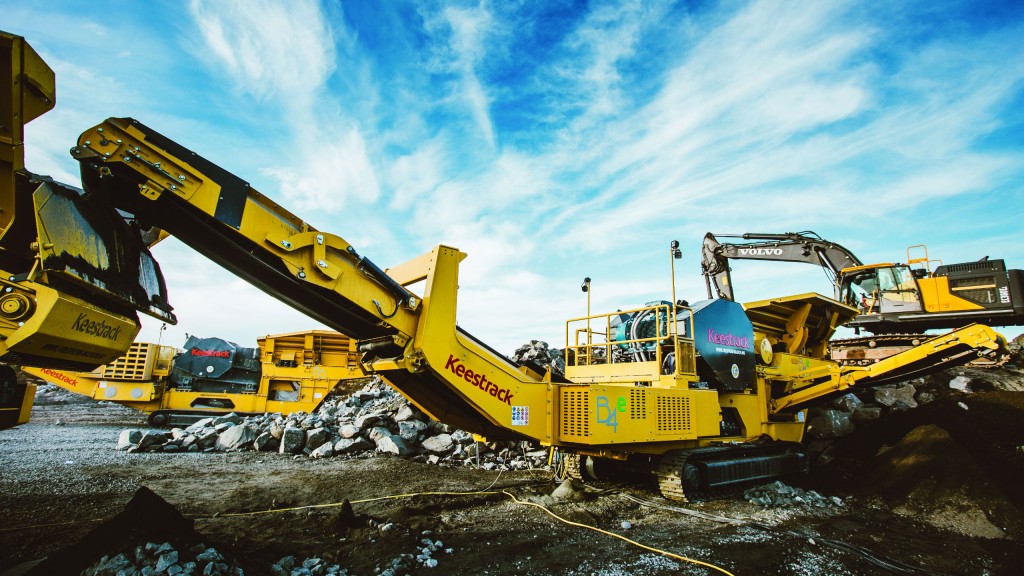 Key factors to consider when buying a new tracked jaw crusher
Buyers considering their options when it comes to tracked jaw crushers have a number of factors in mind as they conduct their search. For many of them, the decision comes down to how the machine performs in terms of cost and efficiency, the reliability of the unit, and the strength of dealer support for each particular model.

"It is important that consumers look at the overall cost per produced ton and not just the equipment price," said Daryl Todd, president of Frontline Machinery, which sells and services Keestrack jaw crushers. "For instance, what output does the equipment provide, what fuel consumption does the machine use, how easy is the machine to maintain and access or replace parts, does the machine provide an energy-efficient electric option? By taking all these into consideration, you get a true perspective on your total costs per ton and the value of the equipment versus price."

When machines need to change roles on a site or between sites, adaptability is essential, according to Metso product manager Jouni Hulttinen.

"Mobile plants typically need to be quickly adaptable to different operational requirements. Ability to support a wide range of applications is a must," he said. "Downtime basically means lost revenue - therefore the plant must be reliable. Access to a service network and parts availability are of course very important for our customers."

For some operations, an often overlooked consideration is ensuring the new machine will work well with other equipment in the pit, according to John O'Neill, vice president of sales for crusher manufacturer McCloskey. Matching the primary processing machine to suit other equipment, such as the feed loader or feed excavator, will optimize operations. McCloskey's customers also find it important to consider climate conditions when it comes to picking a machine.

"Climate considerations are key influencers in the decision process, along with altitude and topography. The grade of steel used, the configuration of hydraulic system or the oil cooling system in hot climates can all impact the performance of the crusher," O'Neill said. "Jaw crushers that can be deployed with either an Arctic Kit or High Ambient Kit can ensure the machine is operating at peak without being compromised by its surroundings. R&D and product development that allows for adaptation based on regional needs is critical."

Flexibility is a growing need for buyers of crushers - the ability to handle multiple applications expands a machine's earning power.

"The crusher should be able to handle the requested application, but often it is not just one single application - for example, in recycling applications the feed material and final product changes on a regular basis, so the crusher should be a multi-functional tool for crushing and screening challenges," said Norbert Dieplinger, international business development manager for SBM Mineral Processing.

A common theme among manufacturers is the need for good dealer support, from the first inquiry through the sales process to deployment and later service.

"A manufacturer has to be the best value for all parties involved in the decision making, from the purchasing department to the crews running the machine," said Paul McLaren, technical sales manager for Kleemann. "Dealer support has a huge influence on a customer when purchasing a machine. If the support has to come from the other side of the province, or even out of province, this causes huge issues with service and parts support availability, ultimately affecting uptime production and ownership costs."


Advances in technology: drive systems, controls and telematics
While jaw crushers have remained essentially similar in their design for some time, there are a number of new advances that provide options for buyers to consider. From new power sources to automation, tracked jaw crushers are developing steadily in many ways.

One key technology being brought to the market is hybrid drives. Keestrack, for example, offers its jaw crushers in a fully hybrid eco drive option, Todd noted.

"During 'plug-in' operation [on an external genset or mains] the diesel engine doesn't have to be started, and complete energy management is controlled automatically, including the electric supply of a secondary unit such as a screener or stacker," he said. "Electric hybrid drive greatly reduces fuel consumption in the machine, and there are almost zero maintenance costs when running from the grid."

In addition, the Keestrack hybrid drives improve production by removing surging of the diesel engine; they also have an increased life expectancy of around 40 percent over diesel engines, and there are lower noise emissions, among other things. Keestrack's B4e Jaw Crusher is also available with a removable engine/genset option - the engine compartment can be removed and placed away from the dusty environment around the crusher, then plugged into the mains. This cuts maintenance costs and extends life expectancy.

SBM has recently introduced the Jawmax series, which Dieplinger said is powerful, compact and uses a diesel-electric drive.

"The Jawmax offers several innovations, like new fully automatic overload protection and crushing gap adjustment function, which prevents unbreakable objects and materials from damaging or blocking the crusher without stopping the crushing process," he explained. "Due to the diesel-electric drive system, the user can control crusher speed and clockwise/counter-clockwise rotation at the push of a button. The drive also allows frequency adjustments of the belts and screens, and powers the electric undercarriage."

With more stringent environmental regulations being implemented on a regular basis, crushers have had to adapt, especially when it comes to noise in urban areas.

"Construction sites are increasingly located near residential areas. We have invested in developing technologies to reduce particulate and noise emissions," said Metso's Hulttinen. "The Metso Lokotrack Urban crushing plant was developed for operations close to living areas, where noise can be a limiting factor in getting operating permits. The solution can reduce noise around the plant significantly, even up to 60 percent reduction in the 85 dB(a) noise protection distance compared to a traditional model. The Lokotrack mobile plants have Tier 4 Final-compliant diesel engines that reduce fuel consumption by up to 30 percent."

Lokotrack plants also take advantage of technology like the Metso IC700 control system, which optimizes capacity by adjusting the feed and uses ultrasonic material level control; the combination helps maintain stable material flow and product quality, and reduces equipment wear, Hulttinen said.
Metso has also added the ICr wireless information and control system, an optional way to monitor and control Lokotrack plants from an excavator cabin.

McCloskey has also considered the way in which operators interface with its machines, according to O'Neill.

"Working with TEDD Engineering, we have developed an intuitive interface for the jaw crusher line. With the introduction of the V2 jaw crushers, the Control Panel offers clearer and much more concise optics and function," O'Neill said.

Kleemann is also leveraging technology for its control systems, McLaren noted.

"The use of Continuous Feed Systems using monitoring technology such as sonic sensors to monitor the fill level of the jaw and adjust the feed rate accordingly is just one example; we then have the advancement of operator interfaces," he said. "Fully hydraulic adjustment that can be operated through a touch panel user interface, with many similarities to your smartphone, is a great example. This technology allows the user to not only adjust the gap setting from the operator panel, but also gives full insight to the status of the equipment, fuel efficiencies, drive efficiencies and so forth."

While many manufacturers in the construction sector are using wireless communication as the basis for improving efficiency through machine monitoring and other telematics functions, tracked jaw crushers are relatively slow to be connected with these types of systems.
"Data communications have . . . been a limitation, especially for the quarry and mining industries, as these locations are often off the mobile communications grid," McLaren said.

"There are some advanced on-board diagnostic systems that not only tell you that there is a problem with a machine, but where that problem is and how to resolve it. I believe in the coming years this is one area to watch for some major advancements in technology."

Hulttinen agreed, noting that although remote locations and regular movement makes it more difficult to connect and collect data from crushers, there are solutions to overcome this.

"All Lokotrak mobile plants have been equipped with Metso Metrics since 2016, as part of the Metso Lifecycle Services contract," he said. "It can often be retrofitted to older Lokotrack plants. It is a cloud service, giving the customer 24/7 access to key operational and maintenance data via satellite link. The data includes example utilization rates, production levels and things like energy usage and fuel consumption, among others."

Keestrack offers its Keestrack-er system on its machines, making it possible to view real-time data and analytics through a web portal.

"The system allows you to check the location of machines and if they're working correctly. All aspects of a machine can be checked and, if necessary, remote updates to the software can be made," Todd related. "It's possible to run diagnostic tests for all components including the feeder, screen, crusher, engine and conveyors. The Keestrack-er also adds an extra dimension to maintenance planning, helping to keep machines in operation longer."

For McCloskey, machine monitoring has been focused on efficiency and environmental considerations. It offers both an ECO mode and an engine information page on its jaw crushers.

"ECO mode delivers an environmentally friendly aspect of better fuel efficiency, as well as higher throughput and lower noise levels. When the crusher works at a lower power demand, the panel lowers the engine rpm from 1,900 to 1,750 for lower fuel consumption, while still maintaining the torque curve. If full horsepower is needed, the panel sends a signal to increase the rpm," explained O'Neill. "One of the new features on the engine information page is a visual representation of how much fuel has been used per day for the last seven days. This gives the operator a clear idea of fuel cost and helps work out how profitable the machine is to run."

SBM has also incorporated telematics into its crushing plants, according to Dieplinger.

"Our innovative electric-drive system allows the user to check and adjust parameters in real time to ensure a highly efficient and cost-saving operating process," he noted. "Our tracked units come with technology that allows remote monitoring, service and maintenance functions. The operator can also monitor and adjust parameters without leaving the cab of the loader or excavator by using a tablet PC."
Looking ahead: the future of jaw crushers
When asked about where jaw crushers might go in the future, our experts suggested that safety, size, efficiency and fuel consumption would all be factors that will affect development.
"Due to increasing fuel cost, changing environmental regulations and process efficiency needs, I think hybrid, or 100 percent electrically driven tracked crushers, are the future and will replace hydraulic, direct-drive or hybrid units," said Dieplinger.

Hulttinen cited continued tightening of environmental standards worldwide that "drive the need for the development of alternative power sources - for example, the possibility to connect to external power sources, or development of hybrid technology. Aggregate producers are looking for more cost efficiency and lower cost per ton, so the equipment manufacturers need to provide technologies which decrease operational expenditure, such as crusher kinematics and more durable wear parts."
McCloskey's O'Neill feels that with jobsites becoming more restricted, smaller crushing units may be a key trend moving forward.

"McCloskey introduced a compact crusher line to address the expanding contracting and recycling markets in urban centres. The need for maneuverability in small spaces, and the ease of transport from site to site, is driving the demand for this category," he said. "Additionally, the increase of regulatory guidelines and restrictions in the recycling industry will drive the design and development of jaw crushers across multiple applications, including waste and recycling, asphalt and concrete recycling, and construction and demolition."

"As we develop mobile crushing to the next levels, I believe we will see more automation, more efficiency and less downtime due to the systems that are integrated into these machines," said McLaren. "The ultimate goal has to be to increase our production rates, increase uptime and decrease ownership costs for the customer. This not only comes from the equipment itself, but from an effective support network."
Company info
Related products