Wendt MTB Cable Box to open additional markets for Potomac Metals
MTB CABLE BOX includes a shredder, two granulators, air density tables, screens, magnetic separators, integrated electrical controls and dust collection in a containerized system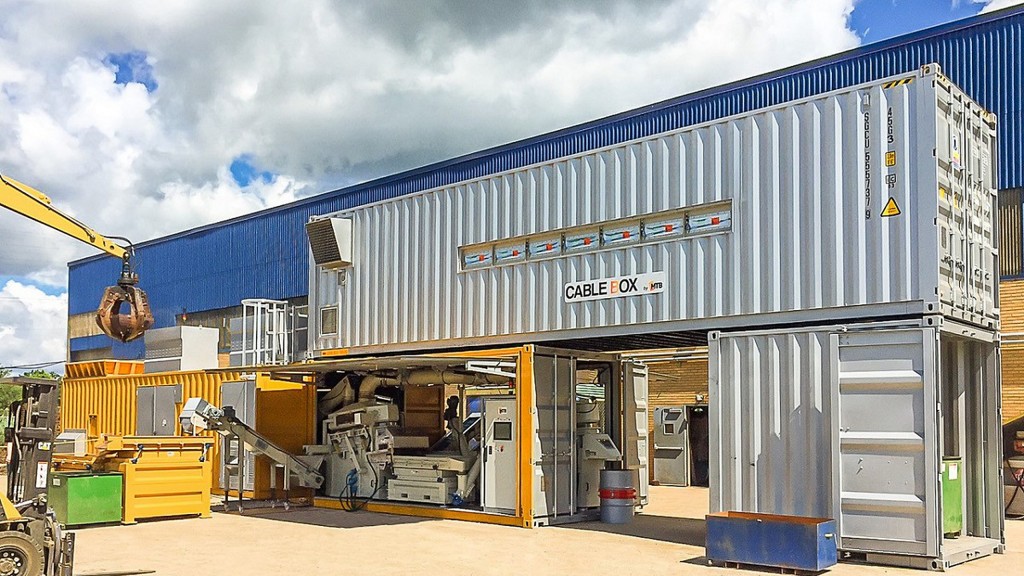 Potomac Metals Incorporated has purchased an MTB Cable BOX from WENDT CORPORATION. The purchase will provide the company with the opportunity to upgrade their wire packages to clean copper and aluminum products that open up additional markets for them. Founded in 1997, Potomac Metals is a privately held independent scrap metal recycling company. Since opening their first 5,000 square foot location with two employees, the company has grown to staff over 150 employees while operating eight locations throughout Virginia, West Virginia, and Maryland. As one of the Mid-Atlantic's most versatile recycling companies, Potomac offers a multitude of services to commercial, residential and industrial clients.

Potomac attended WENDT's Demo Days event in June 2017, which showcased the MTB CABLE BOX running four different material types: shredder wire, #1 copper wires, aluminum cables, and aluminum copper radiators. The company represents the third company that attended the event make the decision to purchase the compact wire chopping system. "We saw the MTB CABLE BOX in action at WENDT Demo Days and the separation system is top of the line," said Eric Zwilsky, Vice President of Potomac Metals.
"When we saw the system processing low grades and dirtier wire than we are looking to process, we knew it could easily get the job done." The company plans to initially process high-grade #1 wire through the system and then expand into processing additional wire packages including high-grade #2 wire, insulated aluminum, BX cables, and URD cables.
Potomac Metals MTB CABLE BOX will feature a BDR 1245 shredder, two BAT 800 granulators, air density tables, screens, magnetic separators as well as integrated electrical controls and dust collection system. Their containerized, turnkey solution with two 40-foot, one 20-foot and one 10-foot container will be installed at the company's headquarters in Sterling, VA. The wire chopping system will process wire from the company's eight drive-in locations and industrial accounts. The system will be installed indoors with relatively low-ceiling heights, compared to more traditional CABLE BOX installations where ceiling heights have been higher. To accommodate the lower ceiling height, Potomac has purchased a unique electric crane from Built-Rite to safely and efficiently handle feeding material under their 30-foot ceilings.
"The purchase and install process has gone flawlessly," Zwilsky added. "The demand for insulated copper wire has weakened and several buyers have priced themselves out of the market due to oversupply. We look forward to getting up and running because with this machine and the type of material we will be processing, we will have a very clean product that should be able to reach any mills specs, while helping to increase our margins."
"The CABLE BOX fits perfectly with Potomac Metals operational goals. It gives them the ability to process high grade copper and aluminum cable at a high throughput rate and low operating cost while still producing high quality chops on the market," said David Siejka, MTB Business Development Manager. "When I visited Potomac's headquarters it was immediately evident from the state of their facility and the way they run their organization, that they are a top quality scrap processor on the East Coast. On top of that, they are great people, and it is always a good feeling know that the equipment, service and support from WENDT and MTB is going to help them continue to grow."
The CABLE BOX will be installed and commissioned at Potomac Metals in the first quarter of this year and will run 7 days a week with two-8 hour shifts per day.
Company info
2555 Walden Avenue
Buffalo, NY
US, 14225-4737

Read more
Related products