New product options launched by Freightliner at NACV Show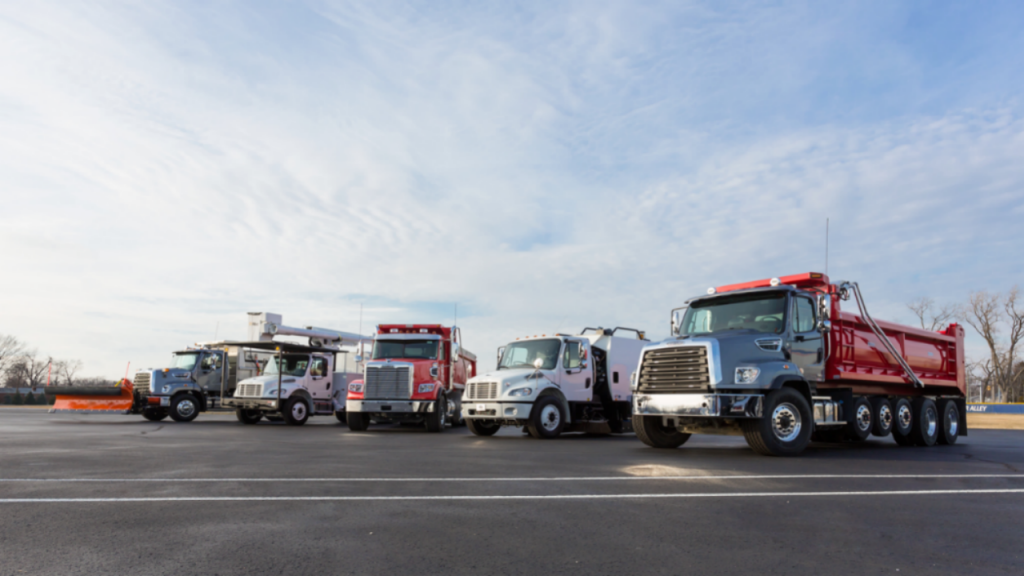 Freightliner Trucks has announced six new severe duty product options: the Allison 4700 Rugged Duty Series (RDS) automatic transmission, LifeGuard RollTek seats, improved routing and clipping, LED headlights in the M2 106 and M2 112, Bendix Tire Pressure Monitoring and the 122SD auto hauler package. In addition, all three vocational trucks featured in the Freightliner Trucks booth at the North American Commercial Vehicle (NACV) show are equipped with Detroit engines.
Freightliner launched its severe duty product line in 2011, and has since released several product enhancements and options to meet customer demands. This continual advancement has positioned Freightliner as the leading truck manufacturer in four out of five vocational segments.
New options include:
Allison 4700 RDS Automatic Transmission: Now available for the Freightliner 114SD, the Allison 4700 RDS provides heavy vocational operators with improved start ability, two reverse gears, enhanced PTO options and the durability required for severe applications. The Freightliner 122SD is also available with the Allison 4700 RDS.
LifeGuard RollTek Seats: In the unlikely event of a rollover, the LifeGuard RollTek side-impact airbags inflate, the seat belt tightens and the air-suspension seats compress to the lowest position to provide additional protection to the driver.
Improved Routing and Clipping: Freightliner's entire vocational product line has been updated with new standoff brackets and optimized routing and clipping of chassis electrical and plumbing harnesses to provide a cleaner installation and greater long-term durability. The body and equipment mounting is also simplified with more consistent routing paths.
M2 LED Headlights: Freightliner M2 106 and M2 112 trucks can be spec'd with modular LED headlights to improve night visibility and reduce maintenance costs.
Bendix Tire Pressure Monitoring System: Bendix Tire Pressure Monitoring System is now available for Freightliner's entire vocational product line offering the potential for improved tire wear, fuel economy and overall vehicle performance.
122SD Auto Hauler Package: The Freightliner 122SD is now available with a low profile auto hauler package. The package, made possible in collaboration with Fontaine Modification, Inc., lowers the laden roof height to approximately 100", making it ideal for auto hauler applications that require a sleeper berth.
Vocational trucks on display in Freightliner's NACV booth will include a Detroit DD5-powered M2 106 upfitted with a Valew service body and electric over hydraulic PTO, a Detroit DD8-powered M2 106 crew cab upfitted with a heavy spec Miller Industries rollback car and equipment carrier, and a Detroit DD13-powered 114SD set forward axle upfitted with a TBEI/OX aluminum dump body.