CM Primary shredder and external classification system increases efficiency for National Rubber Technologies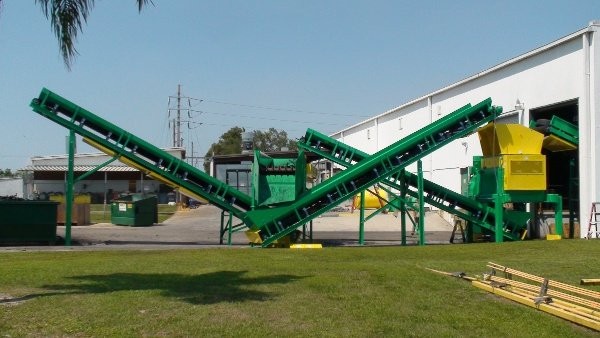 At the end of 2010, CM North America completed an installation of a primary tire shredder and external classification system for National Rubber Technologies North America (NRT) in Toronto. This stage-one system can process whole car, truck and super single tires up to 60-inch in diameter, down to a four- to six-inch shred at a rate of eight to 10 tph.
NRT, now merged with KN Rubber, LLC is one of North America's leading suppliers of engineered recycled rubber moulded products for the automotive, industrial, construction and athletic industries. The company says some of the products manufactured are parts for Ford Motor Company, and for industrial and construction applications, NRT provides recycled rubber for both roof and floor insulation manufacturing, as well as for vibration control padding, and walking and athletic surfaces.
As of 2010, NRT, who had been in operation since the early 90s, was in need of a more efficient way to process tires. This was partly due to the newly introduced tire stewardship program in Ontario, which provided NRT with added incentive as well as an increase in raw material.
"The machine we bought from Columbus McKinnon is a primary shredder, with a classification system, which is basically a disc screen," explains Manuel Estragadinho, NRT's Director of Engineering. "It works fantastic. We have not even maximized the throughput. We're using it at about 75 percent of capacity. We still have room for improvement."
"Our CM system has now been in operation for over a year, and we have only performed routine maintenance, according to the number of tonnes going through, which is about eight tons per hour, currently," continues Estragadinho.
"It definitely has increased our productivity. One of the biggest gains we've seen is that the strain on our upstream equipment [a secondary shredder and granulator] has become much less."
"Our secondary shredder is now presented with a much smaller piece of rubber, so to shred that takes a lot less effort."