Mack Trucks updates it's interiors for driver comfort and ease of use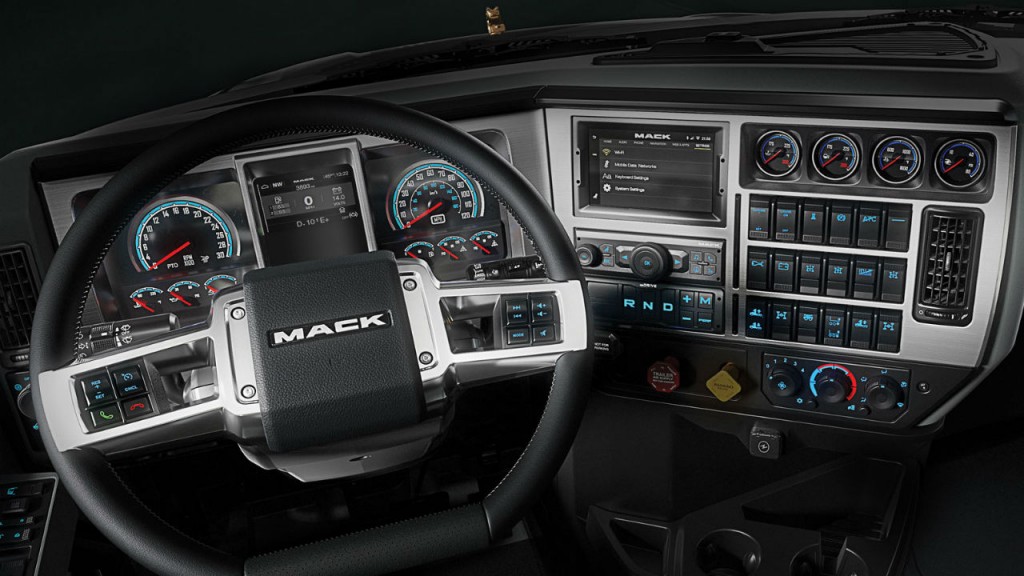 Mack Trucks has introduced all-new interiors for its rugged Mack Granite and Mack Pinnacle models, supporting customers in attracting and retaining drivers, and improving the productivity and profitability of their operations in general. Mack introduced the updated models during the Mack Global Dealer Summit in Allentown, Pennsylvania.
Along with the interior changes, Mack introduced all-new LED headlights and a new grille for its Pinnacle model that echoes the design of the Mack Anthem, Mack's new highway model also launched today.
"The new interiors for the Mack Pinnacle and Granite speak to the design team's focus on driver comfort," said Jonathan Randall, senior vice president of sales for Mack Trucks North America. "Everything from the dash to the racecar-like feel of the steering wheel was carefully designed to make things better for drivers and owner-operators, and consequently, for fleets looking to retain them."
Mack captured feedback from thousands of drivers on what matters to them, feedback that drove the design of the new Pinnacle and Granite interiors and resulted in a best-in-class driver environment.
A new gauge cluster and dash layout improves visibility and readability, and puts frequently used controls at the driver's fingertips. Switches are repositioned higher on the dash, while the Mack mDRIVE automated manual transmission shift pad is now within easier reach as well. The dash panel has room for up to 18 easy-to-read switches, which feature laser etched labeling that won't rub off, even after repeated use over the life of the truck.
HVAC controls now include Automatic Temperature Control that maintains the temperature set by the driver. A new lower center console includes cup holders and storage bins, and can be easily removed for cleaning. Multiple 12-volt and USB charging ports are available throughout the dash. A new non-slip pad on top of the dash features two USB charging ports.
The racecar-inspired flat-bottom steering wheel - a trucking industry first - improves driver comfort and makes entering and exiting the vehicle easier. The new steering wheel also gives the driver a better view of the dash, and can be equipped with illuminated cruise control, Bluetooth and audio system buttons.
"We've incorporated more ergonomics and comfort features to make the driving environment more automotive," said Stu Russoli, Mack highway product manager. "These enhancements make a real difference to the driver who's behind the wheel all day, every day."
Updates to the Mack's Co-Pilot display, located behind the steering wheel, include a new 5-inch, full-color screen for better visibility and more intuitive navigation through its many functions. Co-Pilot provides drivers a convenient way to monitor vehicle information, including engine and oil temperatures, trip odometers, aftertreatment status, tire pressures and more. A Pre-Trip Assistant guides drivers through inspection points and includes a single person exterior light inspection mode. Controls for the Co-Pilot functions are located on the updated right-hand steering column stalk.