Latest handheld XRF analyzers are lightweight, safe and smart
Thermo Fisher's Niton XL5 weighs just 1.3 kilos, one of its features designed to make the scrap recycler's job safer and more efficient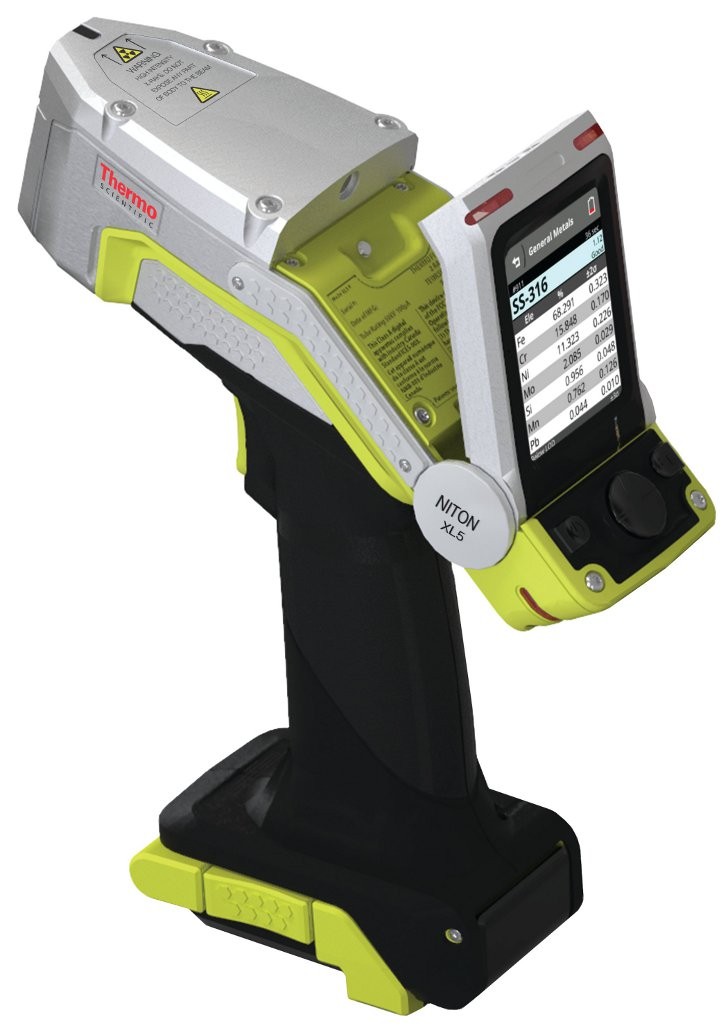 Thermo Fisher Scientific was one of the over 250 exhibitors at this year's ISRI 2017, held in April, in New Orleans, Louisiana. The company showed off their core solutions for scrap sorting, metal and alloy analysis, including an OES benchtop spectrometer and a wide range of handheld XRF analyzers.
Thermo's new ARL easySpark Benchtop Optical Emission Spectrometer is a cost-effective metals analyzer capable of performing fast and accurate elemental analysis of solid metal samples.
The other main highlight at the company's booth this year was the lineup of Thermo Niton handheld XRF analyzers. This technology is engineered to deliver high-speed lab-quality results with very high levels of precision and accuracy, along with very low detection limits. Models on display included the XL3t and the XL2 series, as well as the newest model - the smallest, lightest, and most precise handheld alloy analyzer in Thermo Fisher's lineup, the Niton XL5 handheld XRF Analyzer, which weighs just 1.3 kg (2.8 pounds).
"This is very valuable, especially for some yards that are running two or three eight-hour shifts daily, with sorters doing 100 percent checking of material. Fatigue can become a big issue," says Jim Stachowiak, Thermo Fisher's Key Accounts Manager - Alloys. "Back in the day, when I started selling alloy analyzers, 26 years ago, a portable instrument weighed between 25 and 30 pounds. These units were carried in a nylon backpack, had a pig-tailed power cord connecting the electronics unit and probe, where just the probe itself was heavier than many of the latest analyzers on the market today.
"So lugging one of these around, climbing around on scrap piles and trucks was not only tiresome, but it was also a safety issue. With the XL5, operators can go for long periods of time without fatigue, and because of the speed of this instrument, they do not need to hold the trigger for long periods during a measurement," continues Stachowiak. He adds that this contributes to lowering fatigue and increasing productivity, which translates into more profit for scrap metal recyclers.
Other key features of the latest XL5 analyzer include a powerful 5W x-ray tube with advanced detector technology that provides low limits of detection, light element capability, and high-speed operation for determining alloy ID and elemental composition in seconds. It also has a rugged, water-resistant and dust-proof housing designed for harsh environments such as the scrap yard. In addition, its smart user interface, Wi-Fi capability, and built-in macro and micro cameras are designed to enable fast, seamless report writing and transfer of data.
"For some of the bigger blenders out there, they want to have data available instantly," explains Stachowiak. "With the XL5 they have the capability to shoot materials and send the data directly to their network. Staff in their office can then easily build their blends, and can more quickly load material onto rail cars heading off to the mill."
According to Stachowiak, the latest model also has capability to allow users to manage their fleet of instruments, coordinating regular calibrations and servicing, and units include "smart" library features, an addition that is new this year.
"These units feature 'smart' library features within the calibration resident on the analyzer," he says. "Using this instrument, users can shoot material, and the device makes a 'decision' on what filters to use. If it senses that there are light elements, it goes to the light element filter, for example."
Commenting on the XL5's micro- and macro camera features, Stachowiak adds that "Up until now, operators would often take pictures of loads with their cell phones, and text images back to their office. They actually have the capability now to use the macro-camera, take a picture of the load, tie the analysis to it, and then send it off." He says this is also valuable in eliminating discrepancies of loads that can arise between vendors and buyers. Images can be taken of an off-loading truck so that a scrap buyer can verify that the material ordered is what has been delivered, for example.
Stachowiak adds that Thermo Fisher Scientific's extensive experience in the handheld analyzer business has allowed the company to develop a robust fundamental parameters package.
"With metal prices as low as they have been, mills can be fairly cautious about what they get," he says. "They want the best packages, they want to know about tramp elements, and that's the reason we've constantly been improving our tube/detector capability as well as our fundamental parameters calibration package. For example, if copper exceeds a certain level in stainless steel going back to the mill, the material becomes more brittle and they'll flag a load. As a scrap recycler, you don't want to have a load rejected or 'blow a melt'.
"So if the mill can have all the information about a load sent to them, the analysis, the blend that was put together, noting that the tramp metals are only up to a certain level, they can know it's not going to affect the overall blend."
This article was originally published in Recycling Product News, July/August 2017, Volume 25, Number 5.
Company info
168 Third Avenue
Waltham, MA
US, 02451

Read more