Cutting sorting and metal removal time in half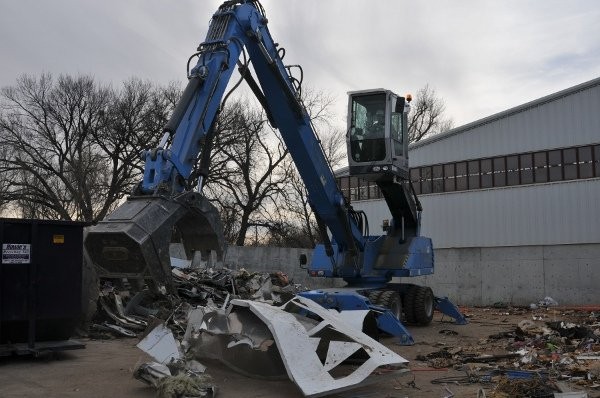 As a recycling operation grows and becomes more successful, efficiency tends to play an increasingly critical role in a company's long-term success.
"In the early days, it took us nearly six months to generate a semitrailer load of aluminum cans," says Greg Wilson, president of Howie's Recycling and Trash Service out of Manhattan, Kansas. "We have grown to the point where we ship an average of 15 semitrailer loads of materials to be recycled each month," says Wilson.
Started in 1984, Howie's initially focused on aluminum can recycling, eventually adding more services including commingled product recycling, roll-off container service, and residential and commercial trash service. As the company expanded, so too grew the amount of recyclable materials processed – including scrap metal volumes.
According to Wilson, as the number of containers in Howie's fleet increased, the company had to refine and speed up the sorting process, so workers could keep up with the influx of material. From a small loader, they moved up to a larger front-end loader, then transitioned to using excavators, initially starting with a small model and then moving up in size. The excavators worked for a while, but sorting was still labour intensive.
In addition to keeping up with the increasing amount of material coming in, Wilson also was looking for a solution to better load scrap material destined for larger processors into their eight-foot high-wall containers. Seeing Terex Fuchs material handlers in operation at a large scrap processor he visited, Wilson called his local Terex distributor, Roadbuilders Machinery and Supply Co., Inc. to inquire.
1 person, 15 minutes
"Greg contacted me for a material handler option, and I personally visited the site to assess his needs," recalls Jay Young, scrap and recycling manager for Roadbuilders Machinery. "The company was handling trash and scrap metal on a paved sorting location, making it the right application for a Terex Fuchs rubber tire handler."
Initially, Howie's experimented with a Terex Fuchs MHL320 D material handler for their sorting application, the smallest handler in the line, featuring a 34.1-foot reach and cab eye level of 17 feet. In early summer 2011, Young received the call from Howie's.
"They wanted a Terex Fuchs material handler and decided to move up in size to the MHL331 D," says Young. The combination of longer reach and more power allowed this size handler to efficiently handle current production levels, while giving Howie's room for future growth. Wilson also had specific requests for options, including an all-in-one demolition magnet grapple, for easy sorting and packing of containers.
The Terex Fuchs MHL331 D features a fuel-efficient 153 hp turbocharged diesel engine engineered to work in harmony with the machine's hydraulic load limit sensing system for fast work cycles.
"The operators really like the fact that the handler has plenty of pushing power to make piles," says Wilson. Howie's also requested that the handler be equipped with a universal stick. This option gives operators a 35.1-foot reach – approximately 20 percent longer than their excavator – for working a larger radius while sorting. They also wanted movement on both the upper and lower sides of the demolition magnet grapple.
"A second cylinder was added to the stick, creating a type of live-heel movement of the grapple," explains Young. "This allows the operator to geometrically align the attachment for picking up anything."
Finally, cylinder control was incorporated into the handler's expansion slot, available on the operator's right-hand joystick. "We really like the sorting ability provided by the handler with the magnet on the bottom of the grapple," says Wilson.
"This allows the operators to quickly remove ferrous material from the debris." "We have cut container sorting and metal removal time in half," concludes Wilson, "and we are now sorting with only one person, which saves us labour."