FEATURE STORY - Mobile recycling on the prairies
Small-scale processor finds Zato Cayman shears ideal for cleaning up farm scrap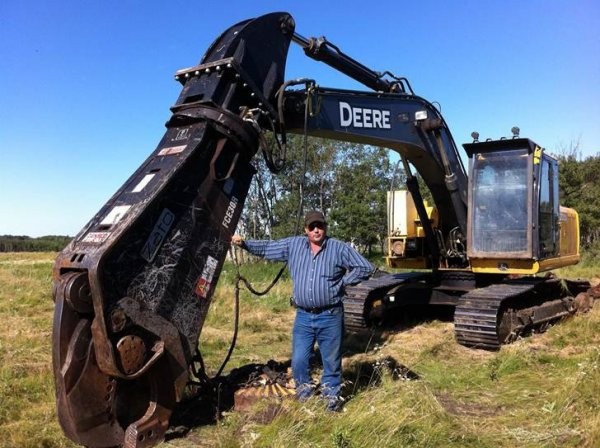 by Keith Barker, Editor, Recycling Product News
(from Recycling Product News, September, 2012 Volume 20 Number 6.)
Grant Nelson is not your typical scrap processor. He runs a mobile operation specializing in farm scrap out of Wilcox, Saskatechewan, south of Regina. Nelson is a trucker turned scrap processor. When he returned to Saskatchewan, after a career hauling produce from the U.S. to Canada, he took over the family farm. When the money from farming dried up, he went back to trucking. He saw an opportunity in the need for farm site clean-up, and began custom-hauling scrap iron.
His business has taken off from there, and he's been a mobile scrap processor and hauler for the better part of the last ten years. Today, Nelson Produce Ltd. mainly cleans up farm and industrial sites, runs a fleet of three trucks and handles approximately 1,500 to 2,000 tons per year.
"I started slowly, and then got the idea to get big or get out, so I bought a second-hand wore-out shear," explains Nelson. "I upgraded my excavator first, to a John Deere 200 D LC model, and put the old shear on it. After I broke the shear for the fourth or fifth time, it was time to upgrade."
This past winter, after spending a good deal of time researching shears and manufacturers on the internet, Nelson decided on an Italian-manufactured Zato boom-mounted, second member Cayman FCE 30 R mobile hydraulic shear, distributed in North America by Gensco Equipment. He took delivery this past spring, has since processed over 1,000 tons of scrap iron, and says he still has one blade tip left.
"Price was definitely a factor," explains Nelson. "And Gensco promised there would always be parts available within days, no matter what broke." Nelson says the final selling factor for him was Gensco's online video showing the Zato Cayman FCE 30 R in a real-world working scenario, at www.genscoequip.com. "They're cutting real iron in their video, whereas the rest of the videos I saw, they were not," says Nelson.
"A new machine will cut anything at a trade show, but Gensco was showing the shear in the field working, and that was what I wanted to see."
The Zato Cayman shear
According to Gensco's Sean Abenstein; "What is impressive in the Zato video is the way the shear is shown piercing through structural steel plate, and peeling it back very easily. It's the way the bolt-on piercing tip is designed that makes it capable of doing that. The manufacturer has been able to increase perforation power and eliminate maintenance time and expense."
"The design of the Cayman main body is really authentic and original," says Abenstein. "They've modified and re-engineered the structure and the body of the shear to eliminate any type of flexing or torsion in the body, which is unique. They are also one of the first manufacturers to have used certified Hardox 500 material, which they use to build the lower jaw and upper jaw."
"One of the highlights of the Zato Cayman shear line is that by re-engineering the geometry of the jaw and the overall structure, they've added favourable leverage between shearing force and shear weight," continues Abenstein.
"What the manufacturer has done is without taking the durability away from the structure of the shear, they've increased the bore size of the cylinder by 20 percent, thereby, increasing cutting power and performance while reducing operating weight."
Nelson agrees, with respect to his new shear's light weight and power. When mounted on his John Deere excavator, he says it allows him the mobility he needs to get up and down the secondary roads that lead to many of the sites he needs to reach in southern Saskatchewan. When it comes to power, he has not found anything yet his shear can't cut to the 18 x 36 inch size required by the Regina steel mill.
"If it fits in the mouth, this shear will cut it," says Nelson.
He says he also really appreciates the Cayman shear's rotator and its extra set of guide blades, which allows him to flip blades, not only twice on each side, but due to their geometry, right to left and left to right. And on the shear blades, he can reverse the tops and bottoms.
"I don't know how I sheared before without a rotator," says Nelson. "And, the guide blades on both sides of the cutting beak has really sped up my operations, and has affected what I can cut, and the density of material I can cut." "I get a lot of tinny combines and things like that," continues Nelson.
"This shear handles them just like nothing, and I can now cut bigger things than I ever could before." "How it's really made a difference for me though is in speed. Compared to my old shear, I'd say this Zato shear has got to be a good 70 percent faster."
According to Abenstein, the Cayman shear's speed is due to the upgraded cylinder used, featuring an integrated "Power Speed" regeneration valve.
In the field
"When people phone me to ask what I take, I tell them what I don't take," says Nelson.
"I don't take wood, glass and loose rubber. I don't have the means to process it."
"I've kept my old shear and excavator for backup and I've got a "payloader" (an old model Case wheel loader) here that we move stuff around with, but mainly there's not much that comes back to my yard. The main processing is done on site – wherever the material is."
"I deliver directly to the mill, because I have my own PO (purchase order) number there, and because I can process it to the size and quality they want." "And with my magnet, I can do complete clean up on sites. When I get through cleaning a yard, you can bring your herd of cattle in and don't have to worry about them getting hurt."
"The yard I'm working on here now is an estate, and the guy who owned it felt compelled to buy something at every auction sale he went to for the last 50 years, so I've been on this site for two weeks now, and I've hauled out 150 tons so far."
Nelson has one job in particular, completed since getting his new shear, which he considers a "feather in his cap." His very first job with his Cayman FCE 30 R was working with Silverado Demolition, taking iron from their site. The site just happened to be on the RCMP barracks in Regina where they were tearing down a mess hall to make room for new dormitories.
"We processed 180 tons out there in a little over ten days, and I spent a lot of time waiting on material as they tore the building down. A lot of it was red structural I-beam. Some of it was as wide as 27 inches, with inch flange and 3/4 inch centres. This shear handled all of it."
"On the RCMP barracks, as we were working, they're marching around us. We were right in the heart of the RCMP."
As for the future of his business, Nelson feels confident he'll remain very busy.
"As the farms get bigger here in Saskatchewan, the 'mom and pop' operations are moving out and they're being bought by corporations. These guys want to just clean everything up, so the amount of scrap out here now is just incredible."
"Actually," concludes Nelson, "If nobody phones me for three years, I'm busy. There's that much work out here.