Fuchs MHL370 F material handler built for tough, high-capacity handling applications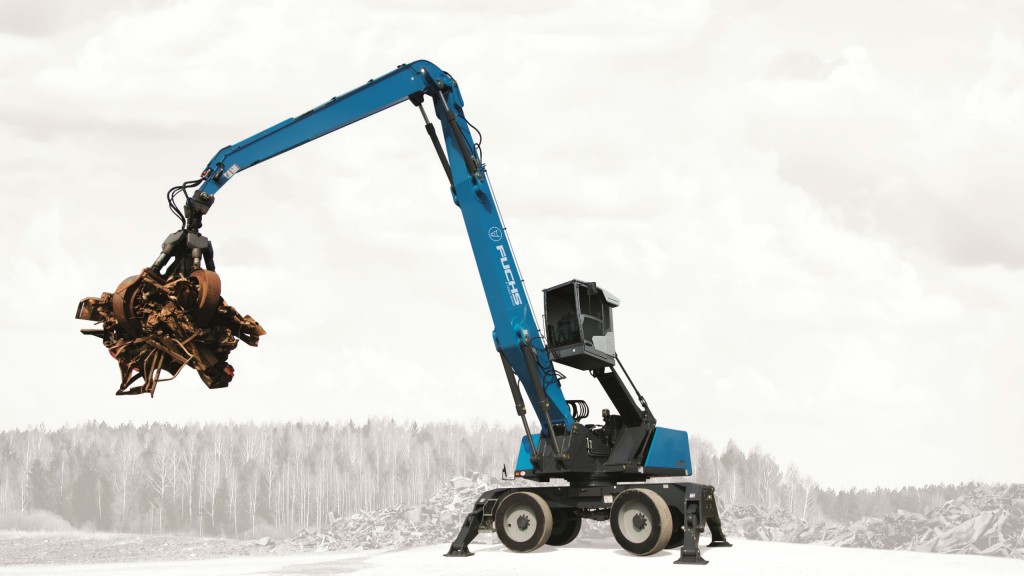 The new Fuchs MHL370 F material handler expands the Fuchs product line and marks an entry in the 120,000-lb (55 mt) class of high capacity machines. Built for high production in large scrap operations and port applications throughout North America, the new MHL370 handler boasts heavy counterweight and a massive undercarriage with 17.9- x 20.6-ft (5,440- x 6,270-mm) outrigger stance to offer excellent stability and high lift capacities at extended reach. The new Fuchs handler delivers higher lift capacities than competitive units in this class and a 14.5% increase in lift capacity over the Fuchs MHL360 F handler at full 59.9-ft (18-m) boom extension.
The rugged MHL370 F handler offers two straight boom reach options – 55 ft (16.5 m) and 59.9 ft (18 m). A 59.9-ft (18-m) cranked boom option is also available for port applications. New, large diameter boom cylinders feature high operating pressures to elevate machine lift capacities, while hose rupture valves for both the boom and stick cylinders improve lifting safety. Available float operation automatically lifts the boom if too much pressure is applied,protecting sensitive surfaces like the hull of a vessel. The new handler can beequipped with a variety of Fuchs cactus grab, magnet, clam shell and lift hook attachments to meet specific application needs. Quick coupling on the dippers tick offers fast switching of attachments.
Featuring large, 59-in (1,500-m) diameter SETCO solid rubber tires, the MHL370 material handler offers excellent stability when "walking" a load and up to 30% grade ability for superior off-road performance. Unlike some dual-tire configurations, the single tire design of the new Fuchs handler minimizes material build-up. Four-wheel drive delivers exceptional traction on uneven surfaces, while the machine's two-speed hydro static transmission delivers travel speeds reaching 9.3 mph (15 km ph) for quickly moving about the scrapyard or dock. The front axle's 27-degree steering angle delivers a tight 26.3-ft (8-m) turn radius, similar to the MHL360 F, for excellent maneuverability.
The durable MHL370 F material handler is powered by a fuel efficient, Tier 4 Final 308 hp (230 kW) turbocharged diesel engine. Passive regeneration of the diesel particulate filter ensures uninterrupted material handler operation with lower fuel consumption.
Inside the cab, the main 7-in (178-mm) Wide Video Graphics Array (WVGA) touch screen display offers intuitive machine function for more efficient operation, while a second color display shows the operator video captured by the night vision video camera. The purpose-built handler's joystick configuration places all critical machine movements within the operator's reach and leaves room for customization. The hydraulically elevating cab offers a maximum 20-ft (6.1-m)eye-level operation and independent 7-ft (2.2- m) forward movement for excellent visibility.
Accessed by a stow-away ladder, the central service platform of the MHL370 F handler substantially reduces daily maintenance time. Main machine components such as the engine, fuel and DEF fill points, and hydraulic oil tank can be quickly and easily accessed from the platform, improving machine uptime. The central lubrication system, also accessed from the service platform, automatically greases multiple points on the upper carriage throughout the day to increase machine reliability. Fuchs Telematics, available for the MHL370 F handler,allows customers to optimize machine efficiency and helps to improve uptime by alerting key individuals of upcoming service intervals and potential machine issues.
Customers with specialized equipment needs can work with the Fuchs Application Center to tailor machine configuration to the job. By working with Fuchs, customers can opt for a crawler undercarriage with either flat shoes or triple grousers to lower ground contact pressure and further improve stability. Other available designs include stationary handlers, semi-mobile electric machines and pylon risers for improved visibility, so customers can equip the machine for optimum efficiency in the application.