​FUCHS to unveil award-winning purpose-built cab and show MHL320F and upgraded MHL370F material handlers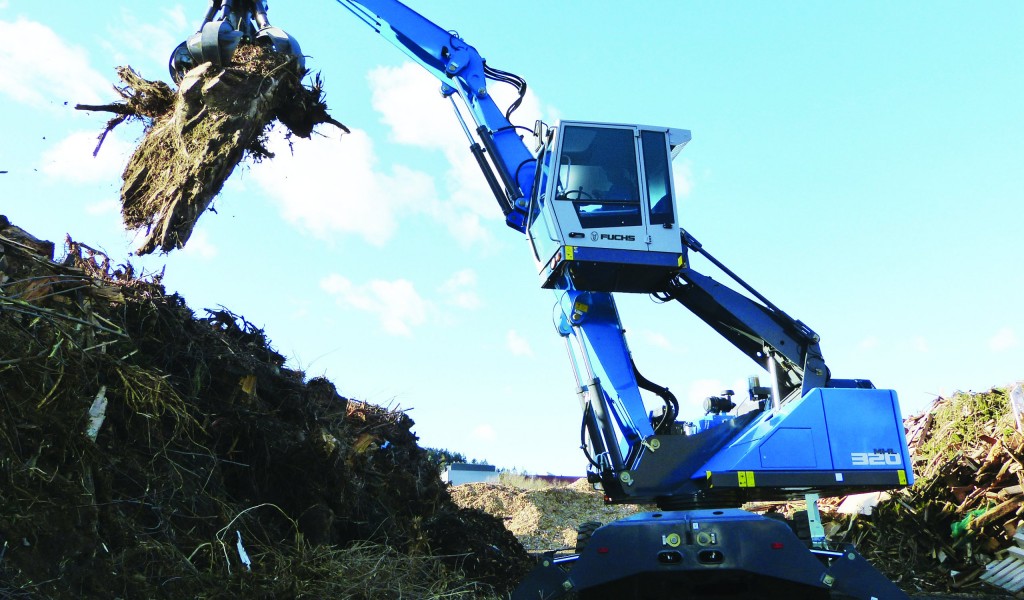 Fuchs will exhibit at ISRI 2017 from 22 – 27 Apr, 2017 in New Orleans, La. in booth A21. Two machines will be on display: the upgraded MHL370 F material handler with an iF Award-Winning Fuchs cab and the model MHL320 F (shown here). Commenting on the line up Jon Van Ruitenbeek, Business Line Director for Fuchs in North America, said the features and solutions on these machines enable customers in the four core segments scrap, waste, forestry and port industry to operate efficiently and boost return on investment and will be the center of attention.

"The purpose-built Fuchs material handlers are integral to the long-term Terex business strategy," states Van Ruitenbeek. "We have announced several key sales and support management appointments for key North American and European markets, which will give Fuchs more interaction with customers during the sales process and provide customers with a higher level support from the factory. Additionally, we are continuing to focus on growing distribution globally, so customers will experience more responsive service and parts support locally."
MHL370 F material handler
The 120,000-lb class high-capacity Fuchs MHL370 F handler boasts a reach of 59.9 ft, giving the North American market a much needed machine to fill the production demands of large, high-volume scrap operations processing material with mega shredders. The MHL370 F handler delivers increased lift capacity over the smaller Fuchs MHL360 F material handler, while an elevating cab provides a maximum eye-level operation of 20 ft and independent cab forward movement of 7.2 ft, which allows a perfect view into walking floors, shredders, cargo holds, etc.
MHL320 F material handler

The wildly popular MHL320 F handler will also be on display. It is designed as the perfect entry level unit for recycling, solid waste and small scrap operations who need the high lift capacities at extended reaches, efficient sorting capabilities and fast trailer loading/unloading only delivered by purpose-built handlers.
Built for efficiently tackling a range of indoor and outdoor applications the new Fuchs MHL320 F material handler boasts a compact yet powerful design. With an 11% more powerful engine compared to the previous model and offering the same features found on larger Fuchs handlers, this versatile 50,485 lb MHL320 F handler is the perfect entry level unit for operations who demand the high lift capacities at extended reaches and performance only delivered by purpose-built handlers. The Fuchs Telematics system, which is standard on all machines, provides automated all-in-one machine management for customers to further optimize machine efficiency, control operating costs and improve uptime by alerting key individuals of upcoming service intervals and potential machine issues.
Award winning cab
New cab design
Fuchs will unveil the new purpose-built Fuchs cab design which will be available from Q4 2017. The new cab was awarded the iF DESIGN AWARD, a world-renowned design prize. The new cabin won over the 58 member jury, made up of independent experts from all over the world, with its sliding door, skylight and downward-facing windshield. The competition was intense: over 5,500 entries were submitted from 59 countries in hopes of receiving the seal of quality.
The sleek new cab design incorporates more glass to advance visibility, new joystick steering control for improved maneuverability, and a revised interior for more space and greater operator comfort. The cab has been specially designed for Fuchs material handling machines.
"These are exciting times for the Fuchs business," comments Van Ruitenbeek. "We are significantly strengthening the Fuchs team, increasing local support by growing our distribution network, broadening and updating our purpose-built handler line for the market and customizing our equipment to meet specific application needs for our customers. It's a good time to be a Fuchs material handler customer."