​Pioneer Rounds Out Product Offering with New HR2500 PowerGlide Tarping System
Slide system designed for medium-duty applications where versatility and durability are critical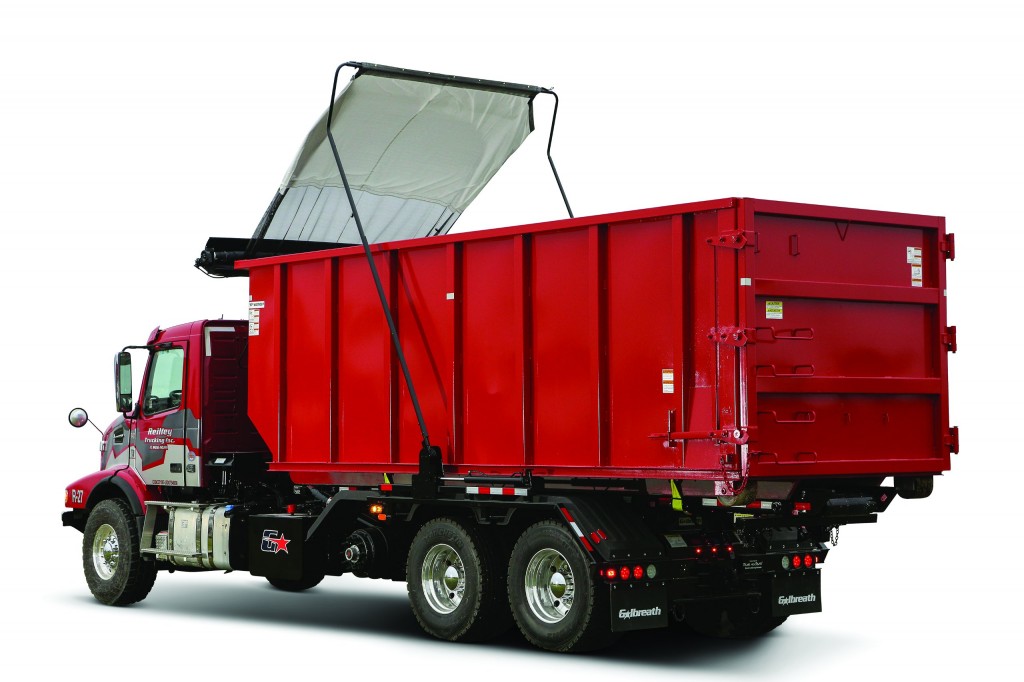 Pioneer, a leading North American automated tarping systems supplier for the waste, recycling and construction industries, has launched the HR2500 PowerGlide tarping system. The PowerGlide rounds out Pioneer's product line by providing a versatile and extremely durable solution for medium-duty applications.

Requiring less maintenance than electric systems, and boasting heavy-duty torsion springs that provide a 10- to 15-year service life, the PowerGlide is suitable for single and multi-axle roll-off hoists and slides forward and backward 24" to accommodate various size containers. The hydraulic system includes an adjustable gantry that moves 60" to 96".
The PowerGlide was designed to extend tarp life and reduce the need for ongoing maintenance. The system's heavy-duty windscreen prevents whipping of the tarp, while the reinforced rear pocket provides increased tarp strength. The maintenance-free slider carriage bearings provide easy movement and will last the life of the system.
"From developing the incredibly strong and reliable Rack 'n Pinion tarping system in the 70s to offering the industry's best warranty and most experienced dealer and service network, Pioneer has always been the undisputed tarp system market leader," said Chris Nicolazzo, general manager for tarps. "The new PowerGlide will allow us to address growing industry demand for medium-duty systems for the waste industry. We are happy to round out our product offering to provide the unparalleled expertise and value that are hallmarks of the Pioneer brand to a whole new set of customers."

The PowerGlide is easily installed in less than 8 hours through Pioneer's extensive dealer and service center network. The product also comes with standard steel arms and offers an industry-leading three-year warranty.
Pioneer Announces New Branding, Website
Pioneer recently launched a rebranding campaign designed to emphasize its industry leadership, technological advances and unparalleled commitment to service and support. As part of this campaign, Pioneer has unveiled a new logo and a completely revamped, more customer-friendly website, as well as updated dealer support materials.

Known for developing the incredibly strong and reliable Rack 'n Pinion tarping system in the 1970s, Pioneer remains the market leader today.
The website has been designed using the latest technology to be compatible with today's browsers and mobile devices. Key features of the new website include a cleaner and more attractive design, as well as a more engaging and streamlined user experience for both dealers and end customers. The site also features an easy-to-use parts finder.
The new logo, which can be found here, www.pioneercoverall.com centres around the qualities of strength and reliability. The new logo is designed to capture the essence of Pioneer as a leader in the tarping industry, receiving the first-ever patent for a truck covering device.
"Just as its name implies, Pioneer has always been the tarping system market leader in everything from our technology and service to the support we offer our customers through our industry-leading three-year warranty," said Chris Nicolazzo, general manager for tarps. "The new look and website help us to substantiate and demonstrate the fact that we are the first and the best and to add value for our customers, who are at the center of everything we do."
Related products