Liebherr LH 40 M Industry Litronic provides maximum handling capacity and low fuel consumption
Latest material handler available both with wheeled or crawler undercarriage, combines intelligent electronics with sensitive hydraulics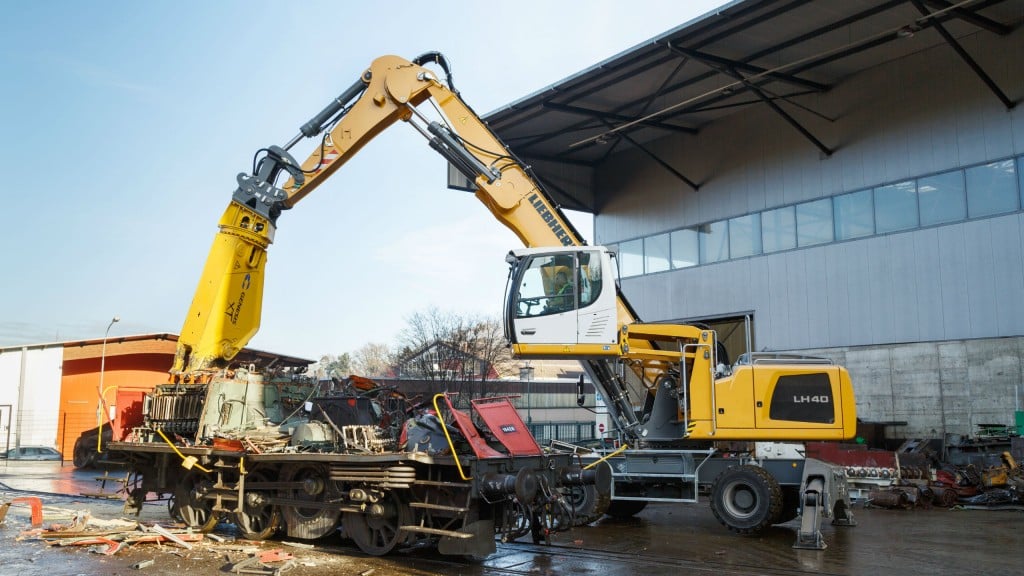 Liebherr's latest, the LH 40 M Industry material handler, is available both with a wheeled and a crawler undercarriage, and provides maximum handling capacity and low fuel consumption. The machine, recently shown at Conexpo 2017, is equipped with a straight boom measuring 28' 3'' ft in, a 19' 8'' ft in long stick with angled stick-end and a Liebherr four tine grapple, type GM 69 semi-closed tines with a capacity of 1.44 yd³. Other elements of the machine configuration are the hydraulic cab elevation as well as 4-point outriggers.
The diesel engine of the Liebherr LH 40 material handler is a 4-cylinder in-line engine from Liebherr, which complies with Tier 4f / Stage IV emission regulations and develops 208 HP / 155 kW (SAE J1349).
The increase in engine output in comparison to the previous generation from 140 kW / 188 HP to 155 kW / 208 HP means that the system has more torque available for more powerful movements. Furthermore, load peaks are compensated intelligently, meaning maximum torque is available at all times for maximum handling capacity. In combination with the separate hydraulic pump in the closed slewing circuit, maximum acceleration and speed for the working movements are guaranteed.
The new LH 40 combines intelligent electronics with sensitive hydraulics and ensures precise and finely-controlled work with fast and powerful movements at the same time. The cleverly conceived machine control provides optimal adjustment of the hydraulics to the respective use. Speed and power are available whenever they are needed.
An Investment option for long term savings
Liebherr relies on state-of-the-art engine technology with intelligent machine controls that optimize the interplay of the drive components in terms of their degree of efficiency. Liebherr-Power Efficiency (LPE) enables machine operation in the area of the lowest specific fuel use for less consumption and greater efficiency while maintaining maximum performance.
Equipped with the standard Liebherr-Energy Recovery System (ERC) the machine has a total system performance 220 kW / 295 HP. The system not only brings a measureable increase in performance and higher handling capacity, but it also generates fuel savings of up to 30 %, lower operating costs and reduced air pollution and noise emissions.
Attachments are available in a wide variety of options to suit any application. Enhanced by using finite element analysis method (FEM), the components are configured for a long service life even when subjected to heavy lateral stresses during demanding tasks.
Liebherr offers a wide variety of attachments and machine options or configurations to meet specific application requirements.
The service-based machine design guarantees short servicing times, minimizing maintenance costs through time savings. All the maintenance points are easily accessible from the ground or through catwalks and platforms, and are easy to reach due to the large, wide-opening service doors. The enhanced service concept strategically locates maintenance points close to each other and reduces their number to a minimum. This means that service work can be completed even more quickly and efficiently.
When technology provides comfort
The operator's cab of the new LH 40 material handler offers the best conditions for healthy and productive work. The cab was further improved in terms of ergonomics, operating comfort and functionality. The foldable left armrest allows easy and safe entry to the cab. Smooth and precise operation of the machine is performed through the ergonomic joystick which comes with an outrigger control function as standard. This fact and the standard joystick steering give operators an additional comfort boost. Steering movements can be conveniently performed using the joystick, eliminating the need to reposition during the work cycle. Replacing the steering wheel in favor of joystick steering provides additional legroom and a clear view of the working area.
Company info
Related products