Analyzing the options of handheld analyzers
Scrap operations can improve efficiency and the bottom line by selecting the right analysis options for their sorting facilities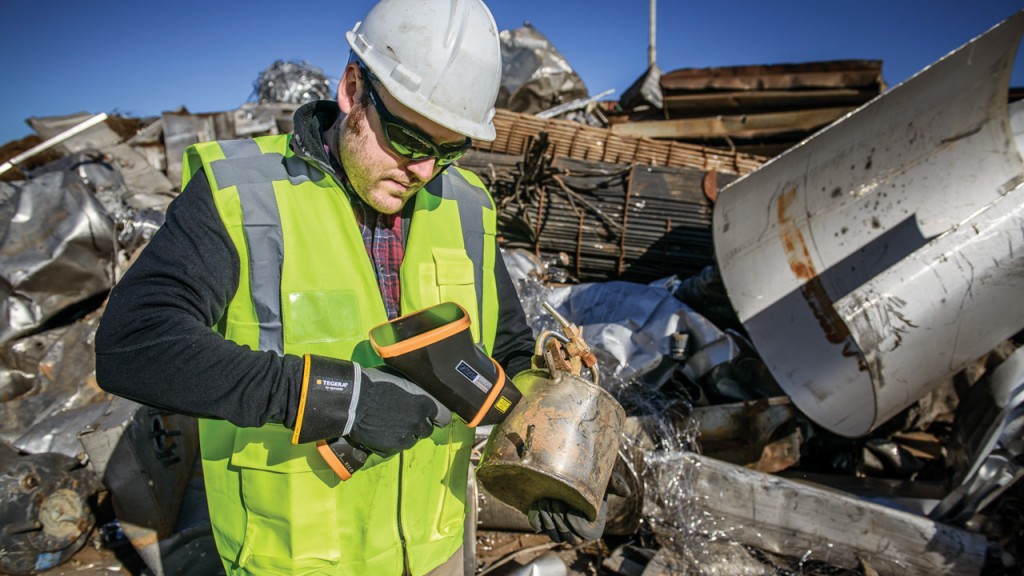 Scrap handling operations can be thrown into disarray when sorting isn't done properly on the line. Whether it is metals being combined erroneously or tramp material being missed in the process, businesses need to ensure that their product – and their profit – is protected.
The job of sorting scrap metal has been made much easier and efficient thanks to technology. Handheld analyzers allow sorting staff to check material on the belt and ensure that it is being sorted correctly, avoiding contamination and improving financial return.
The development of handheld analyzers using X-ray Fluorescence (XRF) or Laser-Induced Breakdown Spectroscopy (LIBS) technology is continuing to expand and provide more options to scrap recyclers. We asked some leading manufacturers about the advances in technology and key factors to consider when purchasing handheld analyzer units for metal sorting.
While handheld analysis has been around and available for about a decade, modern units offer far more than their older counterparts, according to Mikko Jarvikivi, product manager – LIBS with Oxford Instruments (Now Hitachi Hi-Tech Analytical Science, 2019).
"Advances in technology, miniaturization and connectivity mean that today's instruments provide much better performance and faster analysis than those available ten years ago," Jarvikivi said. "Also, so-called light elements (Be, Mg, Al, Si, P and S) can now be accurately analyzed in field conditions without expensive and inconvenient gas purge. This is important because scrap dealers today need to monitor more and more unwanted elements in the scrap stream, sometimes even in low ppm levels."
Speed of analysis is important as well, as the faster product is processed, the more efficient the user's operation can be.
"With the latest technology, the analysis that used to take 30 to 60 seconds can now be done in one to five seconds, so the effect on productivity is significant," Jarvikivi said.
According to Mark Lessard, business development manager, portable analytical instruments for Thermo Fisher Scientific, the greater range of elements being picked up by handheld units is a major step forward.
"Handheld XRF analyzers are able to identify more elements in different matrices, with lower levels of detection than ever before, including gold, silver, plastics and electronic waste," Lessard said. "Recent innovations have brought the introduction of smart capabilities, while also increasing speed and efficiency. In the latest generation of analyzers, capabilities range from Wi-Fi to data customization, sample photographs and much more."
As technology has advanced, manufacturers have worked to incorporate those advances each step of the way. Spectro Analytical Instruments has steadily upgraded its handheld XRF analyzers, keeping in mind the needs of the people using the units throughout the day.
"For example, xSORT has been designed so operators don't have to switch methods between samples, or bother with helium flushes or vacuum systems," said Tom Bloomer, Spectro Analytical North American sales & product manager, handheld spectrometers. "Advanced detector technology, introduced just last year, has dramatically improved light element analysis and the instrument's ability to quickly and accurately identify many of the new high-value alloys entering the scrap yard."
Oxford's Vulcan analyzer uses LIBS technology, which the manufacturer states is faster than other techniques while ensuring the tool is ergonomic, allowing ease of operation. In situations such as quality control and assurance, those factors ensure that large quantities of scrap metal can be sorted quickly and easily. Simple to operate, the Vulcan analyzer, when analyzing aluminum, provides both the commercial grade of aluminum and its chemical composition, while reducing potential for user error for reliable, consistent results.
Considering all options
Because there are so many options available when it comes to analyzers, buyers must know what they're looking for when seeking out the right choice for their operation.
"Many factors should be considered when purchasing a new device – it can be confusing, as there are many options and analyzers generally look similar," said Bloomer. "Basic considerations typically include weight, battery life, some performance specs, and always price. However, there are core feature sets that should also be considered as new, high-value alloys are showing up more often in scrap yards."
Bloomer said advanced detection capability for light elements is one more recent factor that can shape the needs of a scrap operation's analysis choices.
"If light elements are of interest, evaluate the instrument's detection limits and how much analysis time the instrument requires. Other considerations might include wireless capability to manage data and video camera installation to see exact analysis spots," Bloomer stated. Also, ask if there is an integrated internal standard or if you need to carry around standards. Perhaps most critically, be sure to review the supplier's support structure and your ability to easily access technical help after a purchase is made."
Keep the set requirements of the operation in mind when considering the options available on the market, Oxford's Jarvikivi suggested.
"There are always tradeoffs between technologies, and no single technique can provide optimal performance for all analysis needs," he said. "For example, an instrument that can do accurate trace element analysis might not be suitable for high speed alloy sorting, and vice-versa."
Handheld analyzers get a lot of use in difficult work sites around scrap yards, so it's important to be certain they can handle the abuse.
"I believe buyers should focus more on the reliability of HH-XRF and HH-LIBS systems over time, and resist low price temptation," said Jerry Sooter, marketing manager, handheld, mobile and portable products for Bruker. "With lower-priced units, a significant part of the cost can occur after the purchase, so selecting a vendor who you can establish a long-term relationship with is essential."
Finding a company familiar with the recycling industry is one good way to ensure a good, lasting relationship, added Lessard, who noted that Thermo Fisher has been working with recyclers for more than two decades and has incorporated that knowledge in its equipment and service.
"Our goal is to equip customers with the most innovative and precise analytical devices available. More importantly, we want to help our customers solve their problems in the best, most cost-effective way," Lessard said. "From a technology standpoint, buyers should seek analyzers that are small, fast and intuitive, so that the technicians using the devices can easily obtain results and be confident in their accuracy."
For Thermo Fisher, a small size means reduced operator fatigue. Its Niton XL5 handheld XRF analyzer weighs in at 2.8 pounds (1.3 kg), a size that the company states is the smallest among alloy handheld XRF analyzers on the market.
"Using the Niton XL5, users are able to detect elements on the periodic table at much lower levels than in the past, particularly light elements like aluminum," Lessard said. "Thermo Fisher has optimized the geometry between the X-ray source and the sample, ultimately improving limits of detection and shortening measurement times."
Another lightweight offering, the Spectro xSORT Alloy offers grade identification in seconds, while the AlloyPlus can analyze most alloys in two seconds, Bloomer said. Alloys containing difficult light elements like aluminum, magnesium, silicon, phosphorus and sulphur may take up to seven seconds, he noted.
"The xSORT has a shutter that closes the measurement window between analyses; it also functions as the sample material for (Spectro's) unique automatic ICAL standardization, which eliminates the need to carry around standards," Bloomer described.
Quick response is important, but rugged reliability is also a big selling point for handheld analyzers. Oxford Instruments' X-MET8000 handheld XRF and Vulcan are both designed to meet the needs of busy scrap yards.
"Both use industrial-grade material for the housing, shock absorbers, minimal moving parts, and large heat sinks to work reliably and without interruption even in hot environments," said Jarvikivi. "They are dust- and splashproof (IP54 certified) and can be used outdoors as well as indoors. Vulcan also meets the strict requirements set by the MIL-STD-810G standard, and the X-MET includes a shield that prevents sharp objects from damaging key components, therefore ensuring low maintenance costs."
Bruker also offers protection for its devices, including the S1 Titan, Sooter noted.
"The Titan comes standard with a patented detector protection device called the Titan Detector Shield. Since introduction, we have had zero detector punches," Sooter said. "[The shield] is an integral part of the detector. In addition, our design allows analysis of both light and heavy elements without the need for any calibration adjustment or window switch."
Changing with the times
As the scrap handling industry continues to expand in terms of the material it can accept, analyzers will continue to expand in capability, according to several of the experts interviewed. More types of materials will mean more challenges.
"Scrap sorting will continue to become more challenging as new, complex but higher-value alloys appear in the scrap yard more frequently," said Bloomer. "Alloys combining aluminum with metals such as copper, zinc, magnesium, manganese, silicon and lithium are used extensively in applications from aerospace to automotive and construction. Recyclers will need to process hundreds of these specialized alloys, each with different performance characteristics and different price points. Handheld analyzers using multi-element analysis will play an increasingly critical role in differentiating these valuable alloys and enabling recyclers to improve efficiencies and profitability."
Electronic waste is another factor that will likely expand the need for handheld analyzers in various areas.
"Recycling of electronic waste such as plastics from recycled computers or cell phones has been on the rise. For example, cement plants in Japan rely on our analyzers to determine the types of plastics they are burning to make their cement, keeping them safe from potential toxins," Lessard noted.
In some cases, the expansion of technology may mean a growth of one of the leading types – LIBS.
"We will see laser (LIBS) instruments become increasingly common at the scrap yard, and partially replace XRF analyzers," said Jarvikivi. "LIBS won't replace XRF completely, because there are several applications including non-metallic samples, uncommon alloys and trace elements where XRF will provide better performance."
Data management and interconnectedness will also become more important for collection and tracking of materials.
"We're seeing an increase in interconnectedness and the need for our products to possess cloud and data management capabilities," Lessard said.
Jarvikivi agreed, noting that "Instead of just storing the data in the instrument and using it locally, the latest tools make it possible to share the data and access it in real time from any computer, anywhere."
Customized uses of handheld analysis is coming as well, making it easier and more efficient to scan materials in many different ways.
"Bruker often works with scrap yards that may have special analytical needs; it could be detecting a precious metal coating or analyzing a particular element at low levels," Sooter said. "When the generic scrap handling does not fulfill those needs, Bruker's scientists will be able to provide a customized calibration for our customers."
"We are excited about the potential to mount analyzers on conveyor belts or even on drones and determine the makeup of metal compounds out of physical reach," Lessard added. "Overall, we are constantly thinking about the future, and homing in on all possible market innovations to better understand our customers' needs."