Scrap Handlers: past, present and future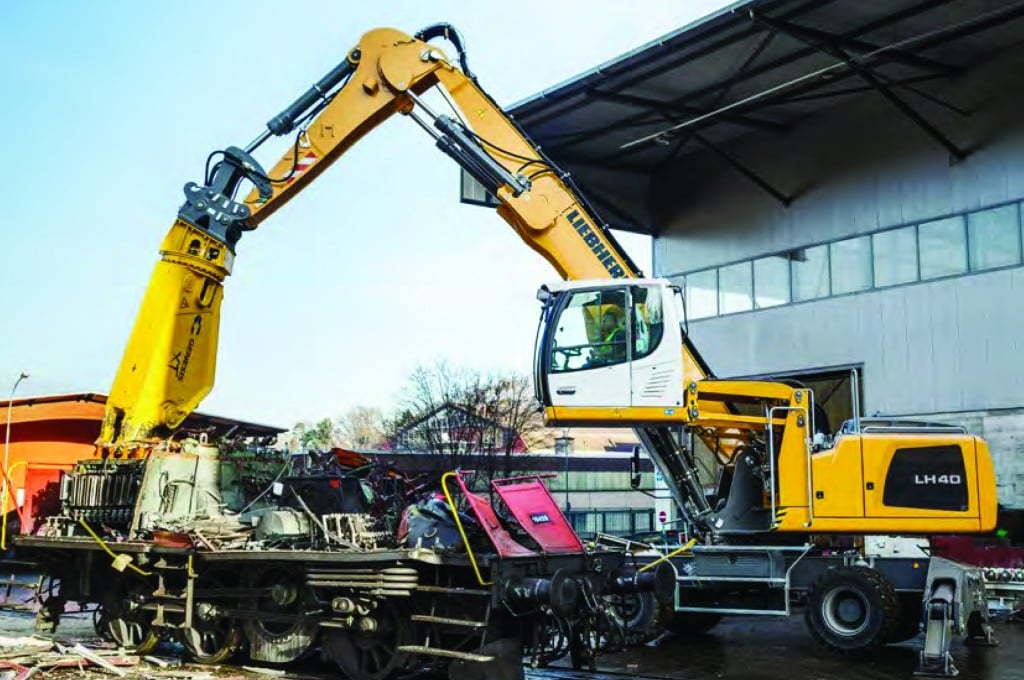 Material handlers for scrap processing applications, AKA scrap handlers, over the last decade have become one of the key pieces of equipment for metals and other material recyclers around the world. Very often, these machines are found to be excellent replacements for excavators that have traditionally been used by scrap, auto and other recyclers. While excavators are designed primarily for their intended use in earth moving and construction applications, dedicated material handlers are specifically designed for – as the name implies – handling materials. Of course, in the recycling industry loading, unloading, sorting, cutting, stockpiling and moving materials is central to the process.
Like excavators these "dedicated" machines, are compatible with the full range of hydraulic attachments, including grapples, shears and suspended magnets, and they are available on wheeled or track undercarriages, or in stationary and pedestal-mount configurations. Compared to excavators, scrap handlers provide recycling applications with increased mobility efficiency and productivity, longer reach, improved safety and visibility for operators, as well as decreased emissions. Many of today's scrap handlers are available as hybrids, or are designed for operation using electric power which further decreases their environmental footprint.
We've asked four of the recycling industry's leading manufacturers of material handlers for scrap about the evolution, benefits and considerations recyclers should think about when it comes to this workhorse of the industry.
According to Andreas Scheuerl, Liebherr-Hydraulikbagger GmbH, over the last decade the main focus for manufacturers of material handlers for scrap applications has been on efficiency and exhaust emissions.
"Machines have increased handling capacities while reducing fuel consumption even with the demands of Tier 4f exhaust regulations," says Scheuerl. "These improvements have been met by combining intelligent machine control, energy recovery systems and advanced engine technology.
"For Liebherr machines in particular, this includes an energy recovery cylinder, power and hydraulic optimization and a Liebherr Tier 4f engine with SCR only."
Aaron Kleingartner from Doosan agrees that material handlers have changed significantly in recent years. He emphasizes that like with a lot of other heavy equipment, material handlers have become more productive and efficient, versatile and operator friendly.

"Ongoing improvements to diesel engines and hydraulic systems have increased machine performance, thereby contributing to increased capacity for material handler operators," says Kleingartner.
"Machines today are more versatile than past iterations. Customers today can use a variety of attachments, including grapples to load material and magnets to pick up metal. Additional enhancements to material handlers include updated display monitors with access to machine diagnostics and rearview and sideview cameras for enhanced visibility."
Andreas Ernst, strategic account manager and marketing manager for Sennebogen, says there are two main drivers behind the evolution of material handlers used in scrap applications over the past decade: safety and cost-of-ownership.
"Our challenge has been to design and develop machines that maintain the low cost-per-hour that our customers demand and expect, while meeting the increased environmental and safety regulations in effect both here in North America and overseas.
"Sennebogen has accomplished this, most importantly by providing the operators and service providers of our equipment with the safest work environment possible," continues Ernst. "With such features as cab with sliding door and permanent catwalks, full upper-deck railing, and handrails/ handles for continuous three-point contact, we are an industry leader in terms of safety. This has been a core value of the company since its beginning and therefore continues to be a key driver for us."
Built for scrap handling
Today's scrap handlers are often referred to as "dedicated" machines. This is due to the fact that they are built specifically for material handling applications , at recycling facilities or in port applications. As "dedicated" machines, for scrap handling, these machines are commonly considered a great alternative to the traditional practice of using a converted excavator to move, unload and load high volumes of materials.
According to Andreas Ernst, "Sennebogen material handlers are purpose-built for the scrap market, and we build those machines based on the customers' demands. "We're not just taking an excavator and converting it to resemble a material handler. Users of converted excavators do not get the lifting and efficiency benefits of a dedicated material handler. There are huge advantages to a purpose-built machine in terms of cost-of-ownership and performance, whether the customer determines that cost by the tonnage of material handled or by hours of machine use."
"Our customers' demands include simplicity," continues Ernst. "As such, we are not using any computers to control the hydraulics on purpose-built Sennebogen material handlers. Computers are undoubtedly beneficial for other machine types working in other applications, but the scrap market is not one of them. Our customers here in North America and around the world have told us this, and we have listened. As an OEM focused solely on material handling, we can apply those market demands entirely to our products."
Doosan Construction Equipment, which started producing this category of machine in 2014, offers a choice between a wheel material handler and two tracked material handlers.
"The Doosan DX225MH-3 and DX300MH-5 material handlers are popular because of their lifting capacity in scrap metal processing and recycling facilities," says Doosan's Kleingartner. He adds that one feature that has been popular with customers is an optional hydraulic cab riser. If a customer is doing multiple tasks throughout the work day, such as unloading trucks, loading trucks, sorting materials or moving the machine around, the ability to raise and lower the cab can be convenient. A hydraulic cab in the raised position provides operators with a clear view of the loading area."
According to John Van Ruitenbeek, president business line manager – Fuchs North America (a Terex Company), their accelerated investment in product development has resulted in a number of upgrades and new machines in recent years. He says their latest models, the MHL390F and MHL370F, are designed specifically to give customers more material handling options to fill a wider variety of application needs.
One of Fuchs' recent upgrades garnered recognition as the winner of the 2017 iF Design Award, which Van Ruitenbeek says is an international competition, which had over 5,500 entries and awards given based on feedback from a 58-member jury made of experts from around the world. The winner was Fuchs' purpose-built Fox cab with a unique sliding door, skylight and downward-facing windshield.
"This design produces an unmistakable branding effect," explains Van Ruitenbeek. "The aim of the design was not only brand recognition, but also to make a connection with the machine operator." This was done by using repetitive, familiar elements to elevate the operator's 'emotional bond' to the product, he says. "The Fox Cab has been specially designed for handling machines and did not have to be subjected to any compromises as a result. This provides the user with great benefits in terms of ergonomics."
Buyer considerations
According to Liebherr's Scheuerl, the challenge is to buy a machine that can stand up to the demands of the application while also providing long-term, economical performance.
He says more than simply price, total cost of ownership and application should be considered; as well as extended maintenance intervals and fuel consumption. "Is the machine a 'production' machine or is it feeding a shredder?" asks Scheuerl. "Does the machine require high lifting capacity or extended reach? All of these factors should be considered and weighed in the purchasing decision to ensure the machine meets the yards requirements and expectations."
Doosan's Kleingartner emphasizes that one of the first considerations when considering the purchase of a mobile material handler is whether it should be a wheeled or tracked machine, and adds that front and rear stabilizers are standard equipment for their latest model DX210WMH-5 wheel material handlers."The next area to consider is a fixed cab riser or a hydraulic rising cab," he says. "Doosan DX210WMH-5 wheel material handlers come standard with a 6.5-foot hydraulic cab riser, whereas the DX225MH-3 and DX300MH-5 are manufactured with standard fixed risers. Fixed risers can easily be lowered for transport with a self-contained, electronically powered hydraulic system."
A third key consideration he says is attachments.
"Material handler customers can choose from a variety of attachments including grapples and magnets to efficiently load, cut or move ferrous and nonferrous materials," says Kleingartner. "Doosan offers an optional generator to provide power to the magnet, and the magnet can quickly move material.
He adds that options are also important to consider, and can vary by model. "Options for Doosan material handlers include additional work lamps, cab guarding, frame guards, fuel filter pump, rotating beacon, air compressor, catwalk, diesel-powered coolant heater and straight travel.
Telematics technology, which has advanced greatly over the last decade is another element to consider when looking at the current models of material handlers available."When equipped with Terex Telematics, Fuchs material handlers further improve efficiency, productivity and uptime," says Fuch's Van Ruitenbeek. "The system tracks critical operating data such as operating hours, fuel level and consumption, machine location, service events, and maintenance notifications. This data is then transmitted to a secured, password-protected website where it can be accessed at any time and from any location in the world where internet access is available.
"This user friendly website reports all the data in a logical, easily viewable and customizable fashion," he continues. "Machine service event reporting can be tailored to provide alerts to specific key technicians who can quickly address the situation."
Sennebogen's Ernst also emphasizes the increasing importance of factory training and local product support, as well as simplicity of design and ease of maintenance, especially in a market that he says is truly global.
"The destinations for scrap products are evolving and shifting constantly, and scrap yards have to both be able to move material in a timely manner and be nimble enough to adjust to changing market demands," he says. "Machine uptime is extremely crucial for these facilities, so having replacement parts on the shelves at their dealership locally, and at their OEM here in North America, is critical. If it takes a week or two to get their material handler up and running, those customers can't move product and can quickly lose the momentum of the global scrap market."
The future for scrap handlers Over the next decade, material handlers for scrap applications will continue to advance. We'll see improved emissions, more options for electric power, advances in telematics and operator comfort, not to mention increased efficiencies.
"Emissions standards will continue to evolve, and applicable engine environmental upgrades will translate into overall product development," says Sennebogen's Ernst. "A trend which has already started and probably will continue is the involvement of machine telematics to monitor machine utilization and costs per hour.
"At the same time, while not every yard is made for an electric machine, Sennebogen electric material handlers are certainly playing a role in today's industry and will increasingly do so moving forward," continues Ernst. "An electric machine is well suited for yards where you have a dedicated or mostly dedicated application or job for that material handler, such as feeding a shredder or a baler. As an OEM dedicated to material handling alone, we will continue to develop these and all scrap-handling solutions."
According to Liebherr's Scheuerl "Technology continues to advance efficiency and performance. From simple systems such as stored operator profiles to advanced data transmission and tracking through telematics, as well as automated safety systems, warnings and even remote control, all are improving efficiencies, safety and ultimately these machines' ROI."
For Doosan's Kleingartner, he points to the development of another high-tech option that should be available at some point in the future. "A long-range goal for us is material handler technology that would help operators by informing them of what material is in front of them. For example, if there's wire versus metal or plastic versus rubber."
I personally look forward to seeing this development come to fruition.
This article was originally published in Recycling Product News March 2017, Volume 25, Number 2.