Federal Metals - Rising to the challenge
For this Calgary-based recycler it's about finding a competitive advantage, while also leading the charge on mitigating copper theft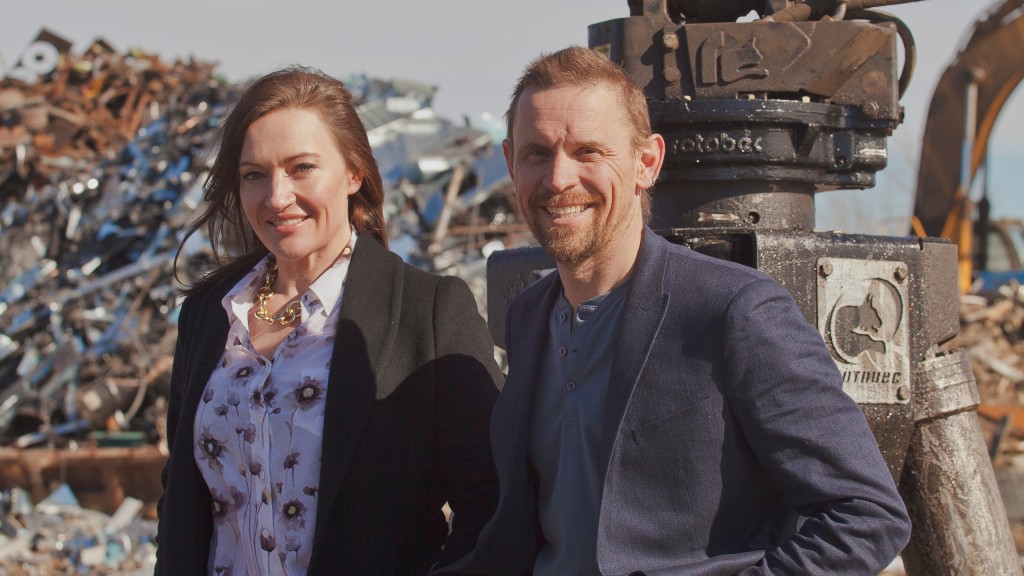 Federal Metals Inc. was established in Calgary, in 1950 by Herb Kraatz. As many stories about scrap recyclers start, Kraatz began with a one-truck operation, using a single location for the processing and sales of scrap collected. He would drive around, picking up scrap metal, sort and sell it, and the business evolved from there. Marvin Kraatz, Herb's son, took over and grew the business further, continuing to develop a name for the company. In 1985, Federal Metals moved to a larger 12-acre scrap yard and processing facility where the company operates today, focused primarily on nonferrous materials as well as ferrous.
Dan Klufas, Federal Metals' current co-president comes from a commerce and accounting background. He started working for the company about twenty years ago. In 2008, he and Marvin Kraatz' daughter Leslie bought the company and are now co-owners.
"It's kind of neat to see the third, fourth and even fifth generation companies. You don't see it as much anymore," says Klufas. "These days many of the large, corporate metal recycling companies are buying out a lot of the "mom-and-pop" operations to feed their mega shredders." He says that as the technology of the industry has changed, along with the equipment, and specifically shredders, recyclers can now handle increasingly massive volumes of material. "It is a big-volume game for the multi-site companies out there," says Klufas. "They buy up the smaller operations as essentially feeder yards for their equipment.
"We're a relatively small operation in the grand scheme of things," he continues. "We're primarily a nonferrous yard, and process about 6,000 tons of nonferrous per year. We do ferrous as well – about 36,000 tons per year. We're buying scrap metal, processing it and then shipping it out."
The changing nature of metal markets
During his career at Federal Metals, Klufas has operated mainly as a broker and a technical analyst, which is still his primary focus today, and he notes that the nature of scrap markets have changed significantly in twenty years.
"The fluctuations in the markets, especially for copper, are so much more significant," he says. "Twenty years ago we were dealing with two cent move in aluminum or a five cent move in copper, potentially, and it was the 'end of the world'. Now we're looking at 5 or 6 cent potential moves in aluminum, and 25-30 cent potential moves in copper on a daily basis."
He says part of what happened about 20 years ago is that the industry started to see a lot of hedge funds move into metal commodities, specifically into copper and aluminum. Speculators started seeing the value of playing copper and other metal commodity markets, grouping them into various funds. This altered the essence of scrap yard pricing, which is traditionally based on straight supply and demand.
"We had to be aware of what the hedge fund guys were doing and all of a sudden we would see 20 cent moves in copper that weren't really as directly attributable to straight supply and demand. They were more driven by the speculation of hedge funds."
"Scrap yards 20 years ago were involved in very few hedging contracts," continues Klufas. "Now all of a sudden, we were looking at tens of thousands of contracts a month. Those markets started to move a lot quicker and the movements were a lot more significant."
Finding the competitive advantage
According to Klufas, competition in the scrap industry has intensified over the last several decades, and drastically over the last 5-10 years, to the point where scrap dealers are looking for even the tiniest competitive advantage.
"It's a very difficult industry in which to get a real advantage over the competition," he says. "It's such a homogenous business model that it makes it difficult to find that little niche or that little extra to put you above your competitors."
He says one of the things Marvin Kraatz did to build the business in the 70s through the 90s is that he branched into selling structural steel and aluminum.
"Structural steel sales is a big part of the Federal Metals business model," Klufas explains. "That's really grown over the last 20 or 25 years. We have really focused in on this, and on creating a closed loop business model. Businesses can come drop off their scrap metal, or we pick up scrap metal from them. Then we're selling them back the steel they use to make the products that they're producing. If we're buying your scrap and you're buying our steel then you get a little bit better price for your scrap and a little bit better price on your steel."
Managing their equipment purchases, along with maintenance and downtime is of course, also an important element of day to day operations for Federal Metals. Doing it properly is another way to find a competitive advantage. Klufas says they run a large Mosley baler for handling their nonferrous, a Sierra International mobile baler for tin, multiple truck scales, as well as four trucks, 12-yard lugger bins and 30-yard roll-off bins. Currently the company is also going through a switch from a fleet of John Deere excavators, which they have run for many years, to dedicated Liebherr material handlers.
"It's one of the challenges in this business," says Klufas. "I find that the capital expenditure just to replace and to maintain equipment is so huge. It becomes a constant rotation of equipment. So, after 20 years of working hard to keep the same machines, and much time and money spent fixing and keeping them running, we're trying to move more towards a strategy based around regular replacement. This way, we mitigate our downtime and we're able to increase our efficiencies with new equipment."
Klufas says they decided to go with Liebherr dedicated material handlers, based on the quality of the brand. "We really have moved away from going with machines that will work good enough to machines that are top quality. I believe it pays off in the end."
With respect to their roll-off bins, they made the decision a few years ago to provide one standard size. "As opposed to accommodating one customer that needs a 40-yard bin, another that needs a 20-yard bin, we have seen great efficiencies using only 30-yard bins. There are no discrepancies, there's no going back and forth. We are able to do more pickups with one size of bin and move more material than we could having variable size bins."
One of the other recent pieces of equipment that Klufas has brought online is an Acculoader container loader. He says it is one of the most important pieces of equipment they have bought in recent years.
"Our container loader is a fantastic piece of equipment," says Klufas. "Because we're not on rail, it really opened up our markets and our ability to buy different materials and move them effectively. As opposed to only having one or two avenues in which to sell our materials, our container loader has opened things up to where we can effectively load overseas containers and even domestic containers so much more effectively. We did a dollar costing on it, and looking at the dollars that it's put on the bottom line, I should have done it 20 years ago."
"So often, when you buy a new crane or another piece of equipment in this industry, much of it is about putting out a massive capital expenditure, and it's hard to directly attribute an increase in your profit margin. However, with our container loader, it was night and day. We knew right away that it was a fantastic purchase. It was the same with our tin baler, from Sierra International. With this piece of equipment, it was also easy to determine our increased profit margin."
CRO Software
One last competitive advantage Federal Metals has found involves their in-house development of CRO Software. CRO Software Solutions, a company started three years ago, and co-owned by Dan and Leslie, provides a cloud-based interactive, dispatching and industrial asset management solution for waste, recycling, logistics and service-based industries. It is used by Federal Metals to manage the collection bin side of their business and is also now a recycling industry standard employed by many of the largest players in scrap metal, including Schnitzer Steel and Gerdau, around North America as well as in Australia and New Zealand.
"CRO Software has really been a fantastic asset to our company," says Klufas. "Essentially, four years ago I went out to the market and tried to find software that would help me manage my bins. I need to know exactly where my bins are, where my trucks are, and I wanted the data. There really wasn't anything available to do this. So I reached out to one of my partners in the business, and we developed our own system...we reverse-engineered it. We developed it from a driver's perspective and a dispatcher's perspective and then built it backwards from there. So now we have a customer portal where basically my clients can go online, request their bins be swapped out, and there's no miscommunication between dispatchers and drivers. I know where all my bins are and the data that it's given me and the efficiencies that it's provided have been incredible.
Advocating for the industry: mitigating copper theft
For Klufas, probably the biggest single challenge in the scrap recycling business has to do with metal theft.
"One of the reasons why I joined CARI (the Canadian Association of Recycling Industries) was that metal theft legislation was starting to take hold. We always had this obscure law on the books, since about 1980 for the City of Calgary, that scrap dealers had to be responsible for identification with respect to sellers of scrap and their materials. It was never enforced. And then when copper really jumped up in price and we started to see a lot of copper being stolen from critical infrastructure, such as substations, the issue really came to light. People were dying [because stealing from substations is extremely dangerous] and we were losing power and 911 service [due to theft from electrical and telecommunications lines].
"So they really started to hammer down on the scrap dealers, and we saw early on that they were going be passing legislation in Alberta that would greatly affect our business. This was really my driving force to join CARI as a board member, and to help fight this legislation."
Klufas is currently CARI's Chairman and has been involved for about five years in leading the front on the issue of metal theft, or as he prefers 'copper theft'. "I think that it should really be dealt with as copper theft because that's what is having the greatest effect on society as a whole. When 911 power service goes down, because lines have been compromised due to theft, it's copper lines. With substations, again, it's copper lines. So I always argue that the issue shouldn't be dealt with as 'metal theft', because no one's really stealing washers and dryers. They're stealing copper and that's really what we have to focus on."
In Alberta, Klufas is also part of the Provincial Electrical Physical Security (PEPS) association, which has brought together a roundtable with all of the stakeholders surrounding the metal theft issue, including the power, telecommunication and even light rail companies which use copper wire, along with the RCMP and major municipalities.
"I managed to get involved, representing metal recyclers," says Klufas. "When I first came into our roundtable here in Alberta, I was actually regarded like a criminal. I was put on the same level as the guy stealing copper, I was 'encouraging it'. It was awful. It took years to get these guys educated so that they now understand that I'm just as much at risk as they are and I want to stop copper theft just as much as they do. To solve copper theft, to mitigate copper theft, it is about communication."
Klufas says their roundtable has yielded some fantastic results. Over three or four years, Alberta went from having significant break-ins of substations, etc., to where at the most recent meeting, the word was that in the last six months there has been no significant break-ins and thefts in the province of Alberta.
"Our open communication and the fact that every stakeholder has been involved in our roundtable discussions has greatly mitigated copper theft in Alberta," says Klufas. "This, to me, is really the path to go down. Legislation and laws are ineffective. We have many laws and task forces set up to deal with the theft of automobiles. And yet every day in Canada a couple hundred cars go missing. With respect to copper theft, it's not about the legislation, it's about proper securement of assets by companies, and it's about the involvement, and education of all stakeholders at all levels."
The biggest change that has come about recently in Alberta, according to Klufas, is that the companies that own the copper assets have finally realized the importance of securing their material. Stakeholders have secured their material, and made it more difficult for theft to occur. Some have also switched from copper grounding rods to steel cladded grounding rods.
"They've actually stepped up and taken responsibility and realized that it's like locking your car. If you don't want the material out of your car stolen, you lock your car. If you are in a high theft area, maybe you put your car in a parkade. It's the exact same concept with copper theft. Those with copper assets, such as substations and power companies, have to secure their assets. If you're out in a remote area, you have to take extra precautions to secure that asset."
Klufas says this has resulted in a huge shift in Alberta, and has all but eliminated copper theft. Conversely, the strategy that is widely used around North America, where scrap recyclers are responsible for taking down information on everybody who brings scrap metal to their yard, including the material they bring to sell, is not working, according to Klufas.
"I don't believe it's right that the government deputize private industry to police a product that's being stolen. I have a difficult time accepting the fact that as an industry, as a business owner, I should be taking people's identification, recording their identification, and having all of that data in this age of identity theft. That raises a serious concern to me."
Klufas adds that because of the very homogenous nature of copper, it is virtually impossible to identify, even when a scrapyard gets a picture of the seller and a picture of the material. "For us to be able to say that a piece of copper was stolen by a particular person is virtually impossible. We've proven that it doesn't hold up in court, and that unless you catch the person in the act of stealing, once it comes to us as dealers, it's impossible to identify."
Unfortunately, Klufas says in most places, the law still looks at the scrap metal dealer as the one that should be responsible for stolen metal.
"But we're not the ones facilitating the scrap metal or copper being stolen," he says. "We're offering a legitimate service to all of society which we've done for the last 100 years. And because various factors have driven up the price of copper and many of the less fortunate members of society have realized they can make a buck stealing it, that responsibility should not be placed solely on scrap recyclers. In a case where someone is coming into our yard and we can legitimately say, 'I don't think that guy should have that material', then I believe that we have a responsibility to step up and say 'no'. Or call the police on that individual. But from there, I believe that that's where our responsibility stops."
Klufas adds that theft cases fluctuate with copper prices. "With copper being really high right now, I fully anticipate that we're going to see more thieves showing up. He also notes that the theft element is always going to be there. "To eliminate copper theft is like saying you're going to eliminate theft. It isn't going to happen. We have to work together as a society with all the stakeholders to help mitigate it."
"I would actually support legislation if it was supported by government, police and industry. If they were held to the same level of accountability that we as scrap dealers are held to. A few years ago, when they assigned a task force to metal theft in the city of Calgary, they took a ton of really bad guys off of the street. The guys that were stealing copper, some were also selling crack, they had guns and some had massive warrants out for their arrest. They put a huge dent in crime in general. And they did such a good job, all of those guys got promoted. And then the task force fell away.
"The United States has tried hard to legislate the purchase of scrap metal with fingerprint technology and sending out checks and photographs and using a tag and hold system. It has put 100-percent of the onus and responsibility on the scrap metal dealer and zero percent of the onus on industry.
"I empathize with our U.S. counterparts and what they have to do and what they're forced to go through on the metal theft front just to stay in business. It's mind boggling. I don't know how they do it. Kudos to them.
"The real solution is that the people that own the copper are educated, that they need to lock it up, and there has to be good communication. If you want a real solution to copper theft, put all the stakeholders in a room together and if you want legislation that works, mandate participation by all stakeholders. If you do that, it will mitigate copper theft. It is working in Alberta because every stakeholder is involved, and every stakeholder is educated. RPN
Photos by Jordan Gooden. This article was originally published in the March 2017 edition of Recycling Product News, Volume 25, Number 2.