eZcycle electronics recycling program launch earns award for marketing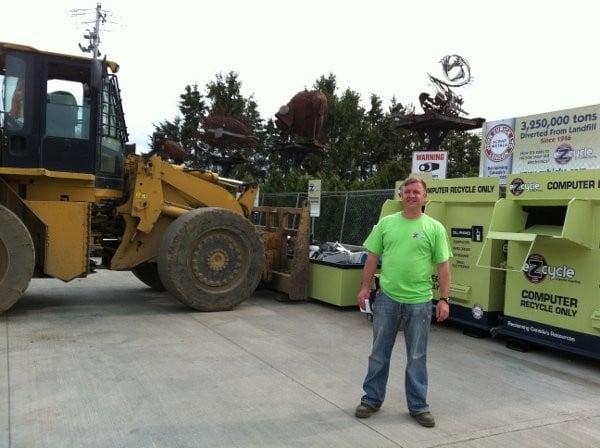 Marketing Strategies & Solutions, the London, Ontario based communications firm has been awarded industry honours for its campaign to launch the eZcycle electronic waste recycling program, introduced in May 2012 by John Zubick Ltd. of London.
Marketing Strategies & Solutions, headed by Robert Adeland, President, won its award in the Green Marketing category for the 2012 Summit Marketing Effectiveness Awards (MEA). The Summit International Awards Association grants MEA honors through a jury process which scores entries on their effectiveness in reaching stated goals to "…change, influence or reinforce a target audience's knowledge, attitudes or beliefs."
The MEA program is a global competition which, this year, attracted more than 700 entries from North America, Europe and Asia.
eZcycle is a new service created by Zubick's, a long time family-owned recycling business in London, to simplify the disposal and recycling of electronic waste for consumers and small businesses. The launch program developed by Marketing Strategies & Solutions included the program name and branding, site graphics, website and advertising campaign, including plans for an opening day event and contest.
"We have to credit Matt Zubick for his commitment to eZcycle," said Adeland. "He and his family recognized that their goal of diverting hazardous waste from landfills could only be achieved by making eZcycle a highly visible presence during its launch phase."
On its opening day alone, the eZcycle depot on Clarke Road was able to collect 13,880 lbs. of e-waste from the hundreds of visitors attending and ready to support the initiative. Since then, Zubick's staff has had to empty its special collection bins at least daily to keep pace with drop offs of cell phones, computer devices and other electronics.
Zubick says that despite growing participation in London, Ontario's recycling efforts, some of the most toxic materials known today are still making their way into local landfills.
"According to the research, people are simply tossing old cell phones and computer components into the trash because they just don't know what else to do with them," explains Zubick. "Others recognize the problems with electronics in landfills, so they have these obsolete devices accumulating in their basements and store rooms. We hope eZcycle gives them an easy way to get rid of these hazardous materials responsibly."
Materials accepted at the eZcycle depot include any computer components, TVs and monitors, cell phones and digital tablets, DVD players and sound equipment, business equipment and a wide range of household electronics such as game boxes and smoke alarms.
To launch eZcycle, Zubick built a new collection depot outside the front gate of the John Zubick Ltd. recycling facility in London, Ontario. The depot features a large new concrete base, lighting for round-the-clock visibility, security cameras and a series of specially-built bins and pens constructed by Zubick staff.
"We designed this area so people will have a convenient, safe place to drop off their electronic waste any time they wish, day or night," Zubick explains. "They drive up without having to enter the main yard, drop off their e-waste and go." Zubick says they also use custom designed theft-proof bins, so any personal data that remains on the computer hard drives or cell phone SIM cards or even memory sticks can remain protected until Zubick staff come to remove the material.
The material is then destroyed in a secure facility, so the data has no chance of resurfacing in refurbished devices in the future. The depot area is also kept under 24-hour video surveillance, and the entire operation falls under the Ontario Electronic Stewardship (OES) umbrella.
"Our objective with this program is to create local jobs and to prevent this stuff from polluting our landfills," said Zubick.
With the eZcycle depot up and running, the Zubicks plan to expand the program with mobile collection centres to be available as part of community clean-up events and business e-waste collections. The new depot is easily accessible at the roadside and visitors are welcome to drop off their material at any time, 24/7, any day of the year.
For more information on eZcycle and John Zubick Ltd., visit www.eZcycle.ca.