A hat trick of exciting announcements for McCloskey Washing Systems
McCloskey Washing Systems plan to disclose multiple product announcements at Conexpo/ConAgg 2017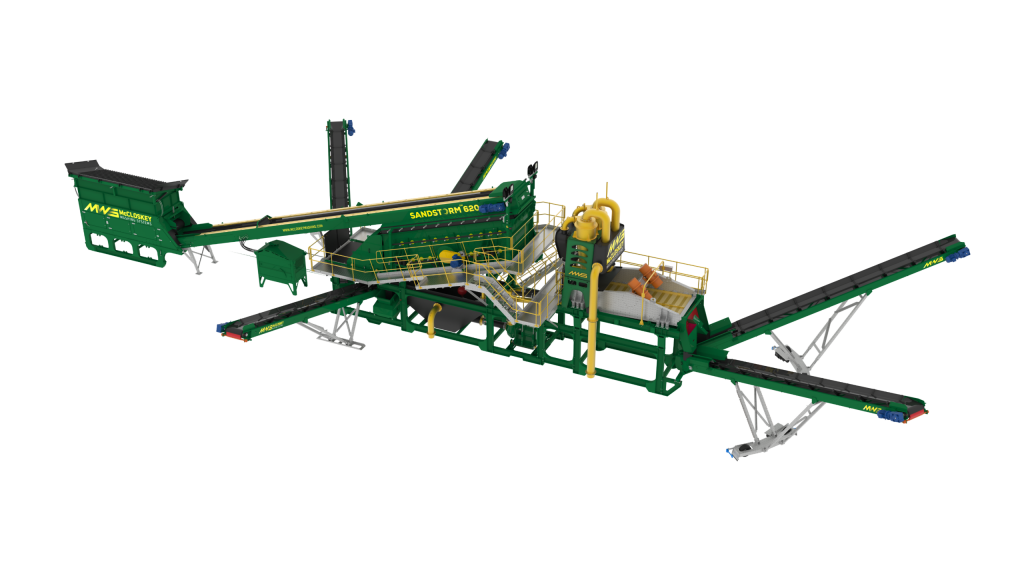 McCloskey Washing Systems launched its new business division in 2016, and has become a leading player, manufacturing a full range of mobile, modular and static material and mineral washing equipment, across multiple applications. Sean Loughran, Director of McCloskey Washing Systems, commented, "It's been an excellent twelve months for MWS and we are delighted with the growth we are making. We have developed an impressive product range for 2017 and we are excited about unveiling a number of these products at one of the world's most prominent shows in our industry".
SandStorm Modular Wash Plants
The eagerly awaited Modular Wash Plant range, SandStorm, incorporates feeding, screening, aggregate and sand washing along with stockpiling of all products on a single compact modular chassis. There is unprecedented access all around the machine for ease of operation and safe maintenance. It is coupled with unrivalled quality in every aspect of design and build, which make this range of equipment a market leader from the outset.
The SandStorm range (516, 620 & 824) can efficiently process feeds up to 550TPH, with up to four grades of aggregate and two grades of classified sand. An exciting addition to the SandStorm family is the new S-Line range, where all of the benefits of the modular plant are combined with the McCloskey tried and tested range of Sand Screws. The S-Line range provides a highly productive, yet cost effective option for the North American sand washing market.
AggStorm ™ Modular Wash Plants
The new McCloskey Washing Systems AggStorm Range is designed to operate as a stand-alone unit or to easily integrate with the SandStorm range of wash plants. The AggStorm is ideally suited to manage various types of clay-bound material where more aggressive scrubbing and washing is required than simple screening alone.
Equally, at home in natural sand and gravel applications, the AggStorM is perfectly suited to the C&D recycling market. This is due to impressive wear characteristics and the ability to scrub aggregates aggressively and remove, through floatation, all clays and silts, along with any light debris such as wood and plastics.
Water Treatment & Management Plants
In an ever-increasing trend across North America and beyond, sand and aggregate producers are moving away from the traditional methods of managing silt and recovering water through tailings ponds / lagoons. There is therefore a growing demand for highly productive, safe and cost effective alternatives to this common problem. Sean Loughran added, "We are delighted to announce the launch of our full range of MWS Modular Water Treatment and Management Plants including high-rate thickeners, deep-cone thickeners, automatic flocculent dosing stations and a complete line of recessed plate filter presses".
"Our modular approach to the development of this range allows operators to start small and build up to a full 'closed-loop' system as budgets dictate. Offering a choice of thickener to recover up to 80% of processed water. Full filter press systems can be incorporated at a later stage to produce easily manageable dry silt cakes removing the need for any form of pond or lagoon altogether, resulting in a safer and much more cost effective operation. This has the added advantage of achieving up to 95% water recovery.
Company info
Related products