Carrying on the family tradition
From a single truck to an operation consisting of roughly 200 people across 30 divisions, the Alpine Group has established itself as a major player in B.C.'s recycling industry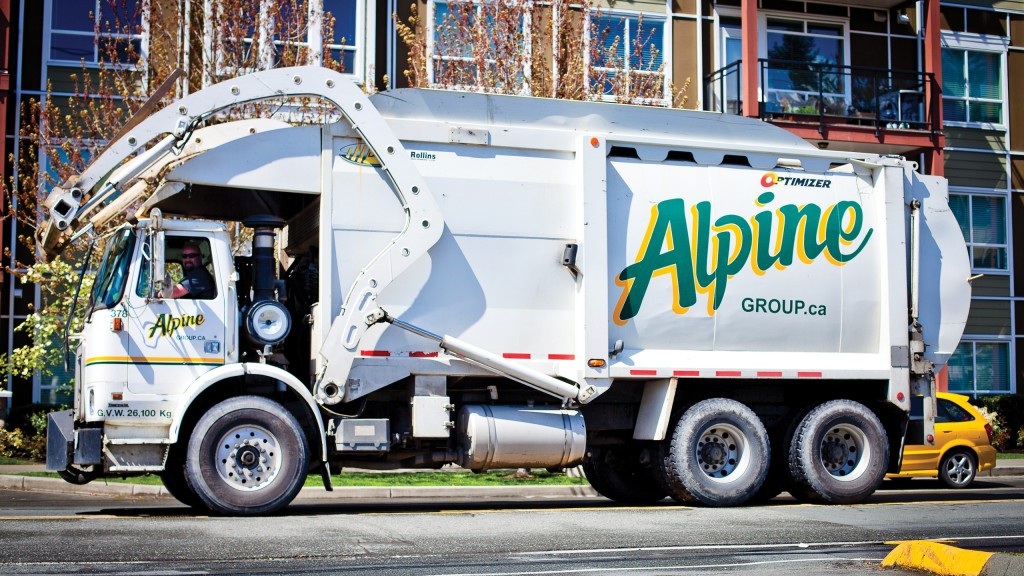 Solid waste management continues to change rapidly, but one constant remains: garbage, organics and recycled materials need to get from point A to point B. So, while the industry changes, the haulers that move material make changes as well.
Since 1984, the Alpine Group has grown from a humble beginning to a diverse collection of operations that encompass collection, hauling, processing and sales of recycled product across British Columbia. And while it has expanded well beyond its starting point, the company remains dedicated to providing the best possible value and service for customers throughout its divisions.
The Alpine Group got its start in the Southern Vancouver Island region of B.C., where Stew Young began the business with a single truck. His son, Stewart Young Jr., the operations manager of Alpine Group, said "the business has steadily expanded through the three decades since.
"From that one truck, it evolved into two trucks, then three trucks, and then snowballed into a company that operates across B.C. and provides a range of different services," Young said. "Everyone in the company has a vision for a 'we do it all' comprehensive suite for our customers, through which we wanted to be able to offer as many services as possible, creating not only value for our company, but for our clients."
Alpine Group's operations were originally focused strictly on collection, and expanded to develop a larger fleet of trucks that included highway tractors moving both the company's own materials, as well as those of clients. From there, it continued to spread, with solid waste recycling being the main focus. Thanks to steady and smart growth, the Alpine Group now has 30 different divisions.
"Through those growth periods, we had to have awareness of our limits, the areas we wanted to grow into, and keep the expansion smart," Young said. "When we felt there was a need for a service, or a gap in the communities where we operated; that was where we looked for opportunities."
In addition, the growing company had the benefit of division managers and staff that had a passion for the work – a passion that drove them to seek out those opportunities, and find the niches where the Alpine Group could best serve its customers and communities.
"People who are very involved in the company were able to look at those different opportunities and find ways we could create some value, capture market share and make not only a profitable business but one that generated value for our customers," Young described.
The Alpine Group continues to seek out employees that maintain those values and can work within the family-owned tradition.
"We want to make sure that our staff are empowered to make the right decisions and carry on the locally-owned, family-run tradition," Young said. "We want people who take pride in how they conduct their business and who will strive for 100 percent customer satisfaction, especially if they have unusual requests or tight deadlines. Each division can affect the perception of our company, so it's important that everyone is representing our company to their fullest ability."
Today the Alpine Group employs about 200 people in its operations, and handles just over 100,000 tons of material yearly, including organics, residential waste, blue-box recycling and other refuse that flows through the company's four transfer stations. Construction and demolition waste, drywall, clean wood waste, furniture, electronics and many more products are recycled, transported and disposed of through Alpine's facilities.
"We try and offer a one-stop shop approach – we've been promoting this for 30 years, trying to offer as many services as we can at any one facility," Young said. "That way the customer is able to bring us everything they generate and we take care of it for them."
Diversity of the fleet
Far from the single truck that started it all, the Alpine Group now has a diverse fleet that includes roll-off, single-axle, double-axle, front-load, side-load, rear-load, flat-deck, five-ton and three-ton trucks, Young related.
"We've tried to diversify our collection of vehicles, to allow us to offer the most, and best services possible. If the material is not already coming to us, then we want to find a way to get that material and bring it in," he said.
Fleet operations is an area that is evolving constantly, Young noted, especially in terms of the types and availability of fuel options for their work. With a variety of alternative fuels coming on line, their decision-making process for purchasing new equipment is very important.
"The biggest change we're starting to see is the transition to alternative fuels, whether that's compressed natural gas, hybrids or fully electric vehicles," Young said. "We introduced a few CNG trucks last year, and added our first hybrid roll-off at the start of 2017. The industry's progression is probably going to be towards the possibility of electric collection vehicles; with the daily routine of stopping and starting, which enables the ability to regenerate electricity, electric vehicles are really going to make a push.
"At present, many truck manufacturers are working through pilot projects for electric vehicles," Young said. The Alpine Group is watching closely for developments in that area.
Improved technology has helped in other areas of the business as well. The company established a fleet management system for its B.C. Interior operations in 2014, and has GPS tracking on the majority of its collection vehicles and tractor trailers.
"The benefits include knowing where our vehicles are at all times, as well as being able to track and record data. With this information we can address the efficiencies in each of our different collection programs," Young said. "There are also cost savings in our dispatch for our roll-off operations. Knowing which truck is closer to a site not only increases the efficiencies of our operations, reducing our carbon footprint and drivers' time, but also enables use to provide a faster service to our customers – which, in the end, benefits us as well."
Organics and beyond
Organics collection is a growing part of the diversion process for many municipalities, and it has been a growing division of the Alpine Group's operations over the past few years. The company started offering organics collection several years ago, and has seen a steady expansion as more residential and commercial customers have come on board.
The amount of food waste being diverted from landfills has increased as awareness and education are improved, Young said. "It helps to create more jobs for us, as well – the transition has had its difficulties but has been a success overall."
In the case of yard and garden waste, as well as material from the company's land clearing division, the Alpine Group runs a variety of grinders that are used to create mulch for local municipalities, and wood waste for nearby mills. "We also have compost, garden mixes, topsoil and mulch available in bags or bulk quantities at some of our transfer stations," Young said.
Other organic materials are transferred to either a local regional government transfer site; which is moved by a local company that runs composting operations on Vancouver Island, or directly hauled to the different private facilities on the island.
When it comes to other recyclables, Alpine uses a combination of its own facilities and outside services for processing. It has a construction and demolition waste processing capacity in the Victoria area, and is involved in processing of collected curbside recycling materials in the Interior of B.C., along with regional partners.
"Materials are brought to our facilities, we sort them, and then transfer the materials to the end markets," Young said. "As demand grew, we were able to integrate our own tractor trailer units and roll-offs to handle all the materials that we process and transport them to our markets."
That level of processing does lead to one of the bigger challenges that the Alpine Group – and many others on the collection side of the business – have to deal with: contamination.
"We educate and promote source separation, but you still run into the challenges of coming across contaminated materials," Young said. "The cleaner the material we receive, the more effectively we can recycle it. We try to get that message across because the more that people understand about the full life cycle of the material, the better for everyone and the environment."
With more than three decades in the business, the Alpine Group tends to be on the forefront of new developments, and along with expanding organic recycling and alternative fuel vehicles Young says that the industry has many other potential directions it can go as technology develops further.
"I think you'll see innovations at the facilities where materials are processed – the drive for diversion will put a demand for increased recycling, which will lead to increased technology," he suggested. "You'll see a lot more mechanical and optical separation, which will increase the diversion levels with sorting. I also believe that legislation is going to drive the industry as the government puts more focus on reaching environmental targets.
"We would like to see the role of local governments, especially in B.C., transition from operational to adopting a target-setting, education and enforcement role," Young added. "We want to assist those governments in meeting their recycling and solid waste needs and objectives, and help the public receive a high quality of service at a reasonable cost."
This article was originally published in Recycling Product News, Volume 25, Number 1, January/February 2017.
Related Articles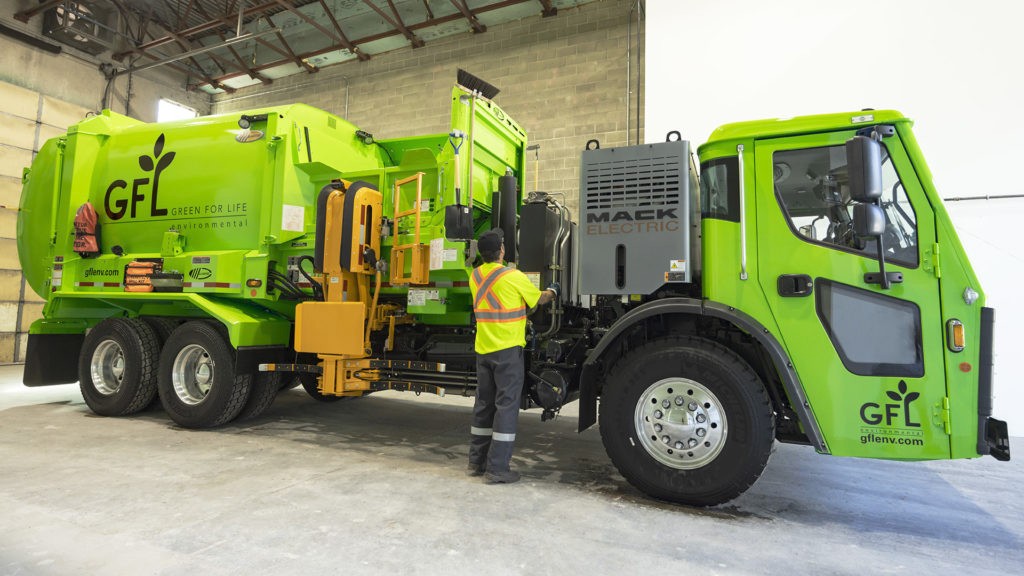 GFL's first fully electric collection truck begins operation in Squamish, B.C.