Building on a vision
Toronto's Combined Metal Industries is driven by a professional, ethical and innovative approach to the business of scrap recycling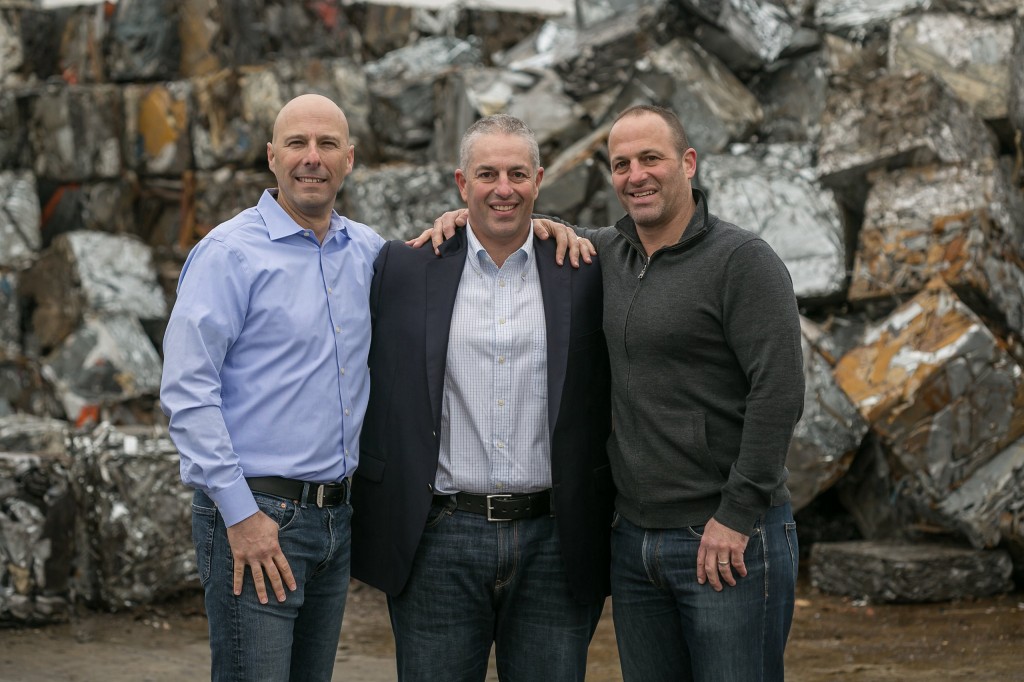 Combined Metal Industries, Inc. (CMI) is not just a market leader. The company employs nearly 300 people and is one of Canada's fastest growing scrap metal recyclers. But it didn't begin like that. It started 20 years ago with the vision of a young man who understood that one person's garbage was another's treasure. This is a lesson Gary Kaplan learned at a young age while sweeping scrap shavings off the floors of a South African scrap yard. Curiosity bloomed as the then 21 year-old became enthralled by the potential held by each metal. Kaplan wanted to learn everything. How was each metal comprised, how did it generate value and how could it be traded?
Kaplan quickly caught the attention of his boss, Gunter Lazarus, who took him under his wing, and taught him how to navigate the ruthless and often "wild west" nature of South Africa's scrap metal industry. Armed with the tools of the trade, Kaplan became fixated on the creation of value and on mapping out a pathway to success. Over time, his vision took the shape of a scrap metal company that would not only benefit customers, but which would provide opportunities to employees and reward hard work.
But this couldn't, and wouldn't happen in his home of Durban, South Africa. At that time, South Africa was spiralling into civil unrest, in part due to a weak economy and the end of Apartheid. The future of South Africa was too violent and too uncertain. For Kaplan to build his dream, he set his sights on Canada, a completely new and unknown market dominated by a strong base of established scrap dealers. For an outsider like Kaplan, the unknowns were daunting, but Canada was stable, safe, and he knew that he had the will and work ethic to face the challenges and become a leader in his field. In 1996, at 27, Kaplan left everything behind to start his new life in Toronto and started building CMI.
The adventure of a lifetime
Armed with knowledge, passion and drive, Gary Kaplan knew his dream couldn't be built alone. So who else was willing to take a chance? Kaplan's best friend, Darryl Shull, was the first to pack his bags and also leave South Africa, followed shortly after by Kaplan's youngest brother David. Together the three men bought an old pickup truck and started collecting scrap from small industrial accounts in the GTA (greater Toronto area). It was the three of them against the world but unfortunately, it seemed that no one needed their services. They quickly realized that Ontario's scrap metal market was saturated with established recyclers. Undaunted, they set about building a company with a refreshing value proposition based on a professional, ethical and innovative approach.
"There was a kind of market territorialism that prevailed," says Kaplan. "And there was definitely a hierarchy in terms of who was able to sell product where and to which buyers."
Kaplan however, knew how to do things differently. His philosophy was much like today's ride-share giant Uber –disrupt the market and change the game. "Our passion was not so much based around a love of the scrap metal business, but more to come into an environment with preconceived ideas and disrupt it, innovate and change the way that people did business," he says.
Kaplan designed CMI to put everyone on notice, to shake things up. His company would be more transparent and accountable than anyone expected. Those who did business with CMI would be assured absolute integrity as it related to their transactions. The company would go above and beyond environmental standards and it would be financially secure, insuring all of its debt and limiting risk associated with a commodity related business. Customers of CMI would never have to worry about being paid if there was an interruption or correction along the way.
According to David Kaplan, "We wanted our clients to be secure that they would always get paid, no matter what extraneous volatility occurred."Maybe the most important thing for Kaplan was building CMI around its people. He wanted those who joined his team to be part of a family – to be respected, to grow and reap the rewards of their hard work.
"For me, it was equally important to create an environment where our employees would have the opportunity to come to work and to be themselves, to achieve their dreams, to self-actualize, and to make a difference, versus simply getting a job and another paycheck. I think the combination of our approach to our people – the internal and the external stakeholders – enabled us to really grow in the early years."
After just a year in business, his vision in place and his team coming together, Gary knew that in order to grow CMI into its potential, a strategic partner was needed. He found this in a childhood mentor who knew the Kaplan family well and had taken an interest in Gary and his work ethic. The partnership would prove pivotal in the CMI story and helped take the company to the next level by providing financial support, and even more significantly, strategic insight.
"We learned that there is more to life than just the bottom dollar and that a fair deal, where everyone else also wins, is what would create an enduring organization," says Kaplan.
"If you can imagine, in the beginning, there were three of us, all immigrants brand new to the country, trying to pick up business, trying to make a profit," explains David Kaplan. "This partnership provided us with a bit more structure, allowing us to measure what we were doing and just focus a lot more beyond what we had been doing in our first year." In its first 12 years CMI was almost exclusively an industrial services company.
"We didn't see ourselves as buyers of scrap, strictly speaking," continues David. "We have always identified ourselves as strategic partners with the companies with which we do business. At the end of the day, we really want to work hard to create win-win scenarios and to engage as partners, as trusted advisers, which is more of a consultative role than it is a transactional role."
It wasn't long before CMI turned one yard into several, buying up neighbouring properties and buildings in Toronto's North end, as well as a yard in Cambridge, where they introduced their first public yard and retail location. The company expanded their services to include metal distribution, with a presence in both ferrous and nonferrous markets across North America and became an attractive outlet to other scrap dealers.
CMI now handles in excess of half a million tonnes of ferrous and 200 million pounds of nonferrous material annually and has partnerships with several associated companies in Montréal, New Jersey, Atlanta, as well as Rand Alloys in Ontario. As a division of CMI, Rand specializes in the foundry and die cast industry, providing ingot, additives, hardeners, inoculants, ferro-alloys and niche additives.
In 2010, Shift Recycling was formed. Shift, a fast growing end-of-life e-waste recycling and e-scrap trading company, has become a key partner for CMI. Shift has grown to be one of the largest processors of e-waste in Ontario, dealing with large-volume generators of used electronics such as municipalities, scrap recyclers, waste management companies and IT asset disposition companies. Through its wholly owned subsidiary, Revolution Recycling, Shift offers data destruction, IT asset disposition and recycling solutions to businesses of all sizes.
Realizing the CMI advantage
In every aspect of their business Kaplan and his team refer to what they call the 'CMI Advantage,' to which they credit much of their customer growth. The CMI Advantage involves a focus on exceptional customer service, advanced fleet capabilities and innovative use of infrastructure, technology and equipment. After talking to Gary and his team, the CMI Advantage is revealed to be more elaborate than this. It revolves around their philosophy with respect to their employees and partners, the safety and cleanliness of their yards and facilities and a focus on mitigating their environmental impact. Combined with this, it entails very high efficiency of operations and maintenance, while creating a profitable, flexible strategy that works for CMI, its partners and customers.
CMI has a strong history of continued reinvestment into the business, to drive those operational efficiencies, which Kaplan recognizes as a real contributor of value for both their customers and their operations.
"Our view was that the value generated in the recycling process should be shared amongst the participants – suppliers, team members, shareholders, and all the people that are involved in the chain," explains Kaplan. "I think that sort of egalitarian approach has been very helpful with our growth."
Sarah Keay, a vice president in CMI's industrial services division, sums up the CMI Advantage as follows: "It's about the approach to business that we take. We get closely involved with our customers. We make a point of getting to know their business, on the floor of their facility, to understand how their scrap flows. We uncover opportunities for improvement, and where challenges or limitations might be preventing them from maximizing their revenues and efficiencies. We help our partners implement positive changes with respect to their scrap metal management."
Jacques Levinsohn, VP of CMI Southeast, adds, "In today's scrap marketplace we need to add significant and measurable value – period."
Evolving in the changing scrap landscape Twenty years after starting CMI, Kaplan says technology and innovation have changed the entire scrap industry. The information age has brought more negotiating power and transparency to the marketplace, and increased competition now gives customers a better chance to negotiate and monitor their bottom line.
"The scrap business is much more competitive today, speaking from our perspective in Ontario," agrees David Herr, CMI's CFO. "While there's a lot of scrap generated here, you need to be at the top of your game in order to participate effectively in the long term."
CMI is also no longer using the old pickup they started out with. Today, more than 40 trucks collect and haul scrap every hour of the day, seven days a week, all over Ontario. But with growth comes bigger challenges. The regulatory environment is changing and the cost of compliance is rising. Kaplan says they embrace this challenge as a chance to be better, to further raise the bar.
"All of CMI's trucks are configured to provide drivers with a safe environment, ease of operation and all are equipped with on-board computers," says Nick Wallar. "This enables us to understand and manage our fleet in real-time. Given the fact that so much of the scrap metal business is a function of logistics, we made it a priority to really delve into it and become good at it. As margins tighten the only way that you can make money is if you have a very good understanding of where your costs come from and how you can best manage them."
CMI considers itself a market leader, not just with respect to implementing technology and innovation into its operations, but also when it comes to the safety of its people and the environment. Before environmentalism was even a "thing," Kaplan says he was steadfast in his desire to protect the earth from the inherent chemicals that come with scrap metal recycling. CMI's yards are lined and concreted to ensure runoff fluids, solvents and lubricants do not contaminate the environment. CMI co-founder Darryl Shull adds, "We're not afraid of regulation. We embrace it. All scrap companies are obliged to follow the same rules so we may as well get on with it and build a business as law-abiding citizens."
CMI has also made huge investments developing proprietary methods to contain and treat residues, thus eliminating precipitation-related complications. Enormous structures are used to cover heaps of scrap, resulting in better compliance and greater efficiencies for everyday operations.
"I think that there's a real opportunity to raise the bar in the scrap metal recycling industry by providing clearer guidelines with respect to best management practices," says Kaplan. "I think that what companies would discover, if they have not already, is that by having good environmental and safety protocols, it invariably leads to better business. This is probably my biggest learning experience in the last 20 years: when you do things based on the aspiration to do good and be a socially responsible corporate citizen, it's not in conflict with running a good business."
While Kaplan's early investment into environmental standards put him ahead in the game, CMI and other manufacturers across Ontario face further challenges this year, adapting to the Province's new cap and trade program. No one yet knows the full impact this new environmental tax will have on business, but Kaplan knows it will mean constantly upping his game and making sure CMI rises to the challenge.
"Values, ethics, decency and respect are what will set CMI apart," Kaplan says. Not cutting corners may cost him a customer or two in the short term, but it's the only way he does business, and customers have come to appreciate and trust those ingrained values. "So much to be thankful for," he says, "...and we are only just getting started!" RPN
This article was originally published in Recycling Product News, Volume 25, Number 1, January/February 2017