SENNEBOGEN 821 Electro provides efficient handling for Switzerland-based Remo Recycling AG
Electric powered material handlers key for minimizing noise pollution and avoiding emissions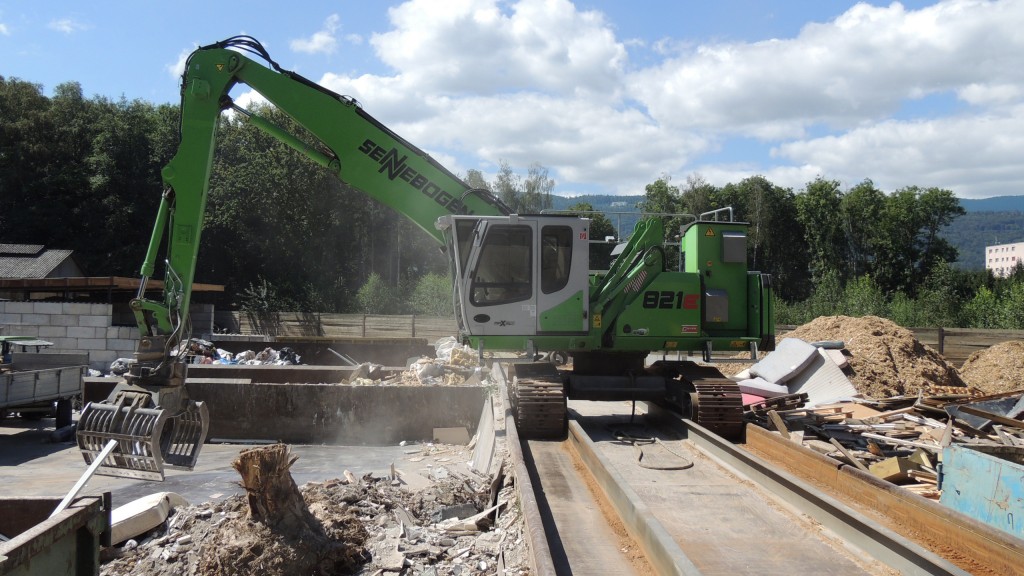 According to their motto "Everything from a single source", Swiss company Hurni AG offers earthworks and construction material as well as demolition, disposal and material recycling. Since mid 2015, a SENNEBOGEN 821 electric material handler has been used for preliminary sorting of recycling materials.

Remo Recycling AG, a subsidiary of Hurni AG headquartered in Bienne, Switzerland, is a waste disposal specialist that takes care of the ecological recycling and disposal of construction waste and municipal waste. In June 2015, the sales and service partner Kuhn Schweiz was able to deliver a SENNEBOGEN 821 with an electric motor and crawler travelling gear. Driven by a 90 kW electric motor, the material handler works in preliminary sorting and loading of the incoming materials. For this purpose, the machine was placed on a ramp and can be variably moved using the crawler traveling gear.
"Due to the proximity to existing housing developments, a main focus of our procurement criteria was on minimizing noise pollution and avoiding emissions. This is optimally achieved by the environmentally friendly electric motor. Not only does the machine work much more quietly, the electric solution also reduced the operating costs by around 70%," explains operations manager Heinz Gstrein regarding the advantages of the SENNEBOGEN electric material handler.
Ideally, the operator and machine are a unit, and great emphasis was therefore placed on this in equipping the machine. With a 2.70 m elevating Maxcab industrial cab, together with armored glass panes and the inclined windshield, the operator has an optimum overview of the work area during sorting. The machine itself has a 11 m long piece of equipment with a sorting grab and can be flexibly supplied with current via the trailing cable. Thanks to the electric drive, not only were the operating costs considerably reduced in comparison to conventional diesel machines, but the increased service life of all components and longer maintenance intervals are also advantageous.
As a recycling company, Remo AG has been around since 1987 and has continuously developed since then. According to Gstrein, the "green image" of the SENNEBOGEN material handlers has been beneficial to Remo's reputation, and the company has had a very good experience with their sales and service partner, Kuhn Schweiz, with respect to maintenance and servicing.
Company info
Related products