MB-LS170 screening bucket taking on industrial waste for German recycler
MB's latest attachment transforms compact carriers into recycling machines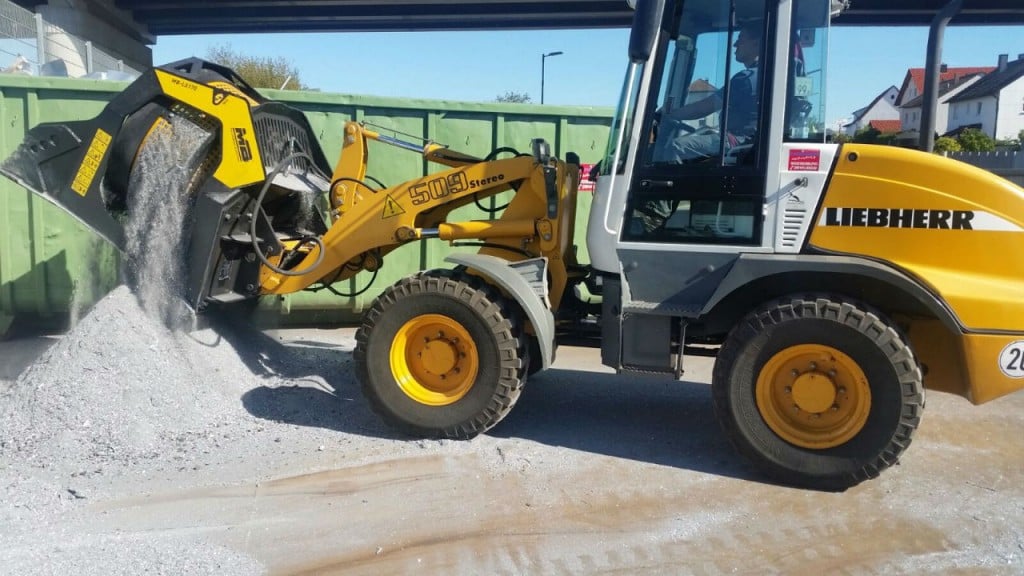 The use of waste from industrial processes and their re-use in carrying out new projects is nowadays a regular practice for many companies in many countries. Above all, this occurs with a view to the (necessary) creation of a model of sustainable development, founded on the reduction in the consumption of natural resources and the minimization of waste production.

One testimony regarding the exploitation of waste comes from a German company specialized in the recycling of metals and slag from blast furnaces. The company has chosen one of the most recent MB Crusher products for their operations; the MB-LS170 screening bucket. The extreme versatility of the MB Crusher screening bucket allows the company to screen steel residue from the periodical cleaning of their furnaces. The various-sized residues are thus cleaned of residue dust and rendered suitable for re-sale as good-quality steel.
The MB-LS170 screening bucket is also used for recycling aluminium. The aluminium dust of less than 30 mm in size that the company obtains after screening of residue is then melted at high temperatures in a special furnace, which leads to the obtaining of aluminium blocks which are ready to be re-sold.
This residue which in the past was only considered as material to be disposed of, is now transformed into an exploitable resource, with important advantages from an environmental and economic point of view. According to MB, the company's choice of MB Crusher equipment is not only the solution to filling a work requirement, but is a clear sign of the company's innovation and continuous research for the improvement and development of their fleet of machinery, as well as improvement in quality of work and respect for the environment.
The MB-LS170 (installed in this case on a Liebherr Radlader 509 loader) can transform the working machine on which it is mounted into an efficient mobile screening plant. Lightweight (weighing approximately 1.35 tons), compact (1670 x 1865 x 1380 mm), and with a load capacity of 1.10 cubic metres, it can be fitted to excavators, skid loaders, and loaders from 6.5 to 11 tons.
Just like all the products in the MB CRUSHER range, the MB-LS170 screening bucket is designed and constructed entirely in Italy, in the new production plant; Fara Vicentino.
Company info
Related products