Canada's RUBBER RECYCLING SYMPOSIUM set for October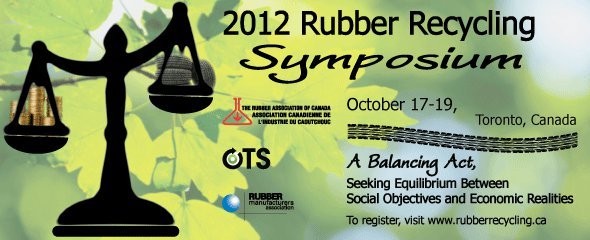 The 2012 Rubber Recycling Symposium is set for the Sheraton Centre Toronto Hotel, running from October 17-19. This year's Symposium is themed "A Balancing Act – Seeking Equilibrium Between Social Objectives and Economic Realities." The event is biennial, and is promoted and organized by The Rubber Association of Canada, the Rubber Manufacturers Association and supported by the Ontario Tire Stewardship.
According to the organization; "tire recycling is something to be prodded, perhaps even legislated and certainly to be encouraged. Doing so helps eliminate unsightly stockpiles and utilizes what might otherwise be a wasted resource, not to mention creates needed investments and jobs in the new 'green economy'.
The Rubber Association of Canada also says this year's event will address questions including: "Are we recycling tires in the most prudent way possible? and Are we making the very best use of balancing our desired outcomes with the financial resources available?"
The Rubber Recycling Symposisum is hosted by The Rubber Association of Canada, and co-sponsored by the Ontario Tire Stewardship and The Rubber Manufacturer's Association, who say the 2012 edition will explore the varied approaches to rubber recycling and compare successes and opportunities for delivering the results we need.
Event organizers also say the Rubber Recycling Symposium draws in an international audience of the industry's key players, and includes thought provoking panels, a full slate of exhibitors, and ample networking opportunities, providing a hub where top decision-makers work towards the collaborative development of an environmentally sustainable industry.
Main industry players will include: rubber recyclers, waste management companies/programs, rubber recycling equipment suppliers, provincial stewardships, tire dealers/ manufacturers and importers.
Founded in 1920, The Rubber Association of Canada describes itself as a cornerstone of the national rubber manufacturing industry. The Association places itself at the forefront of industry evolution, helping to navigate changes in policy and societal trends.