Zimmer America new North American distributor for Beccaria SRL
TVX range of vertical mixers available in sizes from 500 to 100,000 litres, suitable for processing regrind, plastic pellets and pulverized PVC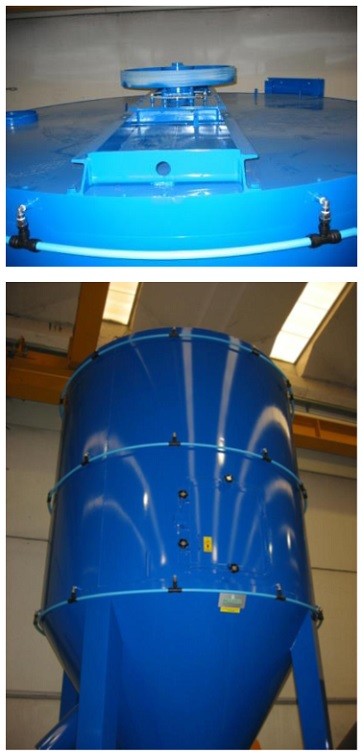 Zimmer America Recycling Solutions has announced that the company is now the exclusive sales representative for Beccaria Srl in North America. Based out of Italy, Beccaria Srl manufactures a complete range of augers, mixers, plants and systems for the plastics and plastics recycling industry, for Mixing/Blending, Batching, Storing and Transporting of granulate, flakes or powder.
Beccaria S.r.L recently introduced its new TVX range of vertical mixers. TVX mixers are available in sizes from 500 to 100,000 litres and are suitable for blending regrind, plastic pellets, and for the homogenization of pulverized PVC. All parts in contact with material are manufactured in 304 AISI stainless steel; offering excellent corrosion resistance, particularly important when processing damp material. The TVX mixer sits between Beccaria's TV range of carbon steel blenders and the TX series of unpainted, stainless steel mixers. According to the company, by having a painted rather than a bare metal finish on the exterior of the new TVX series blenders, it allows for considerable cost savings in the manufacturing process. This means these mixers can be offered at a very competitive price.
Additionally, Beccaria SRL now offers a new system designed to help customers that need highly efficient cleaning of their VERTICAL MIXERS. This latest system is composed of different rows of nozzles (according to mixer dimensions) on the body of the mixer, from the lit to the beginning of the cone, and with a series of nozzles in the centre of the lit itself that blow compressed air inside the mixer. This system is indicated to facilitate the cleaning of the mixer and avoid the remains of material residual, with compressed air blown from the top row to the bottom one (if more rows are applied) pushing the residual at the bottom of the mixer and favouring their removal by the operator from the lower inspection door. This system can be activated manually with a simple valve or with solenoid valves that can be set up on defined blowing timetable.
Other available machines and systems from Beccaria SRL and available through Zimmer America, include: big-bag emptying, filling, and weighing stations; screw conveyors and pneumatic conveying systems; single or double shaft batch mixers, and rotating double-cone mixers; hot air mixers/dryers for granulate; mixing/ Blending silos; storage silos for granulate or powders; and storage and dosing plants for extruders.
Company info
Via Sperino, 46
Scarnafigi (CN),
IT, 12030

Website:
beccaria.it
Phone number:
+39 0175-274748
Read more