Mega scale plants process up to 2,000 tons per day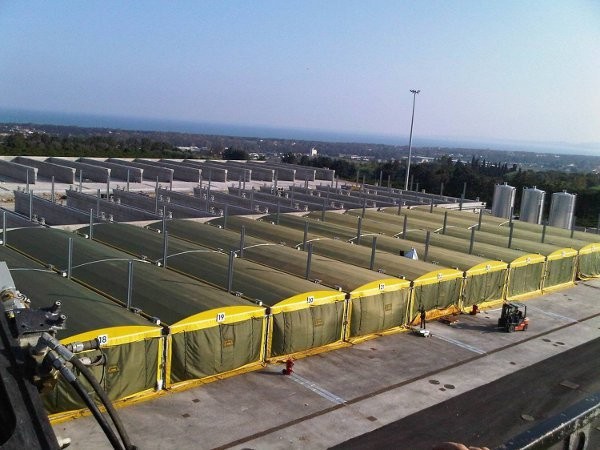 In composting, the term "large scale" is commonly used to describe operations that process somewhere around 600 ton per day of organic material. Currently, GORE is building "mega scale" composting plants designed to process up to 2,000 ton per day of organic material.
In Italy, surrounding countries and most recently Argentina, the company BioE is the design, build and technical partner for GORE Cover technology. According to GORE, BioE has developed a unique design of their cover (shown here) which uses a super bunker and fixed frame structured roof utilizing a proprietary connector system to seal the GORE Cover's roof and front door panels. The design can be used for mega scale compost plants and is a completely encapsulated "in-vessel" design.
In Sicily, Italy, BioE/GORE's latest mega scale compost plant recently completed construction and is accepting material. Designed to handle up to 2,000 tons per day of municipal solid waste at reception, materials are first delivered into a sorting system to remove large materials and recyclables. The remaining fraction which contains high levels of organic material is placed through the BioE/GORE Cover technology on site for the purpose of meeting IR1000, emission reduction and odour control requirements. The stabilized product can then be sent off for secondary treatment.
GORE says facilities using the GORE Cover experience greater than 90 percent reduction in process odours and VOC emissions when compared to open and uncovered compost systems. The GORE Cover uses membrane laminate technology, and is just one element of Gore's integrated composting system, which also includes in-floor aeration, aeration blowers, oxygen and temperature sensors, controllers, computers, software, and cover handling systems.