CANDI Plastic opts for QR series shredder
First of its kind application for the UNTHA QR1700 shredder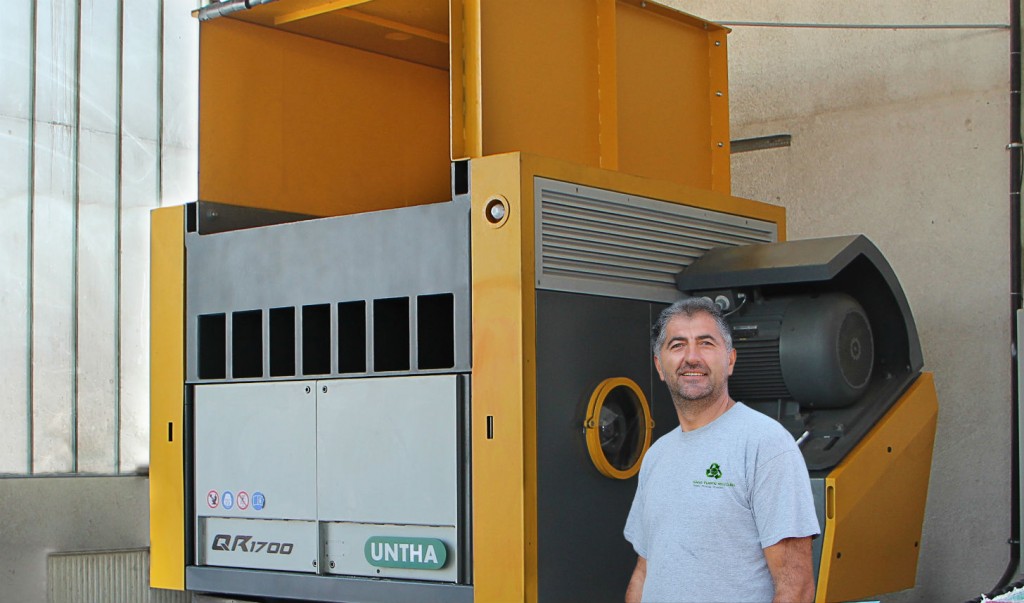 In July this year, CANDI Plastic Recycling began using a QR1700 shredder for shredding plastics. The company is located in Austria and specializes in the collection and treatment of non-hazardous waste. Several features proved this high-performance UNTHA single-shaft shredder was the best-fit machine for the brief, such as its versatility, low energy consumption and multi-functional flap.
The production of shredders for material recycling has long been a staple of the UNTHA service portfolio, and as an industrial shredding specialist, UNTHA says they are continuously working to develop technologies further. With the particularly reliable QR class, UNTHA has managed to combine several advantages in a single product range: the machines reduce costs for the customers while increasing their operational performance and simplifying their maintenance schedule at the same time. After a two-year period of extensive research and development, the QR class was first introduced at IFAT 2016 in May of this year and is now in use at south Austrian company CANDI Plastic Recycling.

An all-rounder for CANDI Plastic
CANDI Plastic Recycling went into business in the collection and treatment of non-hazardous waste in 2001, with a focus on the processing of plastics into recyclable regranulates. The company is based in the south Austrian town of Sollenau and processes approximately 3,500 tonnes of plastics per year. Expectations for the new shredding system were high: "The customer was particularly looking for a unit that would be easy to clean and could deal with a wide range of different materials - the shredding of filament strings and big bags in particular were key applications", says UNTHA Project Leader Arno Urbanek.
To ensure that customer requirements could be met in full, UNTHA provided CANDI Plastic with a prototype of the QR series when trials first began. This meant that the customer was able to participate in the development process and that all findings could be integrated in the manufacture and fine-tuning of the end product.

This process was one of the main reasons why CANDI Plastic opted for a UNTHA unit. The QR1700 combines all the benefits that were crucial to the business. The shredder deals effortlessly with all kinds of plastic, independent of form, condition and properties, and is easy to clean thanks to a screen system that can be lowered hydraulically and its multi-functional flap. A safety coupling protects the unit from damage caused by foreign objects. This shredder also achieves higher throughputs than previous models, thanks to the large diameter of the rotor and the increased screen surface, combined with the maintenance-free pusher technology.
"So far, the QR1700 has fulfilled all my expectations. I am particularly impressed with the multi-functional flap that makes foreign objects easy to remove and the hopper easy to clean. Thanks to its large rotor diameter, the shredder is extremely versatile and able to process all different kinds of plastics", says Gheorghe Campan, Managing Director of CANDI Plastic.
When it comes to developing new machines, energy efficiency is always a core requirement for UNTHA, and the new QR series is no exception. With a rated capacity of 75 kW – and a robust, universal cutting system – the unit combines maximum throughput with low energy consumption. This significant reduction of energy costs is yet another advantage that made CANDI Plastic opt for the QR1700.

UNTHA Project Leader Arno Urbanek regards the close cooperation with the customer during the development phase as a key success factor. "Thanks to this cooperation, technical features were developed that correspond exactly to industry user requirements," said Urbanek. "The fact that customers appreciate this approach is reflected in the UNTHA order book – in addition to CANDI Plastic, two more customers have now opted for the UNTHA QR technology in only a matter of weeks."