Terex' lineup of environmental processing equipment stronger than ever
CBI and Ecotec brands provide solutions for recycling, composting and a range of other applications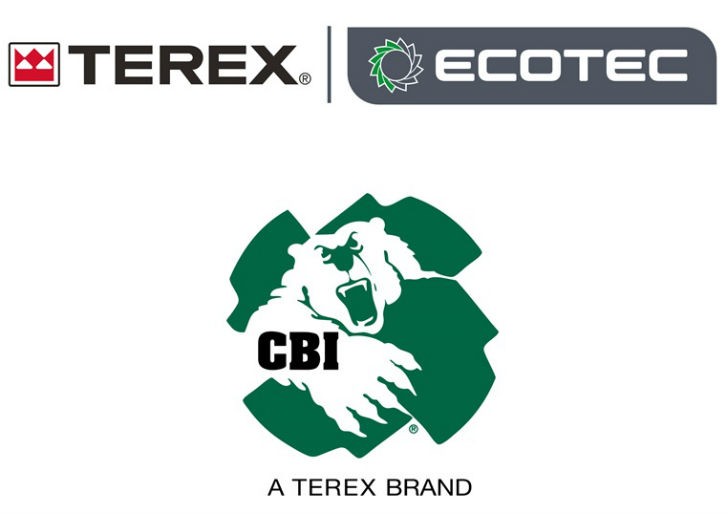 Terex now offers its environmental equipment customers two distinct product line brands – CBI, a Terex Brand and Terex Ecotec. From one company, forestry, construction, biomass, waste, recycling and composting professionals can now choose from a broad line of chippers, grinders, shredders, screens, waste handlers, windrow turners and stationary systems.
"As recently as two years ago, the Terex environmental portfolio consisted simply of biomass equipment sold predominantly in North America," says Tony Devlin, Director of Terex Environmental Equipment (TEE). "Through the strategic line acquisitions of Continental Biomass Industries (CBI) and Neuson Ecotec Environmental Technology, internal product development, and customer interaction, Terex now offers a broad range of environmental equipment marketed globally under two strong brands for our processing customers."
For more than 25 years, CBI has defined the biomass processing industry with mobile and custom-engineered stationary solutions known for their rugged durability and high-throughput capabilities. Offering a full line of equipment for the forestry, construction, biomass and waste energy industries, the strong CBI brand is synonymous with high quality and uptime reliability.
The extensive CBI product line includes stationary and portable horizontal grinders, drum chippers, flail debarkers, disc chippers and screens. Additionally, customized stationary recycling systems can be configured using CBI equipment to meet specific processing needs.
Neuson Ecotec products have a rich history in the recycling and composting industries through the TIM shredders and Trommels and Sandberger compost turners. Today, the Terex Ecotec brand expands the overall Terex environmental product portfolio with chipping, shredding, screening and composting equipment. Additionally, a range of waste handlers efficiently loads material into both Terex Ecotec and CBI processing equipment to maximize throughput capabilities.
The full Terex Ecotec product line includes slow and medium speed shredders, biomass chippers, horizontal grinders, trommel and recycling screens, waste handlers, and windrow turners.
"This brand strategy gives Terex two strong brands of well-known and reliable equipment to meet virtually any environmental processing need," comments Elaine Donaghy, Marketing Manager, "Depending on the market and how to best serve the customer, we will employ a mixed sales channel strategy that includes both distributors and direct sales."