Wendt Sells First MTB CABLE BOX, Compact Wire Chopping System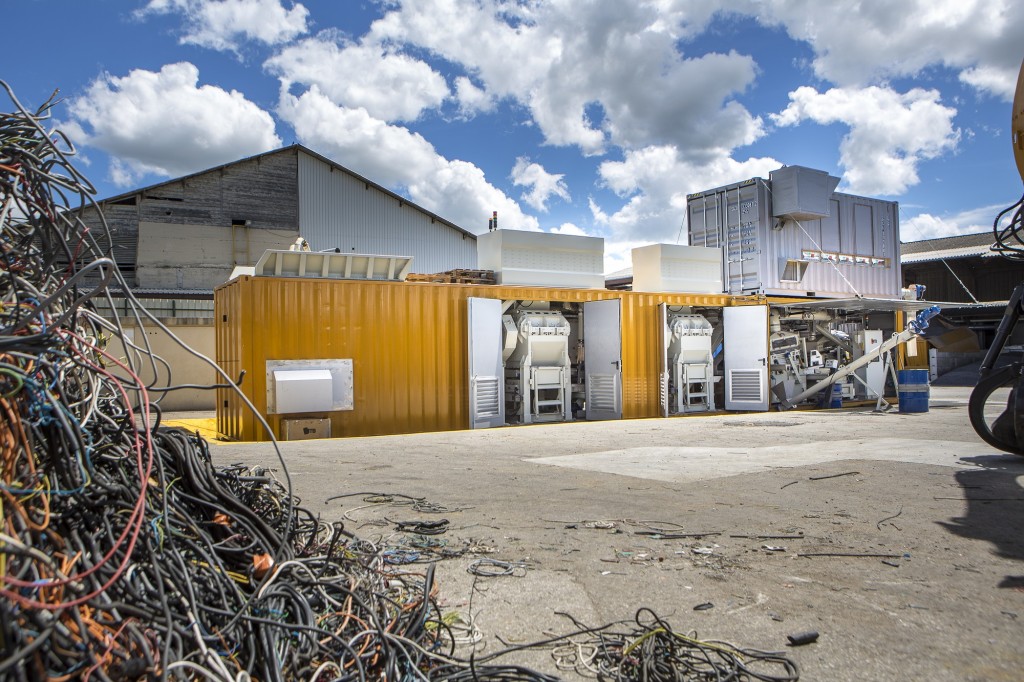 Scrap Central, located in Omaha, Nebraska has purchased the first MTB CABLE BOX from WENDT CORPORATION. The MTB CABLE BOX, a compact wire chopping system, offers Scrap Central with a containerized, turnkey wire chopping solution to begin processing its increasing volume of non-ferrous materials.

Started in 2001, Scrap Central is a second-generation, family-owned and operated business, providing metal recycling services to the general public and industrial and commercial customers. Scrap Central Owner, Jennifer Jones, took the company over in May 2011 following the death of her mother, Sheila Jones. As a female business leader focused on increasing recycling volumes and lessening our carbon footprint, Jones relocated the company in 2014 from a ½-acre lot to a 7-acre former concrete facility to expand the business and keep up with demand.
Since theirmove in 2014, Scrap Central's insulated copper and aluminum wire volume have continued to increase and drove the need for another processing solution in addition to their balers. The purchase of the CABLE BOX will allow the company to keep up with those increased volumes, streamline their operation andminimize labor hours currently used to sort and bale wire. The systemwill also expand their processing capabilities to include amuch broader range ofmaterials.
"We partner with a local non-profit organization in a Go Green Holiday Lights Drive which has diverted over 17,000 pounds of holiday lights from local landfills. We wanted to process those holiday lights in-house instead of shipping them to a processor. Having a wire chopping system in-house will allow us to donate back more proceeds to our non-profit partners and grow the project to more communities throughout Nebraska," said Jennifer Jones. "I believe that through collaborative efforts, like our Holiday Lights Drive our community and environment will benefit by advancing awareness and increasing participation. We are grateful for the support from the Nebraska Environmental Trust and Nebraska Department of Environmental Quality in our purchase of the CABLE BOX, allowing us to increase recycling efforts, education and proceeds generated by the drives."
Scrap Central's CABLE BOX features a BDR1245 shredder, two BAT800 granulators, air density tables, screens and magnetic separators as well as integrated electrical controls and dust collection system. The compact system has been designed to fit into two 20' by 40' and one 20' by 20' reinforced, customized containers. While the system is smaller in size and footprint, it shares the same robust and advanced design as MTB's larger systems. This enables it to efficiently treat lower quality cables while delivering highly valuable output materials. Jones said, "We thought the revolutionary design and unique self-contained CABLE BOX was a good fit for our operation since we don't have excess warehouse space to house a conventional wire processing line. We also were impressed with the production capabilities and the diversity of materials the CABLE BOX can process. The CABLE BOX is efficiently designed to minimize process loss and produce high quality marketable products."
Scrap Central will process insulated #1 and #2 copper wire, neoprene and ACSR wires as well as auto shredder residue (ASR) wire they are currently generating from customers and commercial accounts. They plan to expand their buying potential to other scrap yards in surrounding areas by offering competitive pricing and lower freight costs with their centralized location. "We look forward to growing relationships with companies generating large volumes of insulated wires in need of processing and hoping to increase their bottom lines. One long-term goal is to build lasting relationships that provide partnerships for decades of growth together," added Jones.
The first MTB CABLE BOX system will be installed and commissioned at Scrap Central by the end of the year. The company plans to run the operation 6 days a week/8 hours a day while processing up to 2 tons an hour depending on material type. Jones said, "I was extremely impressed with not only the capabilities and innovation of the MTB CABLE BOX system but with MTB owner, Jean Phillipe and his company. MTB and Scrap Central's visions align in the mission and goals to better our environmental impacts for future generations. The reputation of MTB/WENDT speaks for itself." She added, "The robustness of the CABLE BOX system will allow a young owner and company like myself the versatility to move with the industry and process a limitless variety of materials."
Company info
2555 Walden Avenue
Buffalo, NY
US, 14225-4737

Read more