Kiverco completes another complex project for a major UK customer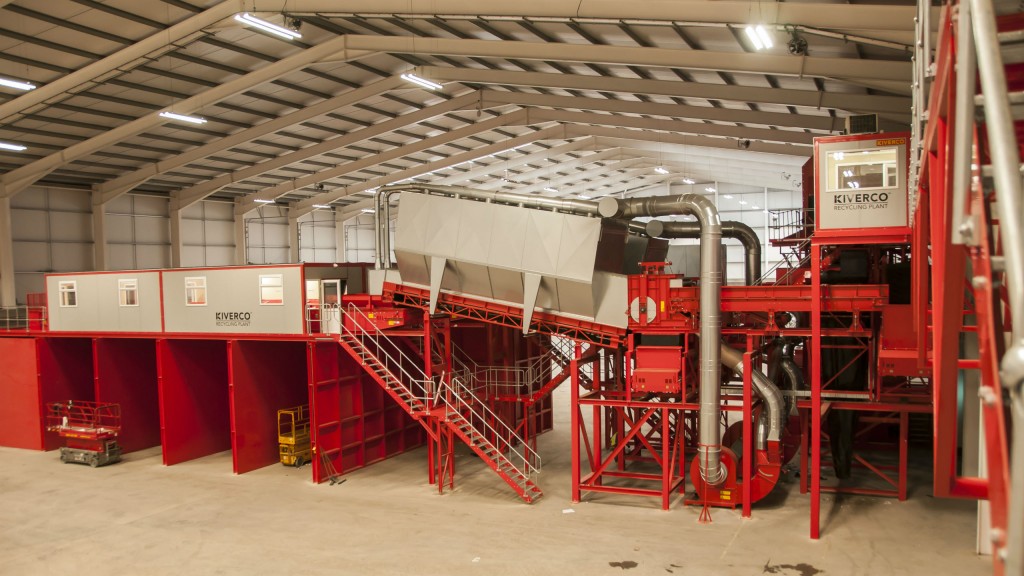 Tom White Waste Ltd was formed in 1981, when Tom White found it difficult to obtain waste management services for his other businesses and decided to start his own waste management operation. Since then, the business has grown hugely and in 1988, Tom's sons Ian and Paul joined the business. Today, they run the company as joint managing directors. Tom White Waste operates in the Commercial, Industrial and Domestic market sectors and covers an area of 30 miles radius from their state of the art facility in Coventry.
A little more than 12 months ago, Ian and Paul realized that the company needed to develop significant additional waste processing capacity, both to service their present markets and to take the business into new market segments such as the production of Refuse Derived Fuel (RDF) whilst also keeping strict environmental control.
Tom White Waste has always been known as a forward thinking and innovative business and the new facility was conceived from the outset to represent a quantum leap in terms of the new facilities available, the significant increase in waste handling capacity and crucially, the equipment needed to provide the enhanced service levels.
The conclusion was simple: construct a brand new, high specification building to house a new, high performance recycling plant. The result of this major investment of c£10m can be seen now as the new plant opens for business.
The solution
Dungannon-based Kiverco has been involved in the project from its earliest days and worked extensively with the customer to arrive at an optimum solution both to handle the existing workload and ensure sufficient future capacity.
The plant has been designed to process up to 100,000 tonnes of mixed waste per annum, with the option to recover key products for recycling and to process the residual waste into an RDF product, which can then be baled and wrapped prior to transportation to the end user.
Ian White, Managing Director, Tom White Waste Limited, said:
"In a business that cannot easily stop when work overwhelms you then, robust and efficient plant is a must. We have had the pleasure of using Kiverco sorting systems for nearly 10 years and they were the first choice for plant in our new £10m waste processing expansion. The uptime of our existing Kiverco plant has been outstanding and is supported by great service, parts and support. We look forward to another 10 years working together with Kiverco."
Recognizing the challenge of this flagship facility, John Lines, Sales and Marketing Director, Kiverco said:
"Ian White is a demanding customer and his requirements for this plant were very clear to us. He needed the necessary technology incorporated into the plant to ensure high throughput and maximum flexibility to operate the plant according to changing market and customer requirements. We are delighted that Ian was confident that we could meet the challenge and are immensely proud to be associated with this flagship plant, which has been designed, built, installed and commissioned by Kiverco in record time".
Company info
26 Gortnaglough Rd
Dungannon County Tyrone
Northern Ireland,
BT71 5EE

Website:
kiverco.com
Read more
More from Waste Diversion
Single-Ram and II-Ram High-Capacity Balers
At Machinex, we've been designing sorting systems for over 35 years, so we know how essential it is for MRF operators to have a baler they can trust and not worry about its operational reliability. This is why we design and manufacture reliable single-ram and II-ram high-capacity balers to specifically help optimize their operations.
Watch the video of our expert who presents the main features of Machinex balers delivering these important benefits:
Easy & accessible maintenance
Reduced maintenance & bale handling costs
Energy savings
Optimal bale density
For C&D recyclers, waste haulers, demolition contractors and landfills, there is a growing opportunity to profit from rethinking processes. Although every operation is different, by streamlining the front end of the C&D operation processes with purpose-built technologies, recyclers can tap into new end markets, accommodate higher material volumes, stay ahead of regulatory restrictions, increase recovery rates and add commodity revenue, while decreasing labor and other costs.
Download the new eBook to learn about:
Finding opportunities in the alternative to landfilling C&D
How facilities can increase their profits from C&D
Using the right C&D processing technology in the right locations