Gaining business by "losing weight"
Ecology Recycling and Transportation Services turns to lightweight specs as a recipe for success.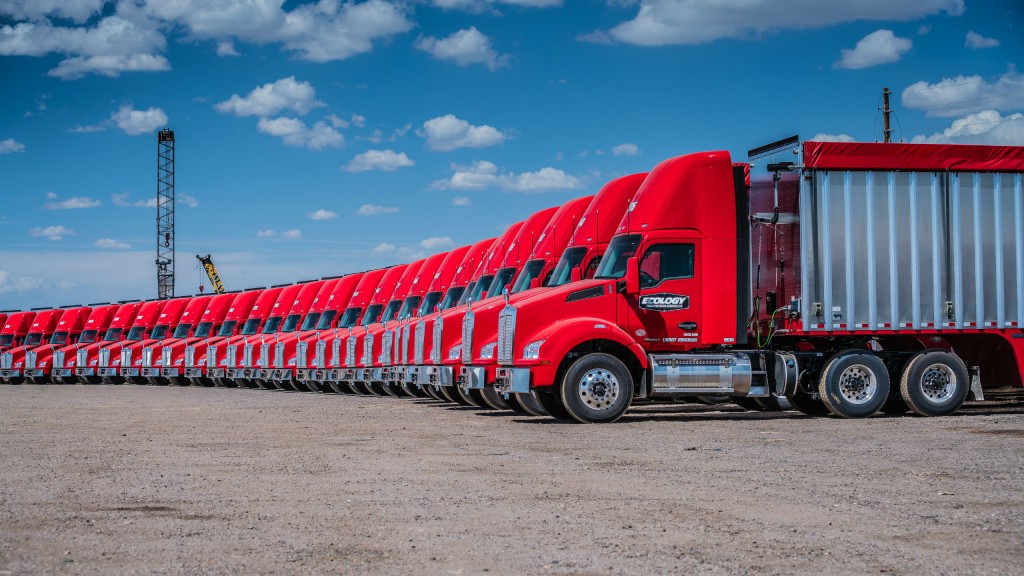 When you're in the business of hauling recyclables and trash, every pound counts. And, for Ecology Recycling and Transportation Services, lightweight specs are a recipe for success. The latest example is a transfer dump contract the company received in the Phoenix area.
"Contract waste hauling is a very competitive business, which requires very accurate cost accounting and revenue projections," said Greg Evans, equipment maintenance manager for Ecology. "It comes down to who can haul the most trash at the lowest cost."
Ecology, with a fleet of more than 600 trucks, is the largest company west of the Mississippi that provides trucking and transportation services for bulk waste and recyclables. The company has purchased 450 Kenworth trucks since 2010 through Inland Kenworth in Montebello, California.
To help get the contract hauling waste from transfer stations in Phoenix to landfills between 80 and 120 miles away, Ecology has done more with less by reducing weight in its new Kenworth T880s and trailers.
"All told, we decreased weight by about 2,000 pounds, as compared to other combinations we've run in the past," said Evans. "The biggest contributor was going with the PACCAR MX-11 engine, which is 400 pounds lighter than a 13-liter engine. We have always been believers in the PACCAR MX-13 engine, and run those with great success in California with our Kenworths. But, with the new PACCAR MX-11 engine, we can save weight and have comparable performance."
Ecology's PACCAR MX-11 engines are rated at 430 hp with 1,550 lb-ft. of torque in its 61 Kenworth T880s with 116.5-inch BBC short hoods. "The PACCAR MX-11 has the same horsepower rating as we're running with the MX-13 engine, but with a different torque rating," said Evans. "We're not seeing any difference in top-end performance, and in Arizona, we're able to run up to 75 mph. Since we gross out on nearly every load at 80,000 pounds, we're finding the pulling power to be excellent. The smaller engine is working well and we expect it to have the same life as our bigger PACCAR engines."
Adding to the weight savings was the decision to go with super single tires on the tractors and on the 48-foot trailers. "We really looked at all areas to cut weight," said Evans. "We even took out the passenger seat on the trucks since they're not needed, and went with two batteries instead of three."
According to Evans, it all adds up and helps the bottom line. "When you consider that some of our drivers will make two trips to the landfill and put on close to 500 miles a day, it means our productivity is up since we're paid by the ton."
Evans also expects continued high fuel economy numbers. "We've seen a marked improvement in fuel economy with the PACCAR MX-13 in our California operation, and we expect similar performance, if not better with the MX-11 once the trucks are broken in," he said. "The combination of a lightweight vehicle, low maintenance costs – quite a bit lower than other brands of trucks we've run – and top fuel economy, are all what's helping to drive new business for our company. What's more, our drivers really love being behind the wheel of the T880."
Evans first saw the PACCAR MX six years ago during a visit to the Kenworth R&D Center in Renton, Washington, and he left impressed of what he saw and heard. As a result, Ecology became one of the first fleets to begin using the PACCAR MX engine when it was introduced in 2010, and continue to operate with the PACCAR MX-13 engine ever since. "I knew the PACCAR MX engine platform had been used in Europe for years, and it had been thoroughly tested here. It gave us the confidence to move forward and I'm glad we did. It's been a great business decision, and it's only getting better with the implementation of the PACCAR MX-11."
Company info
Related products