On the road to Zero Waste
Through key partnerships in the community, Vancouver's green coast rubbish plans to be the first zero waste junk removal company in North America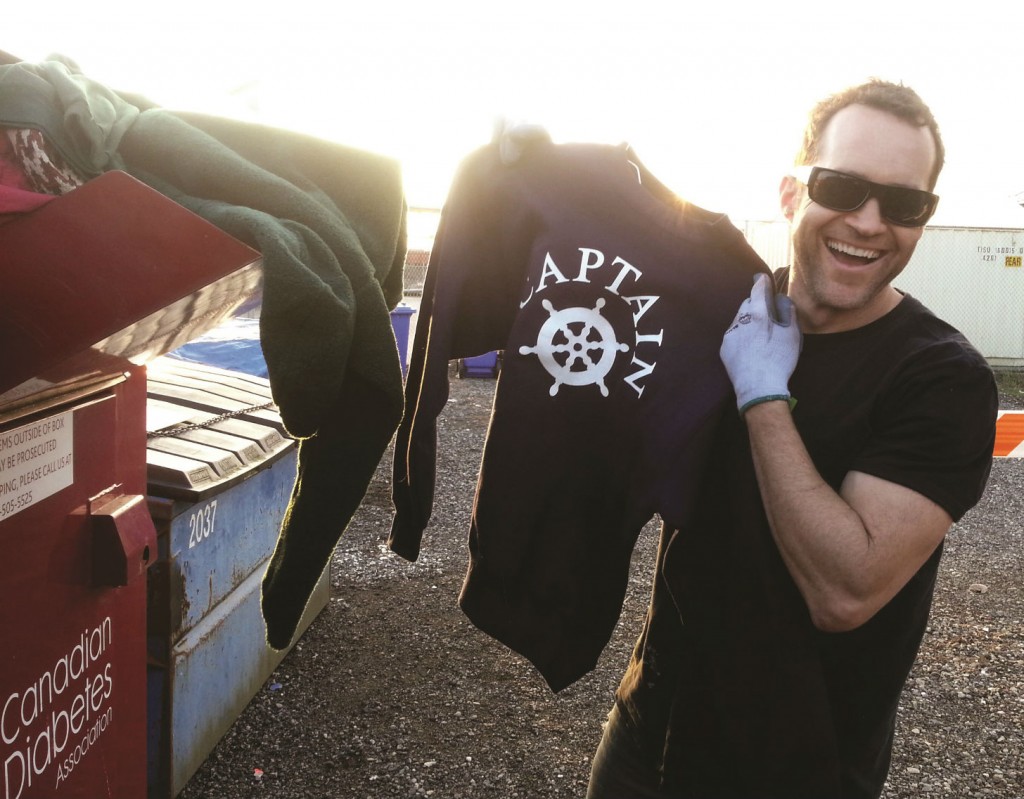 Green Coast Rubbish Inc. has set a goal to become the first Zero Waste "junk removal" company in North America by 2020. The Vancouver-based company has built their business model on the principle of improving the way waste is managed in the community by providing environmentally conscious disposal and re-use options, recyclables hauling and deconstruction services. Combined with this is their vision statement: "To set the standard of excellence in customer service and responsible waste management, and to be a driver for change in the industry."
According to Eamonn Duignan, president and CEO, Green Coast Rubbish (GCR), the company has always had a goal to achieve a yearly minimum of 75 percent waste diversion. "Since we started tracking our diversion rates in 2010, Green Coast has either met or exceeded that goal and achieved diversion rates of 86 percent in 2014 and 80 percent in 2015," he says.
Considering Vancouver's goal for waste diversion is 80 percent by 2020, by meeting or exceeding that mark for two year's running, GCR is definitely leading the way in the city. In 2015, GCR hauled close to 635 tonnes of material and diverted approximately 505 tonnes of material away from landfill to recycling and re-use.
GCR has achieved this goal and is well on their way to achieving Zero Waste. And the community they operate in is taking notice. In June, GCR was presented with a Better Business Bureau Torch Award, which recognizes companies that make big strides in advancing ethics and trust in the marketplace.
At this year's Recycling Council of B.C. event, held in Whistler in May, the company was also recognized with the 2016 Private Sector Environmental Award in excellence and leadership in environmental stewardship, which recognizes organizations or their employees with outstanding initiatives to protect the environment. "Winning this award means a lot to our team – it is truly an honour to be recognized for our efforts by the Recycling Council of B.C. which is such an outstanding organization. The RCBC Recycling Hotline is a key resource for us," says Duignan. "Receiving this award is an acknowledgement of all of our hard work over the years. It is a very proud moment."
Solid partnerships key to success
Overall, during 10 years of operation, Green Coast Rubbish has diverted for recycling and re-use over four million pounds of material. Key to their success so far for Duignan is the creation of a reliable network of partnerships with local businesses that specialize in recycling materials such as foam, drywall, wood, plastic, glass, paint, organics, mattresses and e-waste. Duignan says the establishment of partnerships with recyclers has enabled GCR to streamline the process of materials recovery on all projects.
"Basically, we collect all sorts of material, anything from foam, carpet and furniture to concrete and electronics – you name it," says Duignan. "We form partnerships with a lot of local recyclers where we utilize their facilities in diverting that waste." As an example, for carpet, GCR has established an exclusive partnership with Vancouver's only major recycler of the material, Pacific Carpet Recycling. With this partnership, they can now offer clients an option for getting rid of their carpet and underlay with the knowledge that it will be hauled to a certified facility for recycling, not disposed of in landfill. Approximately 80 million pounds of used carpet and underlay are sent to Metro Vancouver's landfills each year on average.
"When Pacific Carpet Recycling first opened its doors, anyone could bring carpet to their facility. Over the years we were the only guys that did, and we were the only guys that gave them business," continues Duignan. "Now we have formed an exclusive agreement. There's no one else that really collects carpet for recycling in our region. There are options for carpet recycling but no other company goes through the trouble of doing it. So this separates us from the pack."
Other key recycling partners for GCR from the Vancouver area include: Harvest Power for organics; New West Gypsum for drywall; Cascades Recycling for cardboard and paper; Urban Wood Waste Recyclers for wood and wood by-product; Blue Planet Recycling for plastic and glass; MattressRecycling.ca for mattresses and couches; EPS Styrofoam for foam; Davis Trading for metals; Encorp Pacific for electronics; and Regeneration for paint, oil, gas, pesticides and propane.
For many clients, GCR also specializes in custom waste diversion solutions. One recent example was a oneday drop off recycling event for cabin owners on Indian Arm, a water-access only community near Vancouver. Even more recently, GCR developed and rolled out a unique binder recycling program for commercial clients. The company has also done very well with deconstruction services for industrial clients, which Duignan says has played a significant part in helping increase construction waste recovery rates in Vancouver.
Besides collecting and hauling recyclables to their partners, helping to supply the recycling industry with needed materials, a large percentage of items GCR recovers and diverts from landfill end up in the re-use stream.
"Whenever possible, we look for inventive ways to divert usable and repairable furniture, clothing, materials and goods to deserving organizations that provide benefit to our community. We have formed partnerships with many non-profit organizations, including Habitat for Humanity's ReStore, Salvation Army, Canadian Diabetes Association, Helping Families in Need Society, and Spinal Cord Injury B.C.," says Duignan. "We do a lot of deconstruction projects for residential and commercial clients. Habitat for Humanity, as one example, plays a big part in that for us."
Building on an idea and a truck
"We just celebrated our tenth year in business in May. My brother and I, Cein Duignan, founded the business back in 2006. I was actually working in the industry about three years before we started Green Coast, which was my introduction into the industry. I had no idea what junk and waste removal was all about. I learned the industry as I went. When I started, three years before establishing GCR, it was simply A to B pickup, and then material was hauled to landfill. There was really no thought about recyclables and diversion. After three years, we decided to do it ourselves, and do it better and with a focus on waste diversion.
"When we started, I was at UBC doing my undergrad. We bought a longbed pickup truck and had some magnets with the company name on it. We used the truck to get to class and then in between classes or after classes we'd throw up the sides on the truck, put our magnets on and go do jobs. I did that until I finished my undergrad and then did my teaching degree, also at UBC, and then GCR just kind of grew organically. Our customer base grew. By the time I finished my teaching degree, there was a clear path as to which direction I would choose and I haven't looked back since."
Ten years later, GCR has half-adozen regular employees and four trucks, the majority with about 20 yards hauling capacity. On days when they need additional help for particular projects, they rely on a locally-based casual labour pool. For their fleet of trucks, GCR uses biodiesel, which has provided some advantages and some challenges.
"It's definitely been a learning curve with biodiesel. It is harder on our trucks in general, so we've been experimenting with different blends and different carriers. But all in all, we've had success with it. We're always looking for other options, but for right now biodiesel is the most viable for us. It's another piece of the bigger picture of who we are as a company.
"Our overall process depends on the material and specific job. If we are collecting used binders from a commercial client, for instance, once we have them we will hand-separate, bring them back to our base of operations, rip them apart to their component parts and then haul to the appropriate recycler. If we're doing a construction site pickup and it's all wood or metal or glass, then we take it to the various partners we use for recycling C&D waste."
Duignan says the varying nature of their jobs and the challenges from day to day also depend on the particular client, whether in residential, commercial, property management or construction. The biggest markets for GCR currently are commercial pick-ups followed by the residential sector. In the commercial sector, Duignan says there are certainly challenges. "For instance, drywall can be a challenge. Proper documentation is required, and we need paperwork declaring that materials are free of asbestos, for example. If not, we're not licensed to deal with it, so a third party is called in to deal with it. For some electronics, a commercial client might have a shipment of obsolete electronics, all boxed and contained, so we would have to bring them back to our base, take out all the material, separate and then recycle. This process can be labour intensive certainly."
For e-waste GCR utilizes EnCorp, which is regulated by the government, so GCR and their clients can be confident that electronics are being recycled responsibly, meaning for one thing, that none is sent overseas for illegal dumping.
For their recently established binder recycling program, GCR utilizes local recyclers for the cardboard and metal, and vinyl goes to Blue Planet in Langley, B.C.
"Our binder recycling program was born out of a commercial client," explains Duignan. "It was actually a law firm. They were moving, downsizing, and they had so many binders. They didn't want it to be landfilled, and there were really no options out there. So they just kind of came up with this program. We collect the binders, sort them by hand and haul to the appropriate recyclers."
Good years under their belt and an eye to the future
According to Duignan, 2014, with their diversion rate of 86 percent of waste collected, was the company's best year to date.
"2014 was a great year," says Duignan. "We collected a lot of commercial, bigger, multiple-stream products and material types, so we were able to achieve a little bit higher volume than our usual. It speaks to the efforts we go to to separate our material. And also it's the people that call us with the waste disposal challenges they have, with particular needs. Businesses and people are looking for solutions to waste disposal. With our ever-growing market presence and reputation, a lot of great business comes to us."
In terms of profitability, GCR reports sales growth over 42 percent last year and says they are on track for 39 percent in 2016.
"Landfill space is becoming a premium and it's all shifting from defining things as waste material to defining them as resource material – seeing value in the things that we throw out," says Duignan. "The future is definitely in the re-use of products combined with the recycling of materials. The biggest change we've seen in 10 years is society's shifting attitudes towards waste. A decade ago we saw this starting to happen, and it's positioned us well to be ahead of the curve.
"Re-use and recycling potential is now much more recognized. Ten years ago, did we hear about a sustainability officer in a large corporation? Sustainable, environmentally sound waste management is now on the radar of every company. And if it's not, it will be and it definitely should be.
"For growth, key for us is just keeping at it and trying to do what we can for the community, as well as just simply listening to what our clients want and delivering on those needs. Our clients don't want things landfilled. They want peace of mind that they're doing the right thing and that their reusable and recyclable products and materials are going to the right spot. And they receive a certificate to prove it.
"The next 10 years, in this industry as a whole, I anticipate seeing increased regulations, and more programs, facilities and options for environmentally sound waste management. One of our biggest challenges currently is a lack of facilities. Still, it has certainly improved – the amount of options has grown over the last 10 years – and it will continue to change.
"For us, in the next ten years, we plan to establish a waste lab and recycle centre, so we'll be able to deal with hard to recycle items we collect, and we'll have a place to warehouse materials that are reusable. People in the community will be able to come and take advantage of what we have in stock.
"I feel that B.C. has always been a little bit ahead of the curve with respect to moving towards Zero Waste," concludes Duignan. "We're proud to be a part of it and we're excited about our next challenge, as we work to become the first Zero Waste junk removal company in North America by 2020."
This article was originally published in the July/August 2016 edition of Recycling Product News.