Saskatchewan scrap recycler opens the door to new opportunities by making the switch to a dedicated material handler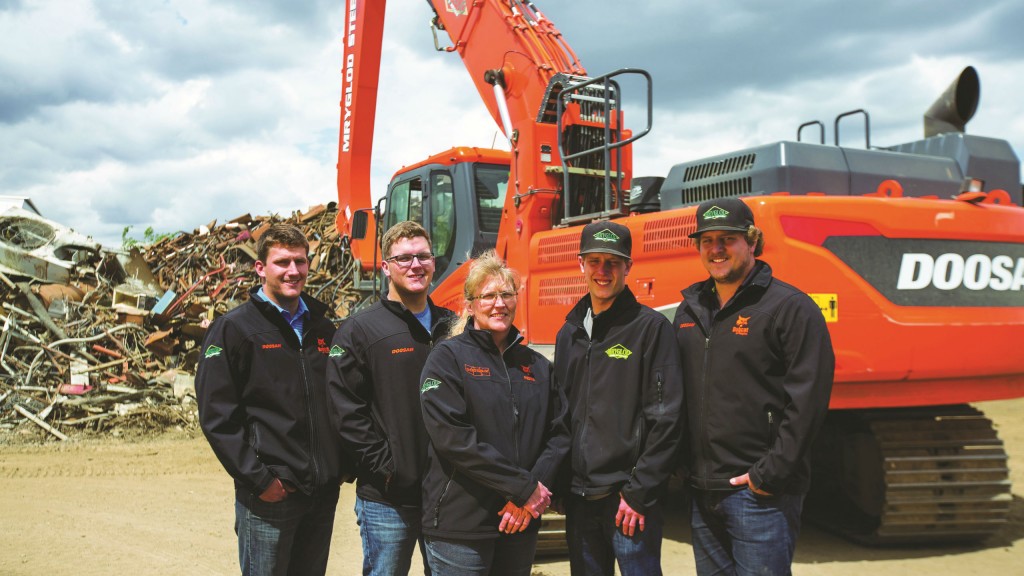 Mryglod Steel & Metals Inc., a premier scrap metal processor based in Saskatchewan, is proud of its long history of paying attention to the environment. In fact, environmental stewardship is not just a slogan of the new millennium, as the company points out, "we've been doing this since World War II."
The family-owned company, based in Weyburn, Saskatchewan, has followed a business strategy that has proven successful for decades. Scrap metal is purchased from industrial manufacturers, railroads, auto-salvage yards, metal dealers and individuals. Most of the metal comes from obsolete machinery and equipment such as autos, railroad cars and tracks, home appliances and construction debris.
Once the scrap metal arrives at the company's 10-acre facility, it is processed by sorting, cutting, shredding, torching and baling. According to Travis Mryglod, vice president and CEO, who owns the company with his brothers, Bradley, Tyler and Kyle, along with their mother, Sandra, much of their metal is converted into pieces, sized for density and purity as required by steel mills and foundries for melting and for use in the production of new finished steel and other products.
"We process and sell everything we purchase," Travis Mryglod says. "We understand that buying scrap metal is only half the equation; we need to put it back into the metal manufacturing cycle. Recycling has always been important to our family."
The Mryglod business model – buy, process then sell – is right on target most of the time. Recently, however, a sluggish economy and lower metal commodity prices have resulted in reduced sales.
"One of the steel mills we sell to makes tubular goods for use in the Canadian oil fields," he says. "The demand for those products has been down. The market, and lower prices across the board, meant we did not haul as much as we typically do. As a result, our yard was extremely full for eight months. We had to tighten up everything."
Mryglod says this has meant focusing on efficiency, and being prepared for when demand comes back. "We knew that once the yard was full, we had to do something about handling and moving the material," Mryglod continues. "And we had to do it efficiently because commodity prices were low."
In order to do a more efficient job of moving scrap metal and loading trucks, the company recently purchased a new Doosan DX300MH-5 material handler with a 1-cubic-yard grapple attachment. Coincidently, about the time the material handler was delivered by Bobcat of Regina, the nearby Doosan equipment dealer, sales picked up.
"The timing could not have been better," Mryglod says.
The Mryglod brothers all became full-time employees at the company in 2011 when their father, Kevin, passed away. The brothers' great-grandfather, Alex, and his three sons started the firm in the 1940s by collecting scrap metal to help build equipment for the military in World War II.
Since then, hundreds of thousands of tons of steel, aluminum, copper, lead and other metal products have passed through the Mryglod facility, giving the family a deep understanding of the process and what it takes to succeed in the metal recycling business.
The firm has state-of-the-art baling equipment, the ability to unload customer scrap fast and efficiently, and a bin service for customers to properly recycle scrap metal. A mobile operation, using crawler excavators equipped with magnets and the largest shears in the province, handles industrial and commercial clean-up projects.
"Since we process everything we buy, we can offer much better prices than others in our business," Mryglod says. "Other firms buy scrap metal and sell it in the same form. We process what we buy down to its purist form and sell directly to the consumer of that product."
Material handler boosts efficiency
Now with business trending upward, Mryglod says there is plenty of activity around their facility, with the Doosan DX300MH-5 material handler making a noticeable difference in moving their process forward to the next level.
The DX300MH-5 material handler sold to Mryglod Steel & Metals is configured with an optional 6.5-foot hydraulic rising cab, as well as standard features such as a straight boom and droop-nose stick, sandwiched counterweight, rotating grapple-ready hydraulics and additional guarding to help protect the machine.
"This is the first purpose-built machine for handling scrap that we ever purchased," Mryglod says. "Previously we did this work with construction type excavators that we converted, with our own magnet or a grapple. But because a warranty is so important, we decided not to buy a new piece of construction equipment and make a bunch of changes that would affect the warranty."
The main buyer of steel products from Mryglod is the Evraz North America steel mill in Regina.
"We are hauling as much material to that mill per day as our trucks will allow us," Mryglod continues. "Prior to us having the DX300MH-5, we were not able to get all of our trucks loaded in one day. Now we can get them all loaded in an afternoon and have them inspected and weighed for departure the next morning. There are days when one of our drivers can make his first delivery and get back in order to make a second delivery to the mill before 2 pm. Travel time to Regina is one hour and 20 minutes one-way, so the ability to quickly reload the truck is critical to making the second trip."
When there is sufficient demand, the company sends out four trucks per day: a 75-yard tri-axle dump trailer, two 60-yard tandem dump trailers and a 40-yard tandem truck with a dump body. The 75-yard tri-axle dump trailer is the model that usually makes the second trip.
"The material handler, which is mainly used to load trucks, has doubled our efficiency," Mryglod says. "The elevated cab allows us to see down into the boxes of the trucks without having to wonder where our attachment is going. We now get maximum weight in each load because we are able to fill the entire box. Plus, we don't need a spotter anymore."
He also points out that their Doosan material handler really helps in piling material once it is prepared and ready to ship. It has 15 feet of additional reach, compared to other machines the company used previously, with a maximum loading reach of 42 feet, 7 inches.
He also rates the machine high in fuel efficiency. "The fuel-use-to-product-loaded ratio is probably double what our old machines would do."
In addition to their increased efficiency and fuel-economy, the two construction-type crawler excavators that have been replaced by the material handler in the yard are now available for off-site work.
"All of our other equipment will be out this summer on clean-up projects," Mryglod says. "We have a job at a power plant hauling away their scrap after they make annual improvements. We also will be on a large farm where we will be cutting up and preparing surplus equipment such as combines and trucks. With the material handler taking care of sorting and loading in the yard, our other equipment can be out working in the field. That will allow us to get maximum use from all of our machines."
With a dedicated material handler in its equipment fleet, Mryglod Steel & Metals says they are well positioned for future growth and can sustain the company's ongoing effort to recycle metal faster and to higher quality, thereby serving its customers with a finished product that can be put in use immediately.
Related products