Next-Generation Watson XRF Metal Analyzer
Global Distribution of First Watson Volume Production Units underway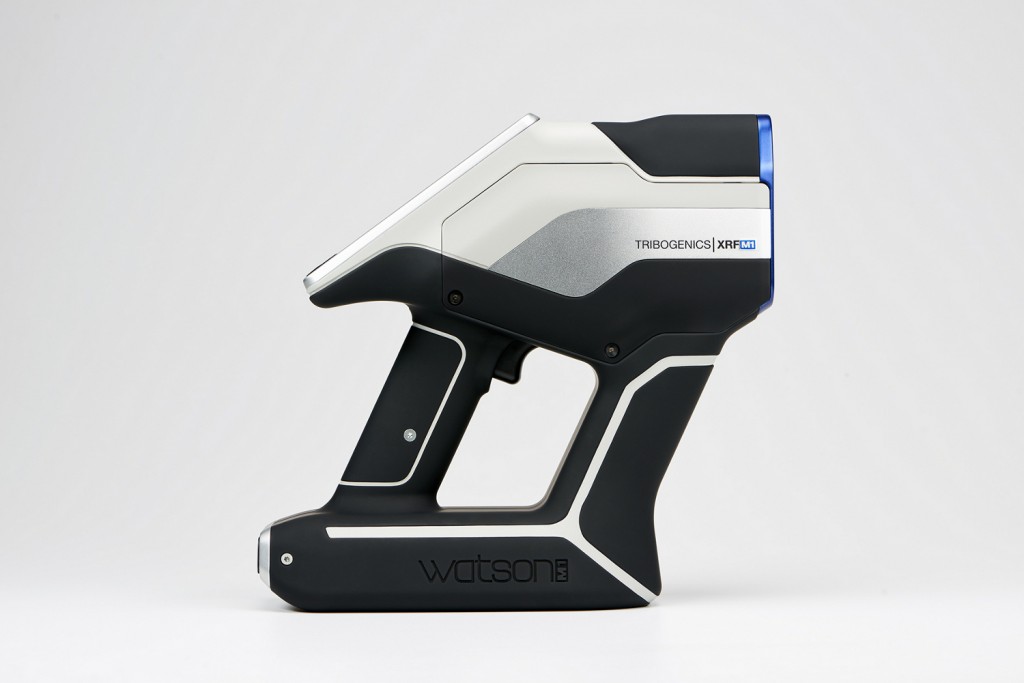 X-ray technology innovator Tribogenics today introduced a powerful next-generation Watson XRF metal analyzer following up on last year's unveiling of the industry's first sub-$10,000 hand-held XRF analyzer. Despite a range of highly robust enhancements, such as a field-exchangeable and auto-calibrated source cartridge, automated upload of data to the cloud, and a newly attained CE Mark that makes it available to a worldwide growth market, the next-generation Watson XRF device continues to be priced one-half that of competing handheld solutions.

Watson, which is now shipping in volume production worldwide – requires only seconds to complete positive material identification (PMI) of 423 metal alloys. Tribogenics executives report that the device is already generating substantial demand among quality assurance and control manufacturers, metal fabricators, machinists and recyclers throughout the world.

"This next-generation Watson XRF represents an unrivaled combination of power, performance and price that is poised to upend the mobility X-ray market," said Dale Fox, Chief Executive Officer of Tribogenics. "Customers and partners ranging from manufacturers to energy companies are reporting that our new volume production Watson device includes precisely the attributes they have been clamoring for."
Industrial users frequently point to a number of Watson's attributes that are demonstrably unsurpassed in the marketplace:
Positive Material Identification – Watson has unrivaled accuracy in identifying 423 alloys, minimizing risks of using incorrect or out-of-specification alloys.
No-downtime – Watson's field-exchangeable and auto-calibrated source cartridge is changed easily in both the field and lab.
Seamless Reporting – A cloud-based data reporting system, available on Android OS, ensures compliance with seamless reporting, testing and analysis.
Ease of use – No operator training required. Watson is simple to operate and up and running in a matter of minutes.
"For anyone working with metals in their manufacturing process, particularly those supplying to aerospace, automotive and medical customers where conformance of certification is mission-critical, the Watson metal analyzer is an affordable, 'must have' verification technology," commented Stewart Chalmers, vice president of marketing, Tribogenics. "Our proprietary technology for producing X-rays enables us to deliver customers a breakthrough, highly accurate device with more than 100 percent improvement in cost of ownership, and guaranteed uptime – a big win for the customer."
Tribogenics' underlying technology was developed in collaboration with DARPA and the University of California in Los Angeles (UCLA). The most recent leap forward in this world-class development, the next-generation Watson XRF, maximizes the performance and minimizes the cost of generating X-rays by using the so-called Triboelectric Effect – a process similar to static electricity – to eliminate the industry's typical requirements for expensive, high voltage devices.

"Tribogenics fully intends to drive significant growth in a global market that has long been demanding a product like Watson," said Mark Valentine, Tribogenics COO and Vice President of Worldwide Sales.
As Tribogenics' extendable technology platform increases the power and broadens the applicability of its X-ray innovations, the company intends to serve adjacent and related multi-billion-dollar markets.
"While we have our sights set firmly on the industrial XRF market, our robust product roadmap will create new sales growth opportunities going beyond industrial XRF into medical and Non-Destructive Testing (NDT), where early prototyping results are positive," added Valentine.