NWRA introduces new member savings programs through Alliance Cost Containment
Member companies offered savings on a wide range of products and services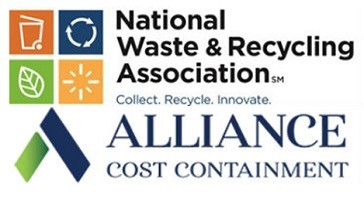 The National Waste & Recycling Association (NWRA) has added a new partner to its popular member savings programs with the participation of Alliance Cost Containment (ACC) in its endorsed provider program. ACC is a national leader in serving companies and associations with group savings programs and cost reduction programs.
As part of this offering, NWRA members and their employees now have access to exclusive savings on a broad range of business and personal services, including:
Hotel Reservations & Travel Services
Parts & Tools
Telecommunications Services
Lighting/Plumbing/HVAC
Real Estate Tax Audits
Payroll Processing
Uniforms/Mats/Restroom & Janitorial Supplies
Paint
Janitorial and Facilities Maintenance Services
Coffee & Beverage Services
Pest Control
ACC joins industry leading providers that have been endorsed by NWRA to provide exclusive services to its member companies, including Concorde (Driver File Management and Background Checks), Card Payment Services (Credit Card Processing), Coast-to-Coast Financial (Accounts Receivable), Nielson & Co. (Surety Bonds) and Insurance Office of America. NWRA will also be holding an informative webinar on its savings programs on Monday, August 15 at 2pm.
"ACC is excited to be selected by the NWRA to assist its members in lowering their operating costs and increasing their profits," said Miles Lee, CEO of Alliance Cost Containment. "We have seen our discount programs save other companies thousands of dollars annually on their purchases and we have every expectation that these savings will be achieved by NWRA members as well."