Mack recognized for 20 years of support to Environmental Research & Education Foundation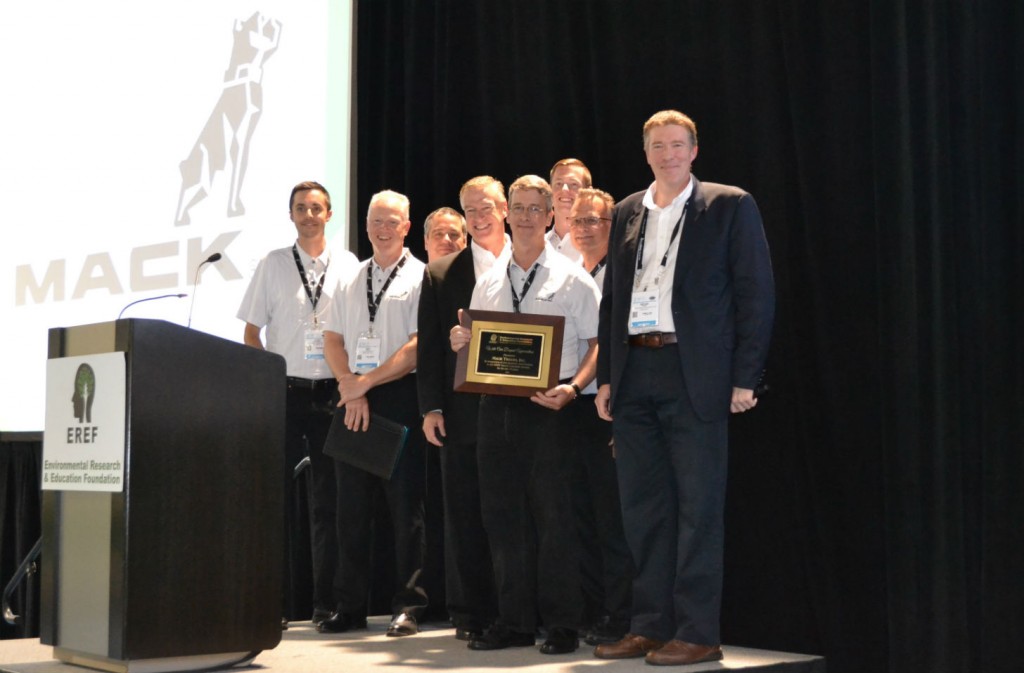 Mack Trucks was honoured by the Environmental Research & Education Foundation (EREF) for its long-standing support of the organization's work in funding research for sustainable waste management practices. Since 1997 Mack has sponsored EREF's Annual Charitable Auction, which raises funds for research and education to advance waste management technology and practices. EREF recognized Mack's ongoing support at the 2016 auction, which was June 7 at WasteExpo 2016 in Las Vegas.
Mack contributed three chassis models to the auction with truck bodies provided by equipment manufacturers in the waste management industry. Bidders could choose from a Mack Granite Axle Back with a Galbreath hoist, a Mack LR model with a Heil Odyssey HPF front loader and a Mack TerraPro Cabover with a McNeilus front loader.
Winning bids for the three trucks accounted for more than $800,000 of the $1.6 million raised at the event. Since the auction was first held 22 years ago, EREF has received more than $16 million to support its mission.
"Mack recognizes EREF's groundbreaking work in the waste management field, and we're proud to help make these efforts possible," said Curtis Dorwart, Mack refuse product manager. "Because of the foundation's work over the years, we have more sustainable waste and recycling technologies available to us today."
EREF also recognized Dorwart during the auction for his dedication and advocacy through the years. Dorwart will serve as the EREF auction chair in 2017-2018.
"The work that EREF does is only possible because of the generosity of industry leaders like Mack Trucks," said Leonard E. Joyce Jr., chairman of the EREF Board of Directors. "With this support, we can further our mission to advance the science and technology of waste management to benefit communities across the country."
Founded in 1994, EREF is among the largest sources of waste management research funding in the country. Each year the foundation allocates more than $1 million for grants and graduate-level scholarships to further research in the field.