Otto Receives Export Excellence Award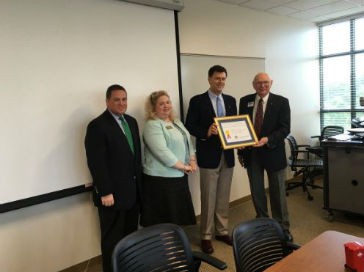 Otto Environmental Systems North America, Inc. (OESNA) was recently presented with an Export Achievement certificate from the North Carolina Export Council (NCDEC) for 2014-2015 export sales performance. OESNA Director of International Sales Travis Dowell received the award. The NCDEC contributes to international trade expertise to complement the U.S. Commercial Service's export promotion efforts through export business counseling and trade education. Nominees for this award are thoroughly reviewed to ensure strict criteria is met. Certificates are presented in ceremonies that include U.S. Department of Commerce officials and local elected officials.
"In fact, we've supplied to this project nearly $750,000 in product [to Mexico] over the course of November and December, 2014 and January, 2015," says Dowell. "We've been successful with exporting to Mexico, to Colombia, and to Dominican Republic, not to mention Canada, due to the free trade agreements in effect with these areas. I would venture to say we wouldn't have the sales we have without them in place!"
According to Otto, such sales activity wouldn't be possible without the immense support and vision of the company's collaborative operations, customer service, scheduling, graphics design, engineering, logistics and leadership team. The NCDEC and U. S. Commercial Service has assisted with increased exposure in the international marketplace in a responsible way that minimizes risk with good return on investment. Otto's North American operations service the Caribbean, Latin America, South America and Africa. The company actively recruits new customers in Latin America, with recent sales to Panama, Costa Rica, Ecuador, Peru, and Grand Cayman Islands.
More from Industry News
Single-Ram and II-Ram High-Capacity Balers
At Machinex, we've been designing sorting systems for over 35 years, so we know how essential it is for MRF operators to have a baler they can trust and not worry about its operational reliability. This is why we design and manufacture reliable single-ram and II-ram high-capacity balers to specifically help optimize their operations.
Watch the video of our expert who presents the main features of Machinex balers delivering these important benefits:
Easy & accessible maintenance
Reduced maintenance & bale handling costs
Energy savings
Optimal bale density
For C&D recyclers, waste haulers, demolition contractors and landfills, there is a growing opportunity to profit from rethinking processes. Although every operation is different, by streamlining the front end of the C&D operation processes with purpose-built technologies, recyclers can tap into new end markets, accommodate higher material volumes, stay ahead of regulatory restrictions, increase recovery rates and add commodity revenue, while decreasing labor and other costs.
Download the new eBook to learn about:
Finding opportunities in the alternative to landfilling C&D
How facilities can increase their profits from C&D
Using the right C&D processing technology in the right locations