Emterra donates over $43,000 to support Niagara cancer treatment facility
Annual gift based on how much Niagara residents recycle yearly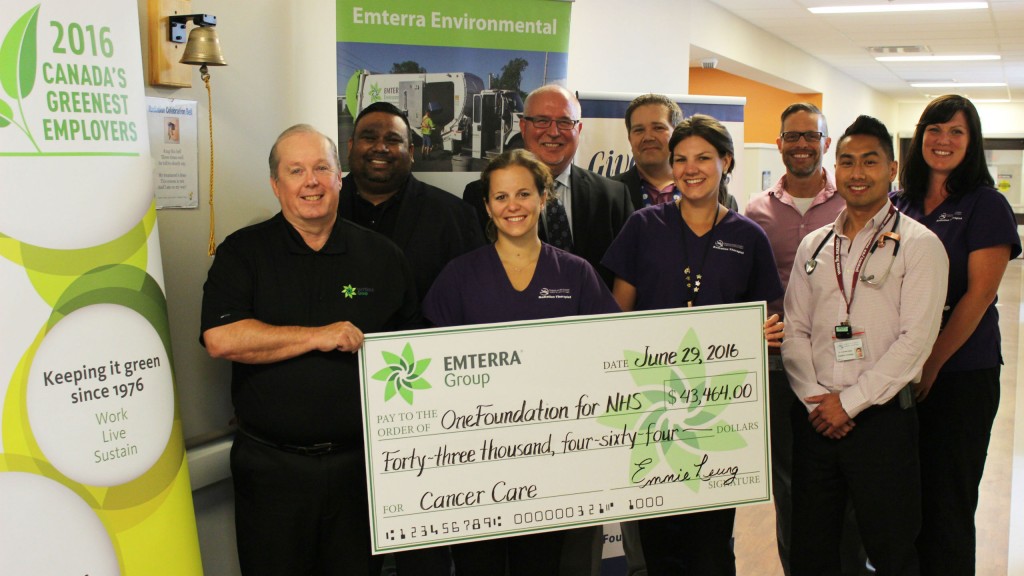 Emterra Environmental presented a cheque for over $43,000 to OneFoundation for Niagara Health System to support cancer care in the region, bringing Emterra's total donations since 2011 to more than $200,000. The funding gift is earmarked for Niagara's Walker Family Cancer Centre (WFCC) to help purchase cancer treatment equipment. Emterra has supported the cancer centre since it was opened in 2013. This year, the donation is one of the 40 special events that mark Emterra's 40th anniversary celebration.
Emterra Environmental is the Region of Niagara's contractor for the collection of blue and grey box recyclables, bulky waste, batteries, yard waste and organics.
Emterra's annual gift to the cancer centre is based on how much Niagara residents recycle each year. Under its made-in-Niagara, award-winning "Make Your Contribution at the CurbTM" (MYCATC) challenge, Emterra pledges $1 for every tonne of recyclables Niagara residents set out in their grey and blue boxes, plus every tonne of used batteries collected and a dollar for every scrap tire recycled at their Eco Depot.
The challenge to residents is the more they recycle, the more Emterra donates.
"OneFoundation exists to support extraordinary health services for residents of Niagara. We're so grateful for the support of corporate leaders like Emterra whose generous, long-term commitment to the Walker Family Cancer Centre ensures that local cancer patients receive the best possible care," said Joseph Maggiolo, OneFoundation for Niagara Health System Board Chair.
Brian Gogo, Emterra's Vice President of Ontario Operations, presented the cheque to the WFCC Manager of Radiation Therapy Richard Singh and staff members in front of the unit's ceremonial bell that is rung by patients who have completed their treatment. Also present on behalf of OneFoundation were Board Member Roland Giguere and Interim Director of Development Peter McKinley.
"We are proud to be a part of the Niagara community and to be able to provide this support to the Walker Family Cancer Centre," says Mr. Gogo. "By linking participation in recycling programs to donations like this, Emterra is not only improving access to cancer care services in Niagara but is also actively building a greener community."
In Niagara, MYCATC is also sponsored by Sun Media publications, the St. Catharines Standard, the Niagara Falls Review and the Welland Tribune and by the Region of Niagara.
Company info
1122 Pioneer Road
Burlington, ON
CA, L7M 1K4

Website:
emterra.ca
Phone number:
905-336-9084
Read more
Related Articles
Traditionally, waste management companies have operated using a simple "management of waste" approach to operating a MRF. Throughput targets and continuous operation (minimal downtime) were the main driving forces. The industry has changed however, and the focus moving forward is now on optimizing system performance and reliability, in conjunction with increasing recycling rates and a drive for a "greener" and more sustainable tomorrow.
When considering the addition of, or upgrade to, an "intelligent" MRF, for municipalities or private operators, the main factors should always be the client's (operator) current requirements, and evolving market needs, which include throughput, reliability, output quality, and adaptability. Equally important is a full understanding of what is really expected from any proposed system. Having an engaged and focused mindset for the project with the client from the beginning, will impact and drive the entire design process. This then impacts the overall project result, through to the productive, efficient, ongoing operation of the facility itself.