Taking auto scrap indoors
Hamilton's bodyline auto recyclers brings operations indoors using Builtrite's electric-powered stationary material handler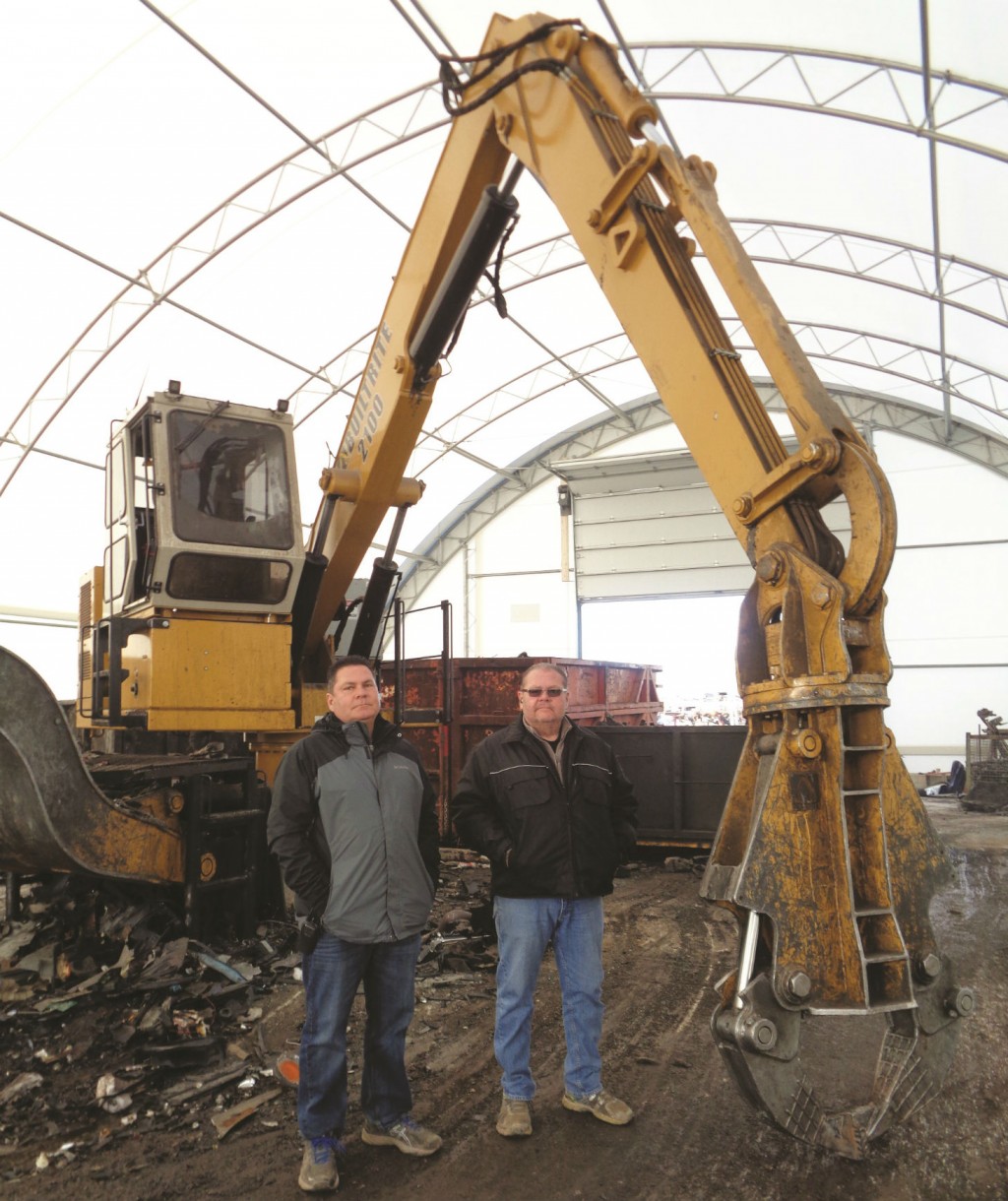 When one thinks of a scrap auto recycling operation, the image that may come to mind is one of a large open-air yard, heavy-duty forklifts and excavators equipped with hydraulic attachments amidst colourful piles of flattened scrap cars rising up against the horizon. On the ground, a seemingly never-ending busyness and movement of trucks, loaders and other material handling equipment, along with personnel, wind through a maze of various kinds of metal, plastics and glass, feeding a multitude of processing equipment, from huge baler/loggers and shredders, to hoppers and lengths of conveyors. It may be hard to imagine taking this kind of operation indoors, but increasingly, moving inside – "out of the cold" – is becoming a strategy that auto recyclers are turning to.
Scrap auto recyclers in both Canada and the U.S. face increasingly strict regulations surrounding noise, air quality, and site water run-off, in a business with very tight profit margins, especially over the last several years when end-markets for commodities have offered relatively low prices compared with years past. Moving operations indoors can help with many of the issues end-of-life vehicle (ELV) and other scrap recyclers face, and enable success in a very tough business.
"The cost of mitigating contaminant run-off from properties is encouraging more recyclers to go indoors, and it provides increased security for equipment and scrap materials, especially significant for facilities dealing with non-ferrous," says Uwe Kausch of Minnesota-based Builtrite Handlers & Attachments. "Air quality, emissions, run-off and noise levels can all be contained when auto recyclers move indoors. Our latest electric-powered, no-emission, stationary material handlers, like the new 2100 SE/Auto Dismantler Combination, make this option a very good one."
Bodyline Auto Recyclers
Bodyline Auto Recyclers is based in Hamilton, Ontario, operating out of a six-acre yard, approximately 1/3 of which is indoors. The company is in the business of buying and collecting late-model end-of-life vehicles, which are dismantled for parts and wholesale retail, with anything that cannot be resold, being recycled. Bodyline was started by brothers Dave and Jim McDonald, approximately 30 years ago. Before breaking into the recycling business, Jim was a construction millwright, and Dave was in the aftermarket auto parts business, dealing in fenders, doors, and other resellable ELV components.
"We started selling Chevy truck fenders for 1973 to 1980 model pickups, in the end for about $75 each," explains Dave McDonald. "We would go down as far as the Southern U.S. and bring back old bumpers. Everyone had one that was falling off their car, and they were made out of aluminum and rebar. And cars used steel shocks back then. After our time in the used car parts business, we bought into a scrap yard and then bought the other party out within a year. That was our start in scrap auto recycling. Aftermarket auto parts is still a small part of our business today."
During the last ten years, Bodyline's volumes have grown significantly. "We now have approximately two-acres of buildings and indoor operations," continues McDonald. "We get a steady flow of cars coming in. You can't shut the flow off once you get it going, so we needed to process cars faster, cleaner and more efficiently, and we wanted to do it indoors. This was the main reason for buying our new Builtrite 2100 SE stationary electric material handler."
In basic terms, once an ELV gets to Bodyline, the first thing is to decide how much is salvageable for resale, and what is scrap material for recycling and sale as a commodity. Cars are drained, tires and batteries are removed, and vehicles are kept in the yard until a major component is sold off of it, like an engine or a transmission. Whatever is salvageable is put on the shelf. The rest of the ELV is recycled using Builtrite's 2100 stationary electric material handler to load an EZ Crusher car crusher.
"Prior to the installation of our Builtrite 2100 SE, we did things 'manually'," explains McDonald. "We would rip cars apart with a loader, drain the cars, and sometimes we would crush cars with the engine in, as it can be costly to manually cut them out for sale.
"With the Builtrite 2100, using a hydraulic claw, we can tear out any piece of a car in just one simple grab," continues McDonald. "We can rip the motor and tranny out in one grab. We can pull the wire harness out and radiators. Our efficiency really revolves around our Builtrite 2100 machine at Bodyline these days, for our end-of-life vehicle processing."
He adds, "With our stationary, electric-powered material handler with a claw on it, operating inside, it makes us literally the first installation of its kind in North America."
McDonald also points to some key advantages of Bodyline's new setup. One being that even though they operate inside a building, because their material handler is powered electrically, they get no exhaust fumes, and low heat coming off the machine, which is built to run cool using a small electric fan. Additionally, with the 2100 SE, maintenance is basically non-existent, without the need to change air filters, oil filters or the oil itself, and the machine includes a cabin filter and is self-greasing.
Fluids, tires and batteries
McDonald says that he's definitely seen tightening regulations in the auto recycling industry over the last decade. "We're just about to have concrete rules of engagement with the Ministry of Environment," he says. "We've been working with them for 15 years through Ontario Auto Recyclers. They've come up with a process by which every auto recycler requires an inspection every year. If you don't get a score above 70 percent, you've so much time to pull up your socks, or you're not going to remain a member of OAR. We got a score of 98 percent in 2015. Our new Builtrite 2100 SE electric-powered material handler will help us maintain these high marks."
Besides the construction of their new concrete pedestal and addition of the new stationary handler, Bodyline also put in an enclosed sewer system. "You're always going to get some residual fluids even after you've properly drained the cars, so our target was to get a spot where we could do that and have all those fluids drain into one place where we'd be able to capture, separate and recycle. To do this outside, I don't care how good you are, you're going to make a mess, and when it rains it's going to spread."
For their designed and built-in-house drainage system, Bodyline uses pneumatic pumps, fluids are drained into pails and then a bigger drum, which is then vacuumed out. All fluids are pumped automatically, and the system shuts off automatically.
"We kind of had a lot of the infrastructure here already for drainage, so it didn't really make any sense for us to go with an elaborate new OEM system. Our whole factory had black pipe already piped, we just had to add to it, change a few things. We now have four bays working rather than just one.
"It is a challenge and an issue, both in Canada and the United States, to get all auto recyclers on a level playing field with respect to environmental compliance – so that everybody's doing the same thing by draining their fluids, evacuating Freon, evacuating gasoline, and doing all the right things with the components of scrap cars. Changing regulations are making it so that those who aren't doing it right are not going to be allowed to do it."
Along with their new electric-powered, no-emission Builtrite 2100 SE material handler, Bodyline uses an EZ Crusher car crusher. "We bought our EZ Crusher in 2007 as a Christmas present to ourselves," says McDonald. "It's almost ten years old and has worked very well for us. We also use a couple of John Deere loaders and a SAS Forks engine puller on our forklift."
When it comes to tires, Bodyline is a member of Ontario's OTS (Ontario Tire Stewardship ) program, so all unsellable tires get picked up every week. "As soon as we fill a bin up, they get picked up and taken away and put through the program and we get paid for them," says McDonald. "For good, salvageable tires, I wholesale them to a couple of different tire shops here in town." For batteries, those that are salvageable are recharged and resold. Those that cannot be salvaged are sent off-site for recycling.
Why not go electric and move auto recycling indoors?
The Model 2100 SE stationary electric material handler uses a 75 hp, Baldor, Electric Motor, with benefits that include: no diesel exhaust; low heat output from the machine; no motor oil or air filter changes; no rubber tires to repair or replace and less damage to tipping floors caused by tracks or rubber tires, and more uptime overall as a result. Additionally, when comparing the costs of electric-power vs. diesel, the numbers speak for themselves.
According to Builtrite, based on cost-analysis done in 2015, comparing the 2100 SE stationary electric material handler to a 16-metric tonne diesel powered excavator, factoring in varying rates for regional commercial power rates in the U.S. (ranging from 0.3 $/ KWH down to 0.08$/KWH) average yearly savings ranged from about $US 9,600 up to over $US 20,000. Savings over a seven-year period range as high as $US 145,000.
So if moving a scrap auto recycling operation indoors, using a stationary, electric-powered, no-emission material handler provides cost-savings and operational as well as environmental benefits, why aren't more scrap and auto recyclers making the move?
"A lot of auto recyclers, I believe, just don't have the infrastructure we have," says McDonald. "We have close to two acres of indoor operations. Outdoors, using mainly forklifts, is simply the way it has been done for many years. I've not seen too many places that have the kind of facility we have. We originally took an old factory and revamped it, and we added steel-framed, fabric-covered buildings to that."
According to Uwe Kausch, "Many recyclers hesitate to invest in the concrete foundation for a stationary, electricpowered material handler, which can cost $30,000 or more. Stationary units are really application specific. If an auto recycler or scrap yard is currently using a mobile excavator or other material handler, but it is always in the same spot, doing the same thing every day, that is the perfect scenario for the introduction of a stationary electric machine.
"A stationary unit is a lot less cost to run and maintain," continues Kausch. "In dusty conditions, like scrap and C&D yards, the lifespan of excavators and material handlers is greatly diminished by the amount of dust they suck into their filters and engines. The dust creates over-heating issues and wear and tear on the engines that they are not normally exposed to, when performing construction work for example. Of course, the other main advantage is no diesel exhaust and no emissions – which makes for a much safer and productive work environment." RPN