Edmonton setting sights on 90 percent diversion
Sparta Innovations C&D recycling facility helps City move forward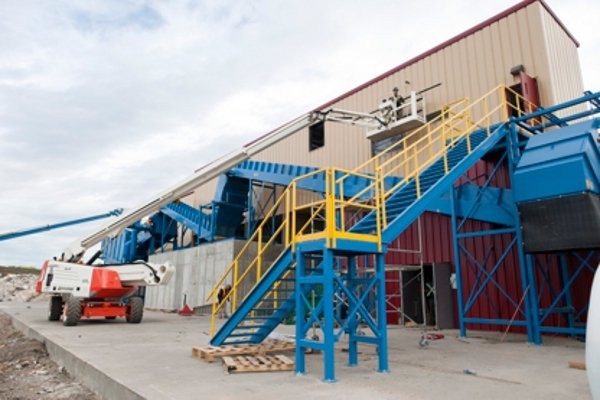 by Keith Barker, Editor, Recycling Product News
In the spring of 2012, Edmonton, Alberta opened a $4.3 million mixed construction and demolition (C&D) recycling facility at the Edmonton Waste Management Centre (EWMC). The EWMC is essentially a 500-acre industrial subdivision with a focus on waste management. The facility handles the entire waste stream for the city of Edmonton (approximately 500,000 tonnes per year) and diverts approximately 60 percent through recycling and composting programs (The site is also home to one of the most advanced aerobic digestion facility's in the world.) Edmonton's landfill is closed, so all material is either processed for recovery or run through a transfer station and distance-hauled to a site where services are contracted.
The new C&D facility, built and equipped by manufacturer and systems provider Sparta Innovations out of New Brunswick, uses mechanical and manual sorting to separate mixed loads of material into various re-usable commodities.
According to the City of Edmonton, the new C&D recycling facility can process 100,000 metric tons of mixed C&D material per year, and officials expect the facility to recover up to 70 percent of the material for recycling. It is estimated that Alberta recycles only 10 to 15 percent of C&D waste currently.
C&D waste comprises about one-quarter of all municipal solid waste landfilled in the province, according to Alberta Environment and Water. To qualify as a mixed load, at least 75 percent of an individual load must be composed of wood, metal, drywall, asphalt/concrete, asphalt shingles, cardboard and paper.
"Our new mixed C&D recycling facility took about a year to build," says Bud Latta, director of processing and disposal, waste management services, City of Edmonton.
The Sparta-built facility uses a double vibratory finger screen, which splits material into three material streams. The coarser material goes up onto a manual sort line, while intermediate material goes through a set of mechanical sorting equipment which includes a magnet and a wind sifter (air separator) that produces light and heavy fractions, with fines as a final product.
"One thing that is a bit different about our facility design is that because our C&D stream tends to be very high in wood-load, we use a secondary conveyor that passes underneath the entire sort station, so that every station can remove wood, and drop it through onto the conveyor," explains Latta.
Latta says they use two chutes at each station. Besides the chute for dropping wood, all have one chute which dumps onto a conveyor, for drywall, metals or other materials.
"Over the first few months of operation (we processed around 4,000 tonnes) we've done a bit of de-bottlenecking and tweaking here and there," he says. "We had a head pulley go, and lost a week of production. The usual kinds of growing pains."
"We kind of consider ourselves in the stage where we're getting to know the system, and tweaking to optimize production."
"Now that we've got to the point where we feel we've got the system understood well enough, we'll be taking measurements to quantify exactly what kind of split we're getting, and the diversion rate."
Latta says the operation's goal is to achieve 50 percent diversion rate, and then ultimately get to a rate of more like 70 percent, into 2013.
"The reason we can get that high, or even higher potentially, is due to the fact that a companion project here at EWMC is our biofuels facility. It gives us the opportunity to process materials a lot of other facilities could not, such as treated wood, painted wood, carpet, underlay, siding, and other materials that are difficult to recycle but which can be processed as an energy feedstock."
"Currently, there is still a fair bit going to landfill," says Latta. "Once the biofuels facility is fully operational we will be able to divert about 90 percent (by around 2015).
"What we're trying to do with this C&D facility is target the commercial and industrial streams more – because we've been pretty successful with the rest of the waste streams in terms of diversion and recycling.
"There's opportunities to do more, we felt, in the industrial sector. So that's part of why we're doing this."