Call2Recycle announces 2016 Recycle & Smile Campaign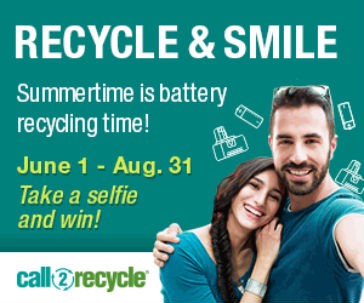 This Summer, Call2Recycle is offering one more reason to partner up to make this planet a greener place! Call2Recycle has announced a 2016 Recycle & Smile Campaign, offering Canadians a chance to win for sharing their pictures with us recycling batteries.
Anyone can visit www.call2recycle.ca/summersmile and send in their best summer selfies recycling batteries through an online form, Twitter or Facebook using #Call2RecycleNSmile for a chance to win prizes. According to Call2Recycle; "We have posted our lovely Summer Smile posters and web banners, so you can easily download them and spread the word. Help us motivate people to recycle household batteries weighing under 5 kg when they clean out their homes, and win great prizes between June 1 and August 31, 2016."
Many summer items such as BBQ sets, gardening tools, camping gear, golf clubs and more are made from recycled batteries.
Keep the summer fun going and recycle used household batteries at any Call2Recycle location.