VPK C84 Series new generation of thermoforming machines for plastics processors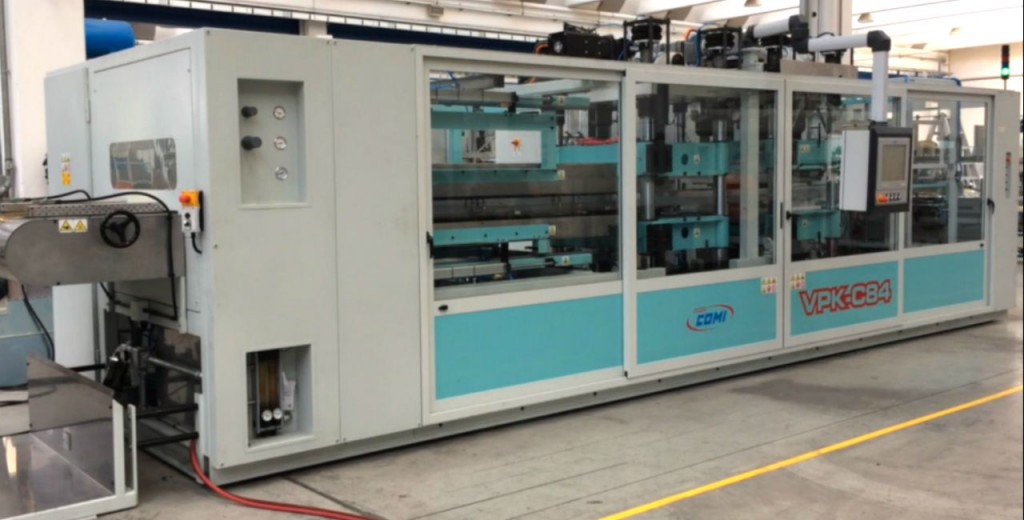 AMUT COMI, Division specialized in thermoforming solutions, presents a new generation of machines, the VPK C84 series: off-line or in-line configuration, 3 or 4 stations model are both available. The VPK C84 machine is suitable to handle different materials, such as PET, PP, PS, PLA, PVC and to produce many items: trays, lids, berry boxes, clamshells, nursery trays and plates.
The production speed is up to 35 cycles/min and the dry cycles are counted at 55 per min. The mould has an area of 840 x 650 mm.
The 4-column forming station has a clamping force of 24.000 Kg (a top mould servo plugs assist is included) which can be extended until 60.000 kg in case of in-mould cutting request. The punching station clamping force reaches 24.000 kg (4 station model) and for the 4-column cutting station the clamping force is 60.000 Kg.
The VPK C84 series is equipped with a servo-driven up-stacker (robot stacking on request) and a precise individual heating element control for top and bottom ovens with open zone configuration. The oven can be 1.950 mm long (3 steps) or 3.250 mm (5 steps in case of PP).
This series of machines is completely servo driven and equipped with a new software with a full diagnostic and easy learning/handling operator interface.